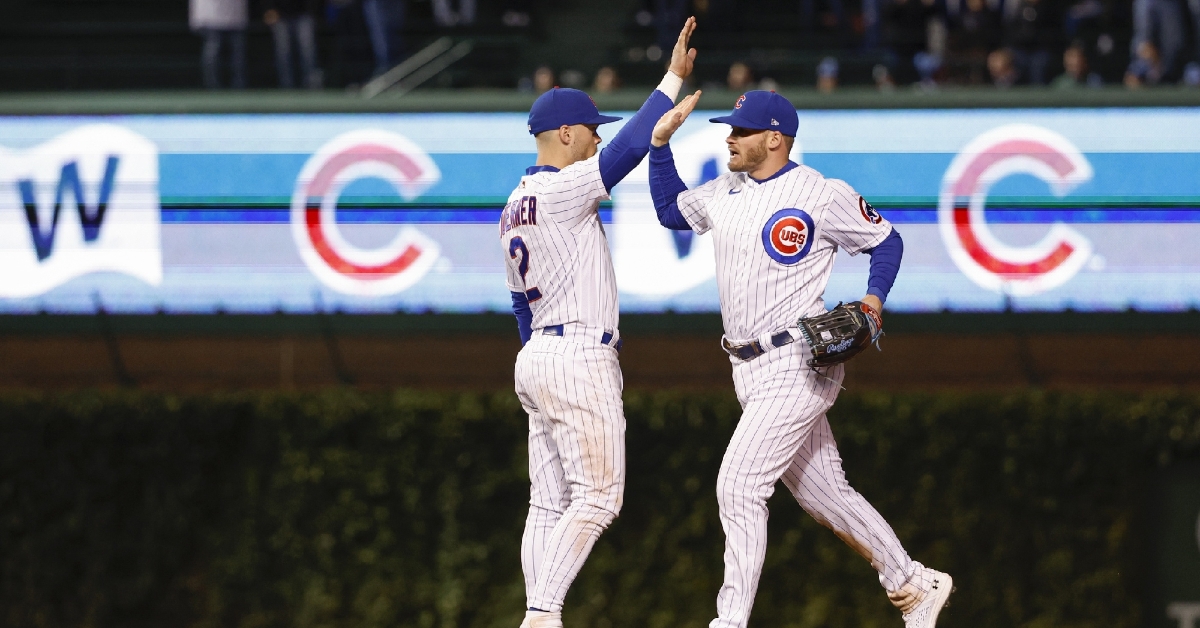 | | |
| --- | --- |
| Cubs play spoiler in victory over Phillies | |
---
| | | |
| --- | --- | --- |
| Wednesday, September 28, 2022, 8:37 AM | | |
CHICAGO - Although they may not be in the postseason this year, the Chicago Cubs (68-86) are playing in a playoff type of series at Wrigley Field this week as they have a chance to play spoiler for one of two teams. On the one hand, you have the Cubs, who could help the Milwaukee Brewers out by beating the Philadelphia Phillies (83-70). On the other hand, the Cubs could help the Phillies out by just losing, but that is not in this team's DNA, as they have gone 33-29 since the all-star break.
It is amazing what good pitching can do for a team, and the Cubs continued to be anchored by impressive starting pitching. Since the all-star break, this team has compiled a 3.13 ERA for their starting pitching, which ranks third in baseball behind the Dodgers and Astros. No wonder they are starting to win more games. In a rematch of an earlier season meeting between Marcus Stroman and Zach Wheeler, fans were treated to another low-scoring affair.
With these two starters locked in a 1-1 tie last time out, it was not a surprise to see that happen again, as this was a 1-1 game heading into the seventh. That was until a clutch late-game double from Yan Gomes proved the difference, with the Cubs picking up another low-scoring win 2-1. The win also gives the Cubs the season series over the Phillies as they are now 4-0 against Philadelphia in 2022.
Despite his 5-7 record, Stroman has been pitching like the 71 million dollar pitcher the Cubs paid for quite some time, as his ERA has been below 3.00 since the start of July. Following seven great innings of one-run ball to go with six strikeouts, Stroman has lowered his ERA to 3.68 on the season and has one more start to finish strong.
Across from him was Wheeler making just his second start since his IL stint. Expected to be on a pitch count, Wheeler made it easy on himself by being very efficient early on. That allowed him to get through six innings of one-run five hit baseball himself as he struck out five and dropped his ERA to 2.92.
With minimal action across the first two-plus frames, we pick things up in the bottom of the third when the Cubs first cracked the scoreboard. Facing a no-on, two-out situation, the rookie Christopher Morel gave the Cubs the lead as his opposite field homer put Chicago in front 1-0. With that homer, Morel became just the fourth rookie in Cubs history to have 15 homers, and 10 steals during their rookie season, joining Randy Jackson in 1951, Billy Cowan in 1964, and Kris Bryant in 2015. Talk about some great company.
Christopher Morel - Chicago Cubs (15) pic.twitter.com/uHR7tsMJ2X

— MLB HR Videos (@MLBHRVideos) September 28, 2022
Apart from that homer, there was not much to get excited about across the first five innings as both sides had a few singles here and there, but nothing to get overly excited about. Still holding the 1-0 lead in the sixth, Bryson Scott showed tremendous patience at the plate as he took the lone free pass allowed by Stroman to open the inning off with a walk.
Following strikeouts to Kyle Schwarber and Rhys Hoskins, Stroman was on the verge of getting out of another inning only to see Bryce Harper tie things up with an RBI double that fell just out of the reach of a diving Morel. Stroman finished that inning and went back out to finish the seventh, as he did a great job keeping the Phillies offense in check.
After wasting a two-on-one-out situation in the sixth, the Cubs offense was looking to respond as the Phillies went with Connor Brogdon in relief. An infield single by Ian Happ was a great start, but after the next two hitters were retired, the Cubs were in danger of stranding another runner in scoring position.
Leave it to Gomes to save the day as he came through with a bloop double to right to score Happ and put the Cubs back in front for good 2-1. The back end of the Cubs bullpen took over from there as Brandon Hughes and Manny Rodriguez tossed a pair of scoreless frames while each inducing inning-ending double plays to secure the 2-1 win. For Rodriguez, this was his third save of the season as David Ross is starting to look at closer options for 2023.
The Cubs had seven hits in the game, with Happ and Gomes leading the way with two. Morel, Willson Contreras, and Esteban Quiroz added the other three hits in the win.