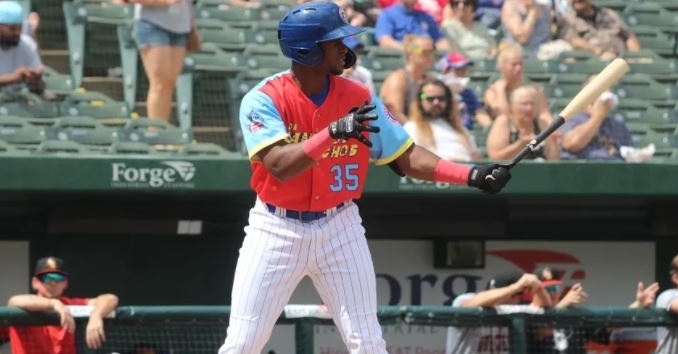 | | |
| --- | --- |
| Cubs Prospect Focus: Alexander Canario | |
---
| | | |
| --- | --- | --- |
| Saturday, December 11, 2021, 6:00 PM | | |
It is amazing how fast things can come to an end. After winning the world series in 2016 and reaching three consecutive NLCS, many people felt the Cubs were on the verge of a long dynasty. How could they not think that at that point? They had plenty of money to spend, an owner and President ready to win, and a boatload of young prospects who emerged as stars.
One year later, the Cubs raced out the best record in the NL again, only to fall apart the final month of the season. That was the beginning of the end for this team, as they have now missed the playoffs two of the last three seasons and went through a season that saw them lose their most games since 2014.
In the process, plenty of the familiar faces that Cubs fans grew to love so much are on to bigger and better things as the Cubs had an open fire sale to trade off their players. The main reason for that was to help this team retool the farm system after gutting it to compete for what they thought would be more than one world series.
One of the names who was traded was fan favorite Kris Bryant, who was sent to the Giants in exchange for two prospects. We touched on one of those prospects earlier in Caleb Killian, who is turning heads at the AFL, but now we shift to the other prospect in Alexander Canario, who comes in as the organization's No. 12 prospect.
Of all the trades this team made last season, this one looks the best of the bunch when you look at who the Cubs acquired in the deal. Canario has been around for a while, signing with the Giants as an international free agent in 2016. However, he is just 21 years meaning he was 15 going on 16 when he was signed. The Giants didn't have much to work with at the time in terms of funds, but they somehow landed Canario for $60,000 which is proving to be a steal.
Since his signing, Canario has done nothing but impress, hitting a .294 with five homers and 45 RBIs in his pro debut in 2017 and taking home MVP Honors during the Dominican Summer League All-Star game. One year later, Canario was limited to 45 games after playing in 66 the year before. Despite that, he continued to show plenty of potential as he hit .250 with six homers and 19 RBIs. Those numbers were way done from 2017, as something wasn't right with him that season.
Eager to prove that 2018 was not the type of player he is, Canario broke out in 2019 and put his name on the minor league and major league radar. Across 59 games that season, Canario struggled to recognize pitching as he took just 20 walks compared to 80 strikeouts. That is one part of his game that needs improvement, but everything else is excellent. Canario also went on to hit a .318 that season with a career-high 16 homers and 54 RBIs as he was proving to be a legitimate power-hitting machine.
With the 2020 season being wiped away, Canario was looking for a bounce-back campaign in 2021 as he inches close to the majors. Across his 107 games, 42 were with the South Bend Cubs, where he landed after the trade. From an average side of things, Canario had a career-worst season hitting just .230, including .224 with the Cubs. Despite taking a career-best 43 walks, he also struck out a career worst 125 times as there is still a lot of swing and miss in his game.
Even with the bad comes plenty of good as Canario hit a career-high 18 homers to go with a career best 57 RBIs this season. Nine of those homers came with the Cubs as he hit several homers that may not have landed yet. Canario also drove in 28 runners after joining South Bend and showcased the speed side of his game for the first time, where he combined to swipe 21 bases. He had a total of 30 steals across his first three seasons.
Canario has always been known for his elite bat speed, but mix that with his added strength, and you have a prospect with some of the best raw power in the minor leagues. Despite that, Canario has been known to get way too pull-happy and extremely aggressive at the plate instead of letting his power and bat do the work naturally. The Cubs would love for him to mature more as a hitter, but the power is something you can't teach, and that alone is intriguing for this club.
The Cubs are looking to get away from the home run or bust type of players, and with a 32% strikeout rate, Canario doesn't fit the mold that the Cubs are looking at. However, he has spent the last two seasons working on pitch recognition and plate discipline, and he has seen his walk rate increase while his strikeout rate is going down a tad.
Chicago is not alone when it comes to being excited about his power, as several big-league players commented on what they saw from him at the alternate site. Canario is your prototypical power-hitting right fielder who will not be known for his glove. South Bend enjoyed the show he put on last season. Now it is time for the rest of the system to see what he can do this year.