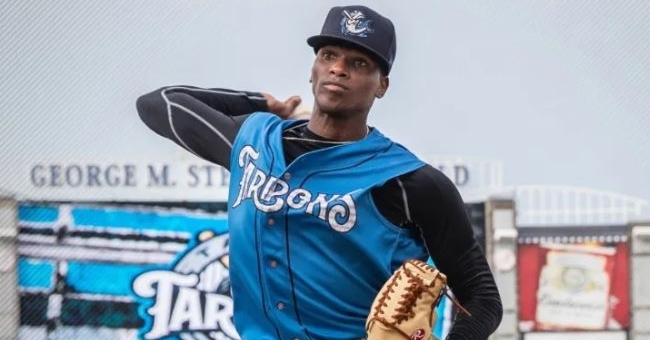 | | |
| --- | --- |
| Cubs Prospect Focus: Alexander Vizcaino | |
---
| | | |
| --- | --- | --- |
| Saturday, December 4, 2021, 8:22 AM | | |
One of the things to look forward to when it comes to the 2022 season, is that Cubs fans get a chance to see more of their prospects improve. While many of the names have been around a few years, several new faces were acquired throughout the season that limited time with the Cubs this season. 2022 could be their chance to prove their worth as they will have an opportunity to showcase themselves for an entire season.
One of the new faces added during the season is the Cubs, now No.19 prospect Alexander Vizcaino. Acquired in the Anthony Rizzo deal along with Kevin Alcantara, Vizcaino was an international free agent who inked a deal with the Yankees in 2016. When he signed, not only was he one of the oldest players at 19, but his $14,000 salary was a bargain for the Yankees as they added him from the Dominican Republic.
Despite being older than most international free agents at the time, Vizcaino took a while to distinguish himself as he spent his first three seasons in rookie ball. Once 2019 came about, you started to see him turn things around as a high-velocity fastball and sharp changeup took significant strides to make him a much better pitcher.
His dramatic improvement was not only significant for his development, but the Yankees took notice as they not only added him to their 40-man roster in 2020, but sent him to their alternate site to get work in during the COVID season. After putting in the work throughout the year, Vizcaino was dealt a minor setback this season, missing the first two months with a shoulder injury before returning and eventually landing with the Cubs.
Across his first three years in rookie ball, Vizcaino was 6-14 while sporting a 5.43 ERA. Vizcaino also struggled with command at times, walking 59 hitters and striking out close to 140.
2019 saw him start to show significant improvements despite the numbers not always showing it. His record for the season was 6-6, but his ERA fell by a run posting a 4.38 ERA across 21 starts. He walked 38 that season and struck out 128 as his command also greatly improved.
This year, Vizcaino dealt with plenty of adversity, especially returning from his shoulder injury. Across 10 games, seven of which were starts, Vizcaino struggled, going 0-2 with a 6.11 ERA. He was also far wilder than he had been in the past, walking 16 compared to just 22 punchouts. With South Bend, Vizcaino started to get in a groove despite posting an 0-1 mark with a 5.27 ERA in five games.
The overall numbers were not great, but keep in mind he was coming back from a shoulder injury that seemed to affect him in every way. Despite that, he has plenty of potential as either a starter or reliever, as 2022 could be the season that determines his future role. Vizcaino used to be someone who sat around 92-93 with his heater, but now that has increased to 94-98 with it consistently sitting in the 97 MPH range. Vizcaino also touched triple digits during the 2019 season, so a little more can still come from that arm.
Along with that fastball comes a changeup that is still a work in progress, although it has improved. From a velocity side of things, his changeup sits at 91 MPH, but it has a more split-finger look. It can be more devastating than his heater when that pitch is on, as you could see him work off that pitch more than his fastball.
If things continue the way they have been, Vizcaino pegs to be more of a middle reliever as he is primarily a two-pitch guy at this stage in his career. The next step in his development, which would determine if he can remain a starter, would be to develop a consistent third pitch. That pitch could be his 84 MPH slider which lacks consistency at this point and is more like a slurve.
Not only was a healthy 2019 important for him, but his improved command was a pleasant sight to see, especially when you look at how iffy that has been thus far. Even with significant improvement, the shoulder injury forced his command to go south this season as he needs to figure out a way to redefine his command more consistently.
Should Vizcaino improve on his command and develop that slider into a more consistent pitch, you are looking at someone who has middle to back of the rotation stuff, which would help this rotation in the future. However, Vizcaino is ticketed for the bullpen as a late-inning arm if he fails to make those necessary improvements. I would argue that is where the Cubs should focus on putting him, given his high velocity and ability to get the most out of his arm in short spurts.