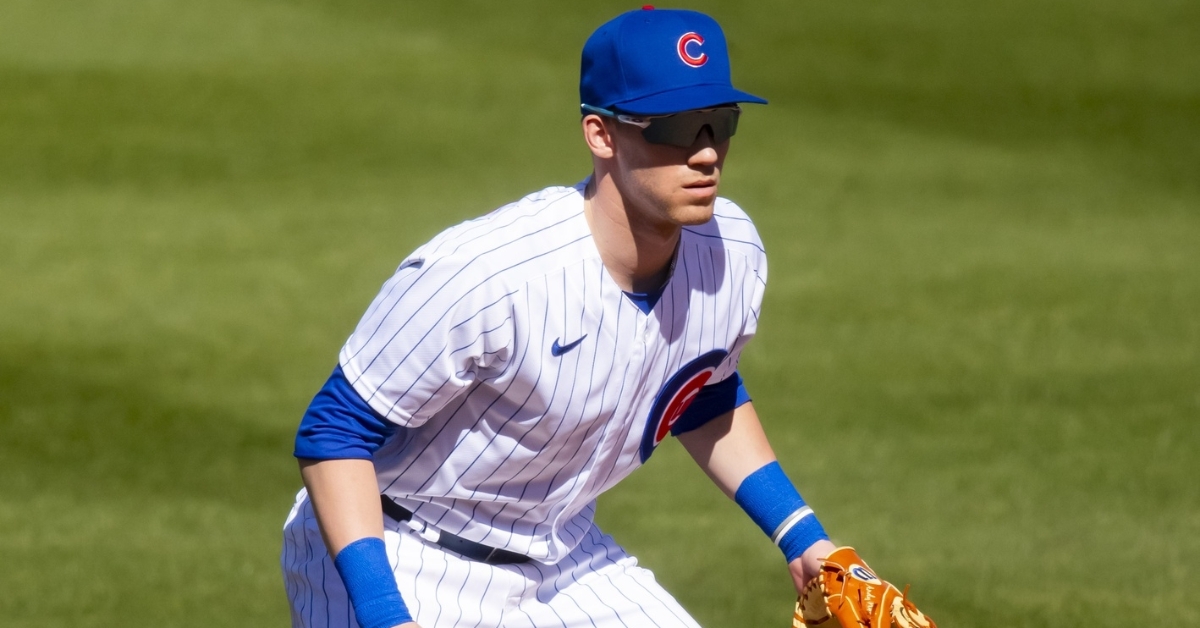 | | |
| --- | --- |
| Cubs Prospect Focus: Andy Weber | |
---
| | | |
| --- | --- | --- |
| Thursday, November 18, 2021, 10:58 AM | | |
Today we reach the seventh and final Arizona Fall League prospect to discuss as Andy Weber has had a strong showing this fall.
Part of an organization loaded with shortstop talent, Weber is often lost in the mix as he too has been primarily a shortstop during his minor league career. Versatility has been tremendous for Weber as he has proven he can play second base and third, but he has been viewed as a shortstop, so it will be interesting to see where his future lies with this team.
Born in Aurora, Ohio, in 1997, Weber is the Cubs fifth-round draft pick out of the University of Virginia and has performed very well since joining the Cubs organization. Not an elite prospect by any means at this point in his career, Weber has done a decent job compiling a .262 career average through three MLB seasons.
His best year came in 2019 as part of the Midwest League Champion South Bend Cubs, where he played in 127 games. During his time with South Bend, Weber hit the ball exceptionally well, batting .275 with three homers and 59 RBIs. Yes, the power numbers are minimal at best, but he is someone who isn't going to hit you a ton of homers.
Looking to build off his 2019 season, Weber was slowed by a significant injury this season that limited him to just 44 games.
After opening the season with the ACL Cubs, Weber was promoted to AA Tennessee, spending his final 41 games with the Smokies. Although his average was a career-worst .214, that doesn't come as a shock as the AA Southern League is often one of the toughest leagues to adjust to in the Minors. Looking for more action after being slowed by his injury, Weber committed to the Arizona Fall League and has done quite well.
Although the numbers were down for the tall and slender infielder, most of his results stemmed from bad luck as luck is turning in his favor this fall. For the most part, everything needs to be better for Weber next season, from making fewer errors to more contact and more patience at the plate. The skills are there for him to get better, and so is a picture-perfect left-handed swing, translating to great results in the fall league.
What Weber lacks in power at the plate, he makes up for with instincts as he legged out a team-high eight triples in 2019. That is impressive when you think about it because he isn't the fastest player in the world. That shows you that he not only reads the ball well off the bat, but also knows how to anticipate things and isn't afraid to be aggressive on the bases.
Looking to make the most out of a terrible season, Weber has been unreal with the Mesa Solar Sox, which has to have him and the Cubs excited for next season. Through 18 games in the Arizona Fall League, Weber is hitting .315 on the season and has connected for three doubles, four triples, and two homers in 18 games. Add in the 15 walks, and you can see his patience at the plate improving, which he knew he needed to do.
Although Weber is listed as a shortstop for the time being, but he projects more as a second baseman to me at the major league level. That will only become a topic of discussion should he continue to hit the way he has this fall, but don't expect any long-term discussions until next season. The big question will be regarding Weber and a 40-man roster spot.
With the 40-man roster set at precisely 40 right now, Weber has an unclear future with this team. David Bote and Jason Heyward would be ideal candidates for the Cubs to move away from sooner rather than later, but don't look for a move like that to happen until next year. Weber is a left-handed bat that has been impressive during the fall; leaving him off the 40-man roster at this point is not a wise move.
Sometimes all it takes is for a hitter to figure things out is a new setting, and Mesa has been the setting Weber needed. It is unclear whether his Fall League performance is what to expect from him going forward. However, when you look at his 2019 and compare it to what he is doing now, I think we all can assume this is the type of hitter he can be. For an organization looking for high-contact and average hitters, Weber seems like a lock to be added to the 40-man roster this offseason leaving him in the Cubs system for a little bit longer.