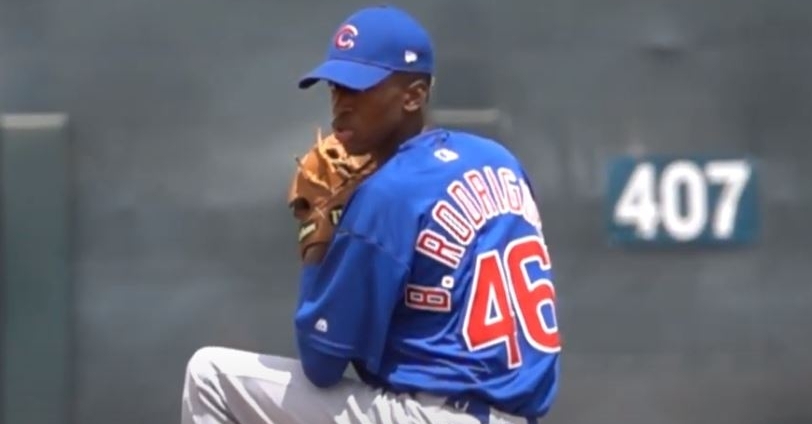 | | |
| --- | --- |
| Cubs Prospect Focus: Ben Rodriguez | |
---
The best part of covering an MLB farm system is getting to know the system as a whole. Sure, everyone hears about Miguel Amaya, Brennen Davis, Braylin Marquez, and Cristian Hernandez, who are the top prospects in the system, but what about everyone else? Unless you are present at Minor League games or know everything about every prospect in the system, there are always names overlooked when it comes to building an organization.
Here at CubsHQ, we try to give fans more an in-depth analysis into the Cubs system by breaking down some of the lesser-known prospects. Given that we are still in the middle of an MLB lockout, there hasn't been a ton of news to cover at this point, so keeping fans in the loop when it comes to Minor League players is a good thing. Remember, this is an MLB lockout, not a baseball lockout, as the Minor League season will continue as scheduled, which is a good thing.
Speaking of lesser-known names in the system, the Cubs have a very intriguing pitcher who can be seen as a wild card right now. You may have heard of him, and you may not have. If you haven't, start paying attention to RHP Benjamin Rodriguez and how his development has gone so far. Signed as an international free agent in 2016, the lanky right-hander was always viewed as a top 30 prospect given the overall stuff he can bring to the table.
At 22 years old, Rodriguez is still extremely young even though he has been part of the Cubs system for six years. Just because he was drafted in 2016, Rodriguez didn't see the field until a year later, making his professional debut in 2017 as part of the Dominican Summer League. 17 years old at the time, Rodriguez was limited to just eight games that summer, with three of them being starts.
From a numbers side of things, Rodriguez took his bumps going 0-2 with a 7.11 ERA, but those were essential lumps for the 17-year-old to take should he want to get better down the road. Rodriguez also struggled mightily with his command, where he had 18BB/7K. That was the one area of his game he needed to work on, as better results would come with better command.
Knowing what he needed to improve upon in 2018, Rodriguez was back in the Dominican Summer League pitching for the DSL Cubs 1 team. Unlike the season before, Rodriguez wasn't on any limitations and thus pitched in 15 games making 12 starts. Rodriguez saw a dramatic uptick in innings pitched throughout those games, where he topped 64 innings that summer. His 5-5 record was a pleasant surprise to see, but his 4.31 ERA was a massive improvement from 2017. Those improved numbers stemmed from improved command as Rodriguez totaled 25BB/47K that summer.
Seeing that kind of improvement from one season to the next is good for anyone, but when you make those improvements at just 18 years old, it turns a lot of heads. That was the case in Chicago, and the Cubs wasted little time getting him stateside to pitch in the Arizona League for the 2019 season. Much like 2018, he was a busy man making 10 starts and 12 appearances overall while topping 50 innings.
His record was just 2-3, but you know you are doing something right when you post a 3.58 ERA in the ACL. That was the lowest ERA of his career and add in the 17BB/38K ratio, and you can see the constant improvements Rodriguez was making from year one to year three. Those consistent improvements are what landed him on the outside of the top 30 list and had many inside the Cubs organization believing he was something special.
In the two years since, Rodriguez has yet to see the field, which doesn't bode well for any pitcher. 2020 was not his fault as COVID canceled the Minor League season, but 2021 was a different story. Hoping to continue his massive improvements, Rodriguez spent last season on the 60-day injured list before coming off in early November. That means he will be on nearly three years without throwing a pitch, so no one knows what they will be getting out of him next year.
When Rodriguez was signed as a free agent, his fastball was in the 88-90 MPH range. The more he matured along the way, the better that fastball became, as it now sits consistently in the 92-94 MPH range. To pair off that fastball comes a breaking ball that he considers more of a Slurve than anything. That pitch always had great shape and break, but now he has added more power to that pitch, making it break sharper than ever.
Rodriguez has also been working on a change-up that may be behind his other pitches right now, but has the potential to be a tremendous third offering. Should that happen, he has the stuff to be considered a back of the rotation arm. However, missing two full seasons is never easy, so look for him to land in the bullpen for the time being and perhaps pitch his way out.

Upgrade Your Account
Unlock premium boards and exclusive features (e.g. ad-free) by upgrading your account today.
Upgrade Now