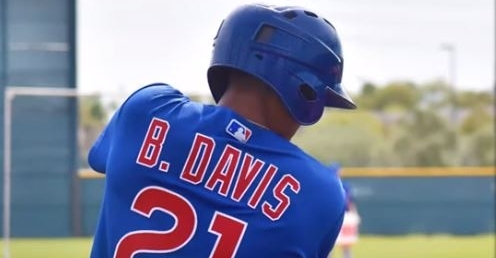 | | |
| --- | --- |
| Cubs Prospect Focus: Brennen Davis | |
---
| | | |
| --- | --- | --- |
| Sunday, December 26, 2021, 8:26 AM | | |
Remember when Cubs fans were drooling over the amount of prospect talent they had within their organization? Yeah, me too, and those were the good old days. However, in four years, the Cubs farm system went from the best in baseball to one of the worst. At the time, it wasn't a bad thing because most of their prized prospects got the call to the majors and helped this team win their first world series in 108 years.
However, other highly touted prospects were traded away in the years since the Cubs did their best to plug in the holes on their roster. There were times when those trades worked, but most of them backfired on the Cubs setting their franchise a few steps back after working so hard to build up the organization. Knowing that improving the farm system was a must if they wanted to contend again, the Cubs have done that over the last few years, and things are starting to look up in the Windy City.
Fans are starting to become familiar with a lot of the names, but Brennen Davis is the cream of the crop as he will be the Cubs top prospect for a second straight year. Not only that, but Davis emerged as the No. 14 overall prospect in baseball last year, and there is a chance he could improve on that this season.
Davis was a bit of an unknown when he came out of high school after attending Basha High (Chandler, AZ), mainly because he was a raw athlete that played two sports. He was one of the best basketball players in Arizona and helped lead his high school to a state championship in 2017. Basketball was true love until his standout performance at the AREA Code summer baseball games, which alone shifted Davis' focus as a baseball first guy.
Because of that, you could see the potential he had as his senior season in 2018 was supposed to be crucial for his development. Instead, Davis suffered a hamstring injury that saw him miss a large chunk of time while questions about whether his bat was pro-ready had mixed opinions on where he would be drafted. The Cubs never waivered from their opinion on him and still took him in the second round, signing him to a 1.1 million dollar deal in the process.
Following that signing, Davis has done nothing, but impress, and many are starting to feel like he was the steal of the 2018 draft. In just 18 games in 2018, Davis hit .298 with zero homers and three RBIs while playing in the Arizona Rookie League. Some things that went unnoticed about his game were his patience from 10BB to 12K and his speed, where he swiped all six bases he tried.
One year later, the Cubs wanted to try his luck in full-season ball and sent him on his way to South Bend. Once again, the injury bug bit him as he took not one, but two fastballs off his wrist during the season, thus limiting him to 50 games. That is never good for development, but Davis didn't let that stop him.
Over those 50 games, Davis did nothing but hit where he posted a .305 average to go with eight homers and 30 RBIs. Those eight homers were second on the team behind Cole Roederer, while his 30 RBIs ranked third. Once again, Davis showed great patience walking 18 times and striking out just 38 while stealing four bases. You could see the potential in him, and the Cubs started to see the Ceiling that may not be reached anytime soon.
Expecting to carry over that success into 2020, Davis, like the rest of Minor League baseball, learned the season would be Cancelled and thus had to spend time working at the Cubs Alternate site before putting on a show in the Fall Instructional League. A few months later, Davis saw some time with the team in spring training before embarking on what hoped to be a massive 2021 season in the minors.
What started at AA Tennessee finished at AAA Iowa as Davis had a great season. Once again, he did miss some time, but still managed to play in 99 out of a possible 120 games, which was a good sign. Although his average was slightly down, hitting just .260, He did everything the Cubs could have asked for and more, connecting for 19 combined homers and 53 RBIs while logging 25 doubles. Davis also stole a career-high eight bases, took 50 walks, and struck out 118 times as the sky is the limit for this kid.
Small sample size or not, Davis hit better after his call up to Iowa, where he hit .268 across 15 games with four homers, 12 RBIs, 11BB, and 15K. He homered in three straight games with Iowa and started his AAA career with a bang.
Not only has Davis' bat been better than anticipated this early, but he is way more polished of a hitter than the Cubs even thought.
His struggles against experienced pitchers early on are a thing of the past, as he started to showcase himself in the Instructional League last year. Once he showed the ability to make adjustments, Davis began to take off, and this season was a clear indication of what was to come from him. Not only has he tightened up his swing, but his opposite-field power has finally been unleashed, which has led to more home run power. Davis has always had the raw power given his bat speed, but when you look at his 6-4 frame and the added strength he could put on, that power could be off the charts.
Although he hasn't shown a ton of it yet, his speed is another element to his game as he has the potential to be a 30-30 guy if he wants to. I don't see that happening significantly if he adds more strength to the point where 20 steals would be a good season. He is primarily a center fielder right now, Davis needs to improve on his route running to get a ball, but his arm will allow him to play any one of the three outfield spots. He is the best prospect since Kris Bryant to come through this system, and it is time for Cubs fans to get used to his name.