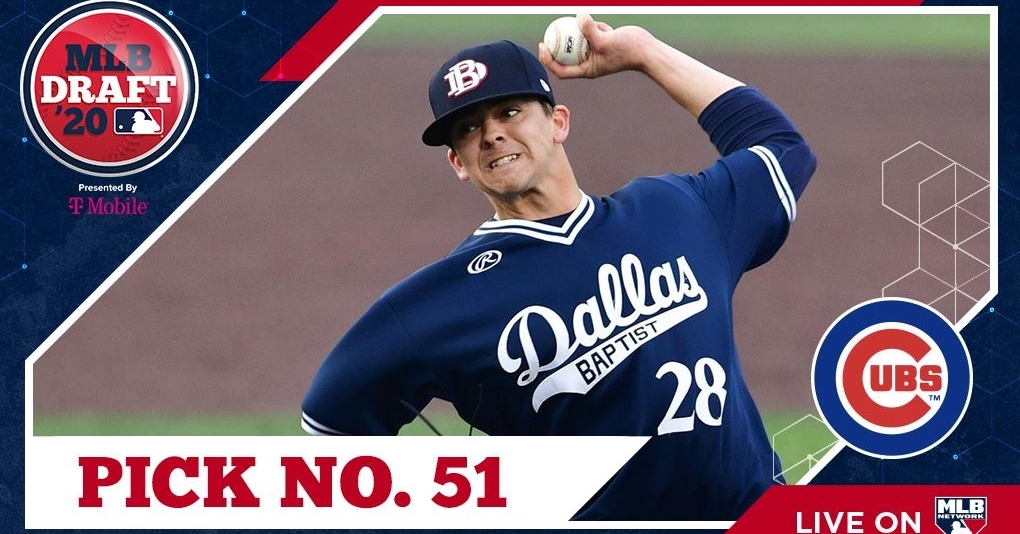 | | |
| --- | --- |
| Cubs Prospect Focus: Burl Carraway | |
---
| | | |
| --- | --- | --- |
| Saturday, January 1, 2022, 9:04 AM | | |
All condensed to just five rounds in 2020, the Cubs did a phenomenal job finding talent in the MLB draft. Most of the talent they selected will not be ready for several years, but some players could contribute by the end of next season or early 2023. The one that most expect to contribute first is left-handed pitcher Burl Carraway.
Drafted in the second round of the 2020 MLB Draft out of Dallas Baptist, Carraway is the definition of a relief pitcher, which is not something the Cubs have a ton of. Not only that, but Carraway is known for pitching in high leverage situations, which makes him a classic late-inning reliever. When you watch him pitch, you immediately notice his 6-0 173 pound frame, which is a bit undersized for a pitcher.
However, Carraway makes up for that in various ways and has often drawn comparisons to Billy Wagner in terms of his overall pitching style. Carraway is your typical left-handed power pitcher that lives in the 95-97 MPH range with his fastball. That fastball can also appear faster than it looks, given how he throws his pitches, making him a tough at-bat for anyone.
Along with that fastball comes one of the best, if not the best curveball in the entire system. His high arm slot not only generates a ton of spin, but creates some intense vertical movement that often makes hitters look silly. Despite having just two pitches, Carraway can live off those two pitches as each of them will generate plenty of swings and misses.
Like most relievers, Carraway pitches strictly from the stretch and uses a quick up-tempo style mixed with some excellent deception. When you talk about deception, there are many ways to look at it, and Carraway has a unique style of deception. He turns his back to the hitters and hides the ball exceptionally well. Add in a high leg kick followed by his burst towards home plate, and you can see why the ball gets on the hitters as quickly as it does.
Carraway spent three years with Dallas Baptist, but never had a ton of experience. After pitching just 1/3 of an inning as a freshman and getting lit up in the process, Carraway bounced back in a big way during his sophomore campaign. Not only did he surpass 41 innings, but he posted an excellent 2.81 ERA in relief. His 22B/72K showed excellent command, and his six saves not only led the team but proved he could hold down late-inning leads.
Expecting to build off that sophomore season in 2020, Carraway once again got off to a great start despite throwing just 9 1/3 innings of work. He allowed just one run for a 0.96 ERA, recorded five saves in five chances, and posted a 6BB/17K ratio. There is no telling how his season would have ended, but after COVID wiped out the rest of the 2020 season, Carraway elected to enter the MLB draft.
Despite pitching just 51 innings in college, the final two seasons stood out for the Cubs and gave them all the confidence they needed to draft him in the second round.
At the time of the pick, most MLB experts felt that Carraway was the most big-league ready arm and could contribute to the Cubs that season. Hoping that was the case, Chicago stashed him at their alternate site where he finished the season.
Knowing what was expected of him and what a lot of the experts saw in him, Carraway entered 2021 as one of the pitchers to watch and began his professional career with South Bend. He pitched 29 games for the Cubs that season and things didn't go smoothly. Sure, his 3-3 record isn't bad, but a 6.10 ERA is a concern, as was his 46BB/54K ratio. Looking back on a lot of those outings, you notice one thing. When Carraway was on, he was lights out, but he couldn't find the plate when he was off, which led to way too many rough outings.
Even with his subpar performance with South Bend, the Cubs needed pitching help towards the end of the season, thus promoting him to AA Tennessee to finish things out. Although a small sample size spanning 4 2/3 innings in just four games, Carraway looked much better with the Smokies than with South Bend. Command was still an issue as he walked four and struck out three, but he was able to limit the damage and didn't surrender an earned run.
There is no question Carraway has the stuff to be a late-inning reliever despite having a two-pitch mix. However, unlike college, his command has been a serious problem at the professional level so far, and it needs to get ironed out. Ultimately, the development of a third pitch could go a long way, and from all accounts, it looks like Carraway is working on a slider that he wants to use next season. If the inconsistent performances continue, Carraway may pitch himself out of the Cubs future plans. However, if he irons out those command issues, you are looking at someone with late-inning relief written all over him.
https://www.youtube.com/watch?v=b5rOliVaavk
https://www.youtube.com/watch?v=nsE4kxK_pQU&t=57s