| | |
| --- | --- |
| Cubs Prospect Focus: Casey Opitz | |
---
| | | |
| --- | --- | --- |
| 2022-01-31 14:32:03.0 | | |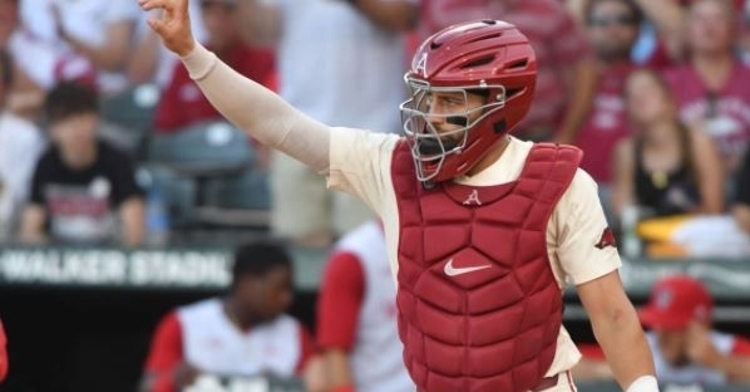 When we look back and evaluate the 2021 MLB draft class, the Cubs came away with, and you have to like what they did. Sure Jordan Wicks and James Triantos are the cream of that class, but the Cubs did a great job filling plenty of needs and adding tons of solid pieces across the board. You can look at the first five or six rounds where they were getting third-round talent, which shows how deep the draft was.
Another player taken with the first 10 rounds was drafted in the eighth round with Catcher Casey Opitz hearing his name called. The former Arkansas Razorback was viewed as a potential fifth-round talent, so to have the Cubs grab him in the eighth round works as a steal for this team. Unlike many catchers that teams go for that come with offensive upside, Opitz is known for his defense which may not be a bad thing.
He is an excellent catch-and-throw catcher with a quick pop time, but Opitz may possess the best throwing arm among all the catchers in last year's class. Don't believe me. Look at his stats in Arkansas, where he threw out 43% of base stealers in his career. A big reason for that would be the quick pop-up times, but you also need a strong and accurate arm to reach numbers as he does.
Given his success when throwing out baserunners, many teams shut down their running game when he is behind the dish. It is a rare advantage that not many teams have, so it is enormous for the Cubs to get someone with that potential. Although known for his arm, the bat could provide some valuable production when given a chance as he saw plenty of experience in his first summer as a pro.
Upon being drafted, Optiz headed to Mesa, Arizona, to join the ACL Cubs and played a total of one game. Opitz went 1-3 with a strikeout in that game, but the Cubs felt he looked better than advertised, so they wanted to move him up in the system. The next stop was Low A Myrtle Beach, as Opitz had the rare opportunity to finish the season in full-season ball.
With guys like Pablo Aliendo on the roster, Opitz would not be an everyday player, but still gave the Cubs 16 appearances over the next several weeks. Across those 16 games, Opitz logged 49 at-bats, coming away with 12 hits which translates to a .245 average. Although he failed to hit a homer and drove in a total of three RBIs, he showed terrific patience at the plate, where he took 10 walks and struck out 11 times.
His plate discipline is worth noting, as that is often the last part of your offensive game to develop. To see him have the discipline he did at such an early step in his professional career has to give the Cubs confidence, and they rewarded him with that the final week of the season. As the Cubs were hit with injuries the last month of the season, there was a ton of movement within their minor league system.
Opitz was one of those players on the move as he surpassed both High A and AA to finish his season with AAA Iowa. Opitz saw action in two games over the final week of the season, with all of them coming as starts. Opitz went 1-4 in those two games, but his command of the strike zone was in full effect as he took four more walks to just two strikeouts.
Signed for $90,000 when drafted, Opitz isn't making a ton when it comes to many other prospects, but he could be one that moves up extremely fast in the system. Having the defensive aspect of his game as his standout is one thing, but his patience at the plate at such a young age is encouraging. Furthermore, Opitz is known for working well with his pitchers and has been outstanding for blocking balls in the dirt. Considering the Cubs have plenty of young and unproven pitchers across their entire organization, that could be something that is overlooked.
Had Opitz had more power or a more consistent bat, you are looking at someone who would have been taken in rounds 3-5. Instead, his bat, or lack of a bat, saw him fall to the eighth round, where the Cubs nabbed him up. They are not going to complain about that, and I am willing to bet a lot of Cubs fans won't either when they can see what he really can do this season.