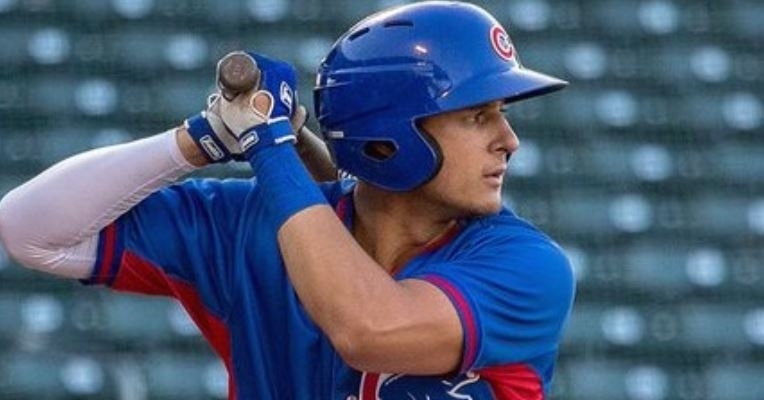 | | |
| --- | --- |
| Cubs Prospect Focus: Chase Strumpf | |
---
| | | |
| --- | --- | --- |
| Friday, November 26, 2021, 8:01 AM | | |
Over the last 12 months, the Cubs farm system has gone through a significant overhaul that has seen several new faces rise in the rankings while familiar names fell. The ones that fell didn't necessarily play bad, but instead, the influx of new faces acquired in trades made the farm system that much deeper and stronger.
One of those guys who took a tumble in the rankings was 3b/2b, Chase Strumpf. Drafted in the second round in 2019 out of UCLA, Strumpf is best known for hitting a homer in the College World Series a few moments after being selected. He followed a Theo Epstein trend of big-time collegiate bats and checked in at No. 9 last season in the prospect rankings, but now sits at 23 entering 2022.
Strumpf was part of the same infield that produced the No. 1 overall pick in 2017 Royce Lewis during his time at San Juan Capistrano High School in California. Strumpf was primarily a shortstop during his prep days, but once he committed to the Bruins, he immediately switched to second base as that was the best position for his future.
Not only did that switch prove to be vital, but as the 2019 season unfolded, Strumpf was the highest-rated second base prospect in the draft, making him a no-brainer for the Cubs to grab in the second round. That homer he hit was all the Cubs needed to see in terms of potential, and he signed for just over one million dollars when all was said and done.
Like all rookie players, it took a little while to settle in during his pro debut, but he managed to play 39 games across three levels of play in 2019. Not only did he start his career with the ACL Cubs, but Strumpf moved on to short-season Eugene and then finished at South Bend, playing a significant role in helping the Cubs win the Midwest League Title. Despite struggling in seven games with ACL, the Cubs liked what they saw, and once he got to Eugene, he started to deliver in a big way.
In his 26 games with the Emeralds, not only did Strumpf hit a .292, but he connected for two homers and 14 RBIs while often being used near the top of the lineup. He wasn't as good with South Bend, hitting just a .125 across six games, but still hit a .244 with three homers and 17 RBIs in his first pro season. Entering 2020, the Cubs had extremely high hopes for him until COVID canceled the Minor league season.
Those hopes would be put on hold until 2021, when Strumpf showed flashes during spring training connecting for a couple of homers before landing in AA Tennessee, for the season. As expected, Strumpf continued to struggle as the Southern League is a tough league to play in, but he did start to figure things out the final month of the season, which could translate well into 2022. For the season, Strumpf bounced around different infield positions seeing action in 78 games while hitting .231 with seven homers and 36 RBIs.
When the draft was about to get underway, Strumpf drew a ton of comparisons to fellow Cub Nico Hoerner just with more power-hitting potential. Even though he has plenty of pop in his bat, Strumpf focused more on lining the ball into the gaps while controlling the strike zone extremely well to hit for a high average. Since turning pro, however, Strumpf is a different kind of hitter as launch angle has turned him into more of a pull hitter, hampering his development at this stage.
There is no doubt that he has the ability to hit in the 280s, but the focus on lifting the ball and trying to pull it every time needs to change. Not only is he strong, but he produces some excellent bat speed which could help translate into 20 plus homer seasons when all is said and done. That power
won't matter if he tries to force it, as he can let his power come naturally when you look at his overall swing path.
Strumpf is also extremely versatile in the field, which the Cubs love, but he has no natural position at this point, making most of his value come from his bat. The problem with that is the early hitting struggles have been alarming as the Cubs expected that part of his game to translate well. Perhaps new eyes in the organization can help him get back to being the hitter he was in college instead of preaching launch angle.
Granted, he has played third, short, and some outfield, Strumpf doesn't have the greatest of arms in the field, so second base may be his ideal fit long term unless the NL adopts a DH. However, he made significant strides at third base with Tennessee this season, and his arm was more than adequate for that position. With Kris Bryant no longer anchoring the fort and with no long-term option at third, Strumpf may be moving there permanently as that could be his best chance to make it to the show.