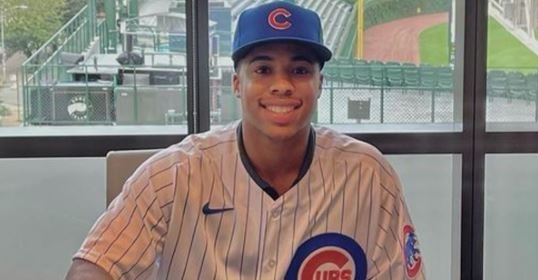 | | |
| --- | --- |
| Cubs Prospect Focus: Christian Franklin | |
---
| | | |
| --- | --- | --- |
| Monday, November 29, 2021, 8:52 AM | | |
The biggest issue that everyone has always had with the MLB draft is the number of rounds. When you look at the NBA, NFL, NHL, and MLS, all of those leagues have a draft between 2-7 rounds, and it seems to work perfectly for them. The draft was once 45 rounds in baseball, making more than 1000 players eligible to be drafted.
I get that is a large number, but when you look at how the minor league system works for baseball compared to everyone else, they needed more rounds to make things work. Forty rounds were always too many, but the best thing about baseball is that you can find gems in the later rounds that you would never find elsewhere.
However, the days of the 40-round drafts are over as MLB condensed the current down to five rounds in 2020 due to COVID before bumping it back up to 20 in 2021. Twenty rounds seem to be the direction MLB wants to go from here on out, as that number seems to work better for everyone. Even with a decrease in rounds, the Cubs have always done a great job finding value with some of their picks, even if they don't turn out.
I would argue that the 2021 draft was one of the best drafts from this team in quite some time, and it will show that within the next few years. One of the reasons why the Cubs did so well this year in the draft were the steals they had across the board, with Christian Franklin being one of those steals. The former Arkansas University outfielder was taken in the fourth round and has emerged as the Cubs No. 21 prospect in just two months.
When Franklin arrived in Arkansas two years ago, no one knew what his future would hold. That future was quickly answered as he became an immediate starter for the best team in the nation last season. What the Cubs and a lot of teams loved about him are his overall tools, as he possesses some of the best raw tools in the class. You would think that alone would spell first-rounder, but concerns over a potential lack of contact forced a fall to the fourth round, where the Cubs nabbed him and signed him for 425,000.
Unlike last season where drafted players didn't have an opportunity to play, Franklin took a little bit to land with a team, but did play tons of games down the stretch. His first of two landing spots was in Mesa, where he spent four games with the ACL Cubs. Franklin was hitting the cover off the baseball in those four games, going 5-11 for a .455 average with three RBIs. He also took three walks, struck out twice, and swiped three bags.
That brief, but solid production earned him a trip to the full-season leagues, where he finished the season with Myrtle Beach. Again, Franklin had a limited sample size given how late in the season it was, but still managed to play in 20 games showing plenty of the raw abilities that attracted so many teams. Although his average was just .200, Franklin figured it out across his final 10 games, where he was hitting close to .270.
Average aside, his eye for the plate continued to draw the attention of the Cubs organization, where he took 17 more walks to go with 23 strikeouts and finished the season with 20 walks and 25 strikeouts. Franklin added his first and only homer with the Pelicans while adding five more RBIs as he will be looking to build off a brief, but positive showing to start his MLB career.
Ironically, his plate discipline may be his best attribute at this point, which is shocking when you think of it. Franklin was a high strikeout low walk guy when he arrived in college and has improved his plate discipline every season, which showed last year. That improved discipline not only allows him to string together consistent quality at-bats, but someone who can prove to be a steal if he plays up to the level he did in college.
Franklin is a right-handed hitting outfielder with plenty of raw power generated from excellent bat speed and tremendous forearm strength. That alone allows for impressive exit velocities and the ability to take the ball over the fence across the field. His speed has decreased in recent seasons, but Franklin still has more speed than people give him credit for. He is fast enough and has the smarts to become a base stealer, which could play into his development next season.
Instincts and quickness stand out the most from the defensive side of things as he gets great reads on every ball. That allows him to cover more ground than you would expect and make some of the more difficult plays look routine. Franklin is primarily a center fielder, but he could play either one of the three outfield positions given his arm strength. Hitting will get him to the show the fastest, but should that bat not hold up, he is still good enough to be a fourth outfielder.