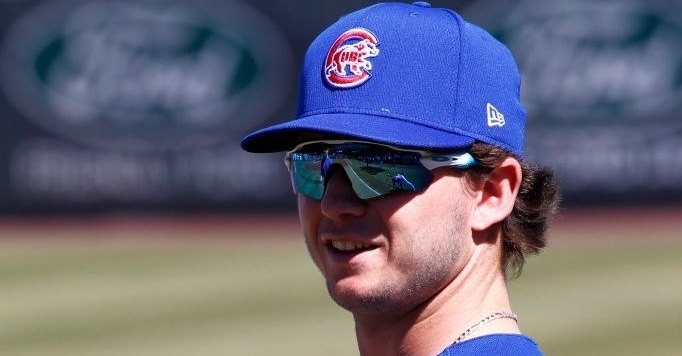 | | |
| --- | --- |
| Cubs Prospect Focus: Cole Roederer | |
---
| | | |
| --- | --- | --- |
| Thursday, November 25, 2021, 12:32 PM | | |
The 2018 draft class may go down as one of the best classes for the Cubs in quite a while. Brennen Davis is the highlight of that class thus far as he continues to push closer to the MLB, but there was another highly regarded outfielder the Cubs signed that season. I am talking about Cole Roederer, who needs to hit 2022 with a bang.
Taken 77th overall in 2018 as part of the competitive part of the second round, Roederer was a top 10 prospect heading into 2021 before missing nearly the entire season with Tommy John. Since it has been now two seasons since he has seen the field, he has fallen to 24th in the system, but is still a highly regarded prospect.
As a high school senior in California, Roederer drew a ton of Andrew Benintendi comparisons which isn't a bad player to be compared to. After committing to UCLA, Roederer injured his non-throwing shoulder during his senior year and thus was available for the Cubs to take at pick #77. 1.2 million dollars later, and Roederer signed with the Cubs to begin his professional career.
Known as an extremely aggressive hitter, especially when it comes to heaters, Roederer endured a rough first season in A-ball as the pitchers exploited his aggressiveness by throwing him changeups. Roederer made significant improvements across the final six weeks of his rookie season, which seemed to put him on track for 2022, but he has barely played since.
Expected to be not only a high average hitter, but a power hitter, Roederer burst on the scene in 2018, playing 36 games for the ACL Cubs. In that brief stint, Roederer hit a respectable .275 to go with five homers and 24 RBIs. He drew 18 walks, struck out 37 times, and added 13 steals for what was a great season.
One year later, he found himself making his full-season debut playing for the South Bend Cubs. Not only did he play, but he played in a ton of games seeing action in 108 of the Cubs games that season, helping them win the Midwest League title. Although his .224 average was not good, he hit a .254 in the final six weeks of the season as he started to figure things out as the season went on.
What stood out what Roederer's pure left-handed swing which generated nine homers and a team-high 60 RBIs. His 52 walks and 112 strikeouts were a decent ratio while also showing the speed with 15 steals. Roederer also added 19 doubles and four triples as he showed the Cubs what he could do when he put the ball in play.
Expecting big things from him this season, Roederer spent a month with South Bend hitting a .229 across 20 games. While the power numbers were not there, hitting zero homers and five RBIs, his improved plate discipline stood out 12 walks to 20 strikeouts. His season was then cut short with an elbow injury resulting in Tommy John surgery, leaving him on track to return in early 2022.
No one will argue the potential that Roederer has going back to his high school days. However, the biggest key for his development is figuring out the
type of hitter he wants to be. Not only does he have a great swing capable of generating elite bat speed, but he has an excellent feel for the strike zone and can work the count consistently.
Ideally, Roederer is someone you should expect to hit in the 280-300 range if he can trust in himself. Although the power numbers haven't been there quite yet, I think he is someone who can give you 20-25 homers on an annual basis while adding 20 plus steals. The biggest issue that scouts have seen in his development thus far is launch angle.
Roederer is mostly a pull hitter at this stage of his career, but he is way too focused on launching the ball to the pull side instead of letting his ability work for him. The longer that continues, the less likely it will be for him to reach his potential. Once he can get away from that and develop a gap-to-gap type approach like his swing is capable of, Roederer will take off and will show the Cubs what a pure hitter is all about.
Not only can the hitting be a significant attribute for him, but so is his speed as he is an attribute on the bases. He has good speed, great instincts, and provides an aggressive nature when on the basepaths. Roederer is also a student of the game, and his high IQ gives him the ability to stay in center field long-term. However, given that his elbow underwent Tommy John, he may be forced to move to left field to make up for a potential loss in arm strength.
Of all the players who need to take 2022 seriously, Roederer may be the one under the biggest microscope. Not only was he a highly regarded hitter, but he hasn't done much to prove his worth thus far. With just 20 games of experience over the past two seasons to go with Tommy John last year, it will be interesting to see how things transpire once he steps on the field again.
https://www.youtube.com/watch?v=7gzZFAgQAQ0
https://www.youtube.com/watch?v=mTJicRnxJVc