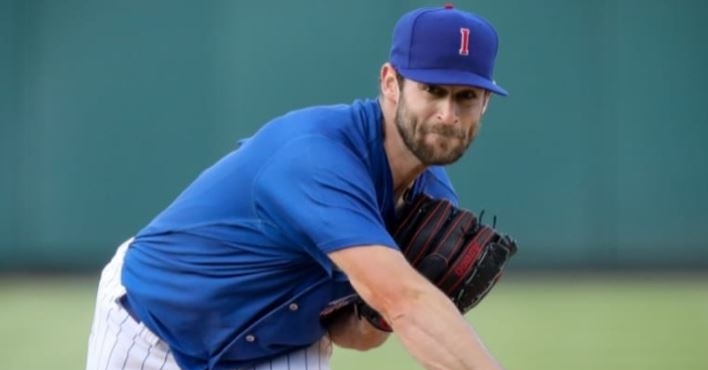 | | |
| --- | --- |
| Cubs Prospect Focus: Cory Abbott | |
---
| | | |
| --- | --- | --- |
| Monday, January 3, 2022, 8:41 AM | | |
Now that we have gotten away from the top prospects inside the organization and are focusing on some of the lesser-known prospects, there is one thing you will notice. This portion of the series is pitching heavy, which is a good thing when you look at the state of this team. While some of these pitchers may be a few years from consistently contributing, it's never bad to have as much pitching as they do, which helps build success for the future.
One name that most should be familiar with is right-hander Cory Abbott by now. A 2017 second-round pick out of Loyola Marymount, Abbott was on quite a roll with the Cubs to begin his Professional Career and saw himself inside the top 15 organizational prospects entering 2020. Abbott is a student of the game, and you can see that by the developments he made in college.
After struggling with inconsistencies in pitch grips, Abbott watched a video on Noah Syndergaard and changed his grip to a similar style. From that moment on, Abbott took off and dominated hitters, where he threw the first perfect game in school history that season. To up the ante a bit, Abbott also had a stretch of 43 innings without permitting an earned run and set the program strikeout per nine innings record at 11.3. He also held opponents to just a .173 average, so you can see what an altered grip can do.
Although it was one season of dominating success, that season propelled him into the second round, where the Cubs made sure to pounce on him. At the time, everyone knew his potential, but it wasn't until they saw what he could do in pro ball before everyone started to buy-in. Across five games with Eugene that season, Abbott threw a total of 14 innings while posting a 3.86 ERA. His 3BB/18K ratio fell in line with college, and the Cubs loved what they saw from him.
One year later, Abbott moved through the system, seeing time with South Bend and Myrtle Beach. Abbott was as durable as they come for the season, making 22 starts and tossing 115 innings. Not only was that a good thing, but so were the results as he went 8-6 with a 2.50 ERA 39BB/131K. Not only were those numbers impressive, but Abbott was one of the fastest rising arms in all of minor league baseball at this point, which led to another promotion in 2019.
Welcome to AA Tennessee, where Abbott put together one of the best seasons in Smokies History. Not only did he reach a new career-high in starts (25) and innings 146, but everything about his makeup was improving, which had the Cubs wondering if he could contribute in 2020. Despite an 8-8 record that season, he was the ace of the staff posting a 3.01 ERA and a 52BB/166K strikeout ratio. He was the first pitcher in 10 years to surpass 150 strikeouts in a season, making him the easy choice for the organizational pitcher of the year.
Clearly, pro ball was no match for him at this point, and many thought he was MLB bound in 2020. That was until COVID wiped away the season, forcing him to lose a year of development. It didn't completely go to waste, as he spent time in the alternate site before returning to the Minors in 2021 as a member of 2021. Abbott needs to figure out whatever happened from 2019-2021 because the season was a struggle for him this year.
Across 19 starts with Iowa, Abbott logged just 96 innings, and they were not pretty. He was 5-6 overall, but his 5.91 ERA was a concern. He also walked 53 and struck out 130, but did improve as the season progressed. Struggles or not, Abbott did reach the major leagues on several occasions appearing in seven games, making one start late in the year. While the results were not great 0-0 with a 6.75 ERA, the command 11BB/12K and home run ball were his undoing which he will learn from.
Typically a guy who sits in the 92-93 MPH range, Abbott saw a slight uptick pitching in relief last season, but is still projected to be a starter. A big reason for that is his steady blend of offspeed pitches that offset a hitter's timing and miss tons of bats. The best pitch of the bunch is his 84 MPH slider with an 81 MPH curve right behind it. Add in an 87 MPH cutter, and Abbott has four pitches he uses often and has success with.
Usually, a pitcher would be content with four pitches, but not Abbott, who continues to work on a fading change as that could be used more often next season. Abbott has all the makings of a middle to front of the rotation arm for years to come. He is athletic and has an easy delivery that makes it repeatable on every pitch. He is a strike-thrower who keeps hitters off balance and is as durable as they come. The Cubs got a steal in him, and now it is time to put 2021 behind him and become the pitcher he has shown he can be.