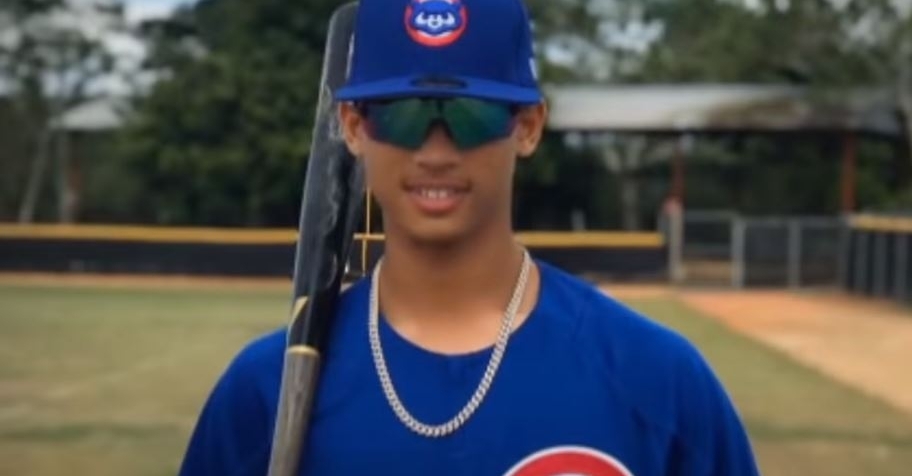 | | |
| --- | --- |
| Cubs Prospect Focus: Cristian Hernandez | |
---
| | | |
| --- | --- | --- |
| Friday, December 24, 2021, 8:47 AM | | |
The Cubs haven't had the greatest prospects in a few years now as most of those talented kids made the show and helped lead this team to the 2016 World Series Title. They have had some top pieces over that time, but most of those faces were traded for pieces that didn't work out in the Cubs favor. To get back to consistently winning, they needed to upgrade the farm system, which they have done.
Not too many teams can say they have talent in the top half of their farm system like the Cubs do, and that all revolves around Brennen Davis as he continues to skyrocket up the prospect rankings. Even with Davis being as highly touted as he is, another prospect is still a bit of an unknown, but may come with even more overall skill and upside than Davis when it is all said and done.
Checking in at No. 3 on the Cubs top 30 prospect list is the young shortstop phenom, Cristian Hernandez. Signed as an international free agent less than a year ago, most scouts felt he was the best international prospect in the 2020 class, but he didn't sign until January 15, 2021. The Cubs have had plenty of International talent with upside, including Eloy Jimenez and Gleyber Torres, who they both traded away. Still, the organization feels that Hernandez has more upside than both players.
The Dominican-born teenager, Hernandez, is just 18 years old and was signed for an impressive three million dollars. When you look at his physical comparison and tools across the board, he is drawing similarities to a young Alex Rodriguez when he came into the league along with Manny Machado. Both of those are household names, and to be compared to players like that could be huge for this organization.
Once he signed on the dotted line, it was only a matter of time until he began his professional career, but he had to wait several months until the Rookie League started to play. Once they did, Hernandez was stashed in the DSL, where he played for the DSL Cubs Blue Squad. Throughout the season, not only did Hernandez become a regular in the field, but he showed steady improvement from the beginning of the season, ensuring even more confidence in the organization how good of a player he is.
In 47 games, Hernandez logged 158 at-bats logging 45 hits in the process. That was good for a .285 average which happened to be over .310 across his final 30 games. Along with the average, Hernandez logged five doubles, one triple and led his team with five homers and 22 RBIs. He also showed off impressive speed swiping 21 bases as he proved to be the real deal.
Another thing the organization loved about him was his approach to the plate which you can't teach. Despite being just 17 when he was drafted and turning 18 last year, you would never guess looking at his numbers. He took 30 walks and struck out 39 times which is impressive in itself, but that led to an OBP of .398, which is unheard of.
Hernandez has all the tools you look for in a franchise player, and many of those tools were on display last season. Some feel he can be a .300 plus hitter and log 30 plus homers a season which would be huge for this team. He has a fluid right-handed swing that produces good bat speed, leading to a mature approach at the plate.
Not only did he show plenty of maturity last season, but he lived up to the expectations of someone who has always had a track record of producing in games. Add in his 6-2 175 pound frame, and there is no question that Hernandez is going to fill out and add plenty of strength to improve his overall power and stature at the plate.
This season Hernandez did more running than at any point of his young career and showed off more speed than most thought he had. That speed may not stick as he could lose a step or two with added strength, but that doesn't mean he will be slow when it comes to baserunning. Even if he does lose some speed, Hernandez will make up for that with his pure athleticism, which will allow him to stick at shortstop long-term.
His quickness when it comes to first step and reaction time, along with plus arm strength, gives him the option to move all over the field with center field as a possible option if need be. However, until that comes about and the Cubs are faced with the decision of keeping him at short or moving him around, Hernandez is the most talented shortstop in the organization right now, and it isn't even close.