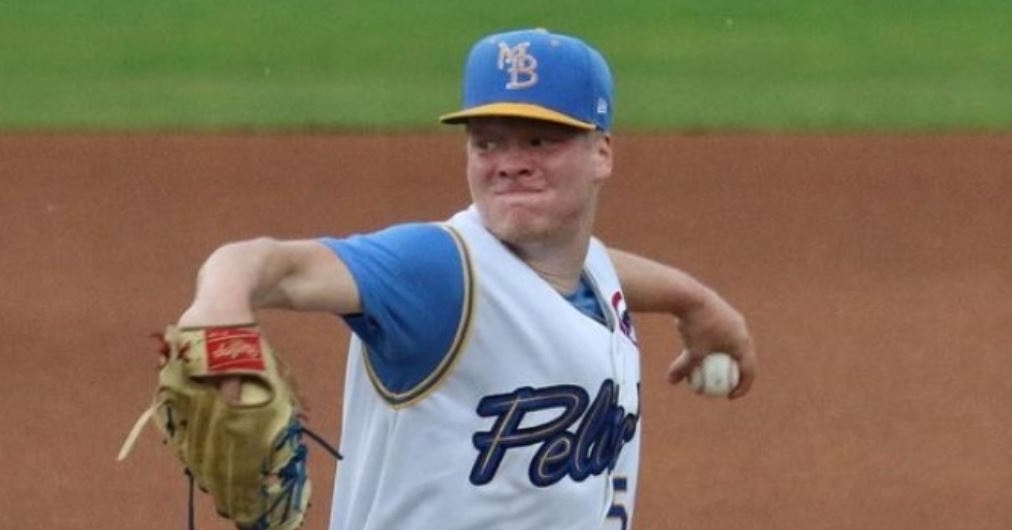 | | |
| --- | --- |
| Cubs Prospect Focus: DJ Herz | |
---
| | | |
| --- | --- | --- |
| Saturday, December 11, 2021, 9:00 AM | | |
For an organization struggling to develop homegrown pitching, help is on the way, although it still may be a few years away. Fans saw Justin Steele and Keegan Thompson emerge as future options last season as they could be the first of what will hopefully be a long and successful wave of pitching. Still, the future of this organization rests on the development of starting pitching help, and most of that won't be ready until 2023 or later.
Even though fans may have to wait longer than they would like, they have an opportunity to see some of that pitching next year as the Minor League season will be back to a full slate of games in 2022. That will allow fans to see last year's organizational pitcher of the year in action, as DJ Herz could be the next big thing. An eighth-round pick in 2019, Herz has been nothing short of brilliant since being drafted as he has risen to the No. 13 prospect in the Cubs system.
The 6-2 lefty was a prep standout in North Carolina and had one of the more electric arms among high school starters in the 2019 class. Given that he had plenty of college commitments and most teams felt it would be difficult to sign him, Herz fell farther down in the draft than he thought, but the Cubs didn't shy away from taking him in the eighth round.
Despite that, the Cubs were extremely confident in his abilities and signed him to a $500,000 bonus which is equivalent to fourth-round money, not eighth. From the moment he signed with the Cubs, you saw all the potential in the world, and that has carried over now two years after making his professional debut.
Like most draft picks, Herz was limited in action upon being drafted, appearing in just six games for Short-season Eugene. Herz lasted 10 1/3 innings and posted a 2.61 ERA in those six games, all of which were starts. His command was a little bit iffy, walking eight and striking out eight, but the potential was there. The Cubs also saw the potential in his arm, and in order to keep him developing at the pace they need him to, they put him in their instructional league last fall.
That appeared to be the organization's best decision as he continued to develop across the board, used everything he learned, and put it on display in 2021. Herz was impressive across 20 starts between Low A Myrtle Beach and High A South Bend. His record wasn't what you would think it would be looking at the numbers as he went 4-4, but his 3.31 ERA is where you notice how well he pitched.
Like most young pitchers, the Cubs wanted to monitor his innings as he seldom pitched more than five innings and only threw 81 innings on the season. Still, those 81 innings were impressive, which is why he landed the organization pitcher of the year award. Not only did his command improve significantly, walking 44 compared to 131 strikeouts, but he limited hitters to a .157 average as he was tough to hit. Herz also averaged more than 14 strikeouts per nine innings which ranked him second in all of minor league baseball.
As a high schooler, Herz consistently saw his heater sit around 90-92, but since making his professional debut has added plenty of velocity. Herz has added five MPH in just two short seasons and now sits in the 95-96 range and consistently hit 97 plus if needed. A big reason for that is his size and added strength, as that will continue to be a considerable part of his game. With that plus, heater comes your typical left-handed breaking ball, which is also a plus pitch. Not only does his slider sit around 83, but he generates a ton of ugly swings off that pitch as hitters have a tough time picking up that pitch. A big reason for that is that it has more of a horizontal break as opposed to the standard diagonal break. Herz is also working on a spike curve which has the makings of being a great pitch.
One thing that will ultimately determine how fast Herz reaches the majors is how fast he develops those secondary pitches. We have already seen him work on his breaking balls, but now Herz has turned his attention to his changeup, which he continues to gain a lot more confidence in. With the high velocity and a variety of off-speed stuff, Herz throws across his body which adds more deception in his release making it hard for hitters to pick up the baseball.
Sometimes, that deception comes with a price as it hurts his command. Another thing scouts have noticed is how he delivers the baseball. He has a longer arm action than you would like to see, which is why many scouts feel he may land in the bullpen to maximize his potential. While that may be the case, the Cubs are putting a lot into him as they feel his arm works just fine. Add in his strength and athleticism, and you have a future starter in the making who continues to impress and should only get better.