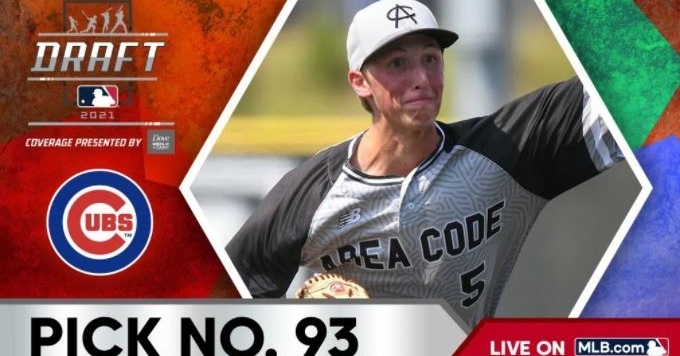 | | |
| --- | --- |
| Cubs Prospect Focus: Drew Grey | |
---
| | | |
| --- | --- | --- |
| Thursday, December 30, 2021, 1:15 PM | | |
Over the last several weeks, we have been breaking down several of the Cubs prospects who may be contributing in the next few years. Most of them were familiar names, with players landing in the top 30 Prospect list. However, we also broke down players who emerged as legitimate breakout candidates following a strong showing in the AFL.
However, an organization isn't just built on top prospects but also prospect depth. The Cubs are one of those organizations that have done a great job of accumulating prospect depth, and that alone could help jumpstart their next winning team. Over the next several weeks, we will be breaking down some of the lesser-known prospects who could be on the verge of taking significant strides forward in 2022.
Today we start things off with SP pitcher Drew Grey. For those unfamiliar with Grey, he is new to the Cubs organization drafted in the third round of last summer's MLB draft. The 6-3 190 pound IMG Academy prospect has all the size in the world and has plenty of opportunity to gain more strength to become a legitimate starter in the MLB.
High school products are a dime a dozen when it comes to the MLB, but finding worthy high school talent is not always easy as it takes several years for most of these kids to mature. Grey is a unique prospect in various ways, and that all stems from being a two-way player. That means not only was he one of the better prep pitchers on the circuit, but his bat is no slouch either, as he can hit with the best of them.
Given his size, you would think that he may struggle on the mound at times. That is not the case, as he is as athletic as they come. With the Cubs lacking left-handed pitching across their organization, the Cubs made a point to focus on that this season, drafting southpaw Jordan Wicks in the first round and then Grey two rounds later.
Like most lefties, Grey is known for his breaking ball as he gets tremendous natural break and motion out of that pitch. From a fastball side of things, he tends to sit in the 90-92 MPH range, but that should come up a tick or two once he puts on some added strength. However, it will be his curveball that sets him apart, and that might be the pitch that gets him to the show.
Not only does it feature a ridiculous 2800 RPM spin rate, but it tends to sit in the 77 MPH range. That means it not only has a serious break with good velocity off that break, but the spin rate makes it look faster than it is, creating a nightmare effect for hitters. Another thing the Cubs organization has noticed about him is his work ethic, as he has put in the time to develop a third pitch.
That pitch happens to be a change-up that, although raw at this point, has the potential to be another plus offering. Grey will need all three pitches working if he wants to establish himself as a starter in this league. Knowing that high school products tend to take a little longer to develop, the Cubs wanted to ease him into action slowly and stashed him in the ACL late in the season.
Not expected to see much time, Grey did manage to make two appearances for the Cubs, compiling four innings in the process. Although a limited sample size, the Cubs had to like what they saw as he allowed just one run on three hits in those four innings to go with one walk and a ridiculous nine strikeouts. That averages out to 17 strikeouts per nine innings which would be an impressive feat to accomplish throughout an entire season.
Despite his size, Grey gets extremely low on the mound creating some excellent deception from his release point. He gets excellent balance with his lead leg by going low as he does, which creates excellent extension from his follow-through on the way to home plate. Like most young prospects, having a consistent release is crucial to longevity, and Grey needs more of a consistent release.
Once he begins to mature more physically, look for that release point to start to come together along with some added velocity across the board. Grey will undoubtedly be more of a long-term prospect, but don't let that deter you. He has all the makings of a rotation type of an arm capable of beating you with three pitches.