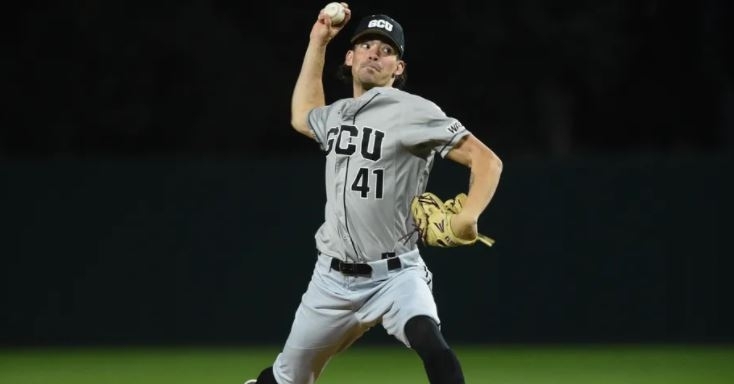 | | |
| --- | --- |
| Cubs Prospect Focus: Frank Scalzo Jr | |
---
A considerable portion of the 2021 MLB draft was pitching-focused for the Cubs. They started that by drafting a pair of lefties in the first three rounds before adding tons more pitching in the later rounds. Many pitchers may or may not pan out, but the only way to know that is to get them in the system and see how they perform.
One of the pitchers that the Cubs will keep an eye on this season is 14th round pick Frank Scalzo Jr. Drafted out of Grand Canyon University, Scalzo
hasn't faced some of the elite competition that others have, but that shouldn't shy teams away from what he did. The Cubs were not intimidated by that and chose to make him one of their later round selections with hopes of finding a diamond in the rough.
When you look at his collegiate career, you have a tale of two seasons: one was a rough season, and one was great. As expected, Scalzo struggled during his freshman season after arriving on campus in 2019. During that season, Scalzo made 24 appearances and totaled four starts. He covered 59 innings over those games and posted a 4-6 record with a 5.49 ERA. He walked 16 and struck out 34 as the command was ok, but not great.
Those are not great numbers by any means, but more often than not, freshmen struggle in their first year of college as they look to adjust to the college game. Following his freshman season, GCU had high hopes for Scalzo in 2020 and wasted little time getting him to work early. Due to COVID shortening and canceling the season, Scalzo was limited to just 11 innings in 2020, which were accumulated over six games.
Small sample size or not, Scalzo pitched well, posting a 0-0 record with a 0.00 ERA. He also walked two hitters and struck out nine, so you can see the start he was off to. It was a disappointing end to what could have been a promising season, and Scalzo knew that. He put in plenty of work that offseason and knew what he needed to work on to improve as a pitcher.
Once the season was canceled, Scalzo got back to work as he was hoping for a breakout junior season.
After putting in the work during the fall and winter in preparation for the season, Scalzo returned to GCU for his junior season, where he continued to build off what looked to be an impressive sophomore season. In 25 appearances last season, Scalzo logged 29 innings as all his appearances were in relief. The results were fantastic, going 2-2 with a 2.12 ERA, and his 11BB/31K continued to improve after his command wavered a bit during his freshman season.
Scalzo was trajecting upward over the last seasons despite being a relief pitcher over a starter. You do sometimes have that in college, and when that happens, it is tough to gauge how MLB teams will see them come draft weekend. Scalzo would not be taken in the first two days, but that doesn't mean someone didn't see value in him. The Cubs saw enough value off his last two seasons and therefore drafted him in the 14th round with hopes he could develop into a reliable reliever.
Unlike most rookie pitchers sent to the Rookie Leagues, Scalzo spent one game with the ACL Cubs before heading to Myrtle Beach to finish the season. In total, you had a guy who made six appearances posting a 0-0 mark with a 1.00 ERA. He allowed one run on seven hits in his nine innings of work as Scalzo was way better than advertised. He made five of those six appearances with the Pelicans and logged eight innings posting a 1.13 ERA in the process. Not only did he walk just one-hitter, but he struck out seven as he proved to be more overpowering than some expected. Could this have been a case of teams not knowing who he is as a pitcher, maybe, but the bottom line is that Scalzo proved he could pitch at the professional level, and now the Cubs will see what they can get out of him for an entire season.
Given that he is still relatively young, he has plenty of time to develop and come into his own as a pitcher. His fastball sits around the 92-93 mark, but there is some hope that he can add a few MPH. Going with that fastball is a slider that continues to be his top secondary offering and a change-up that needs more usage. Should he get to that third pitch, Scalzo could be a mid-round steal that has a successful baseball career.