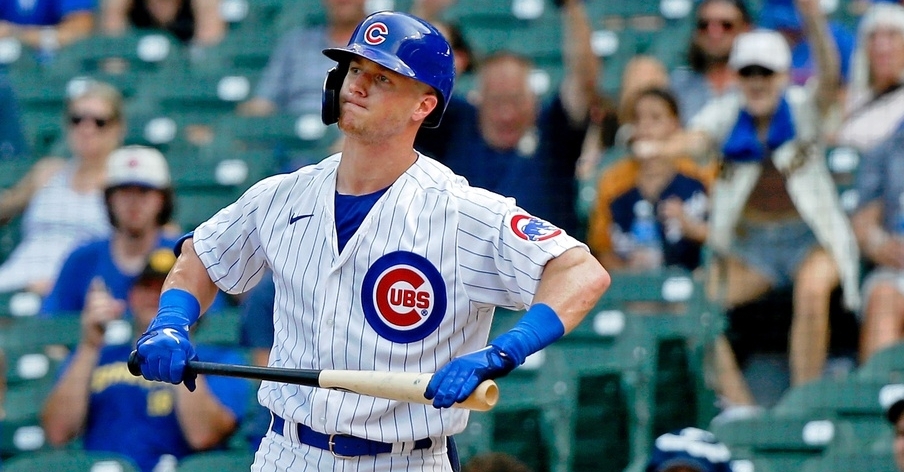 | | |
| --- | --- |
| Cubs Prospect Focus: Greg Deichmann | |
---
| | | |
| --- | --- | --- |
| Sunday, November 28, 2021, 9:41 AM | | |
The Cubs got off to an impressive start last season, ripping off a 38-27 mark to take over the NL Central through two months. After that, things went south in a hurry, with the Cubs enduring both an 11 and 12 game losing streak this season. Both of those streaks rank in the top five losing streaks in Franchise history, which is not something you want to be a part of.
Take away those two skids, and the Cubs were not as bad as what people think as they were three games above .500 the rest of the way. Still, the 11-game skid in June ultimately determined the nail in the Cubs coffin this season as it signaled the beginning of a month-long fire sale. During that time, the Cubs saw the last of their remaining core pieces traded to new teams while they acquired prospects primarily in return for the future.
Along with those players were several other players that proved to be critical for the Cubs this season, and one of those names was Andrew Chafin. After emerging as the Cubs primary eighth-inning guy, Chafin established himself as one of the best relievers in the game and was sent to Oakland in exchange for Greg Deichmann.
The 2017 second-round pick made the MLB roster twice during the season and will have a shot at making the opening day roster in 2022. Checking in at No.22 on the Cubs prospect list, Deichmann was one of the best high school hitters in 2014, packing some impressive raw power with him. However, after a rough senior season and some issues about signing him, Deichmann went undrafted and signed with LSU.
Deichmann had a slow start to his collegiate career, barely playing during his freshman season before exploding for 30 homers over his next two seasons. That production landed him with the second-round selection by the Oakland A's, but injuries derailed his first professional season. Following a 46 game stint in 2017 where he hit .274 with eight homers in rookie league ball, Deichmann missed time the next two seasons with a broken bone in his hand and a shoulder injury.
Still, he managed to log nearly 140 games between those two seasons, combining for 18 homers 64 RBIs despite hitting just a .218 across the board. His plate discipline was a huge concern as a low walk rate, and high strikeout rate led to the downfall in average.
2021 was an excellent season for Deichmann as he finally stayed healthy and showed what he could do.
Across 94 games, Deichmann hit a .274 with seven homers and 48 RBIs while adding 10 steals. With 61BB and 98K, his plate discipline got much better, which led to more consistent at-bats across the board. 34 of those 94 games came in the Cubs organization while playing for AAA Iowa after the trade. Not only did he just hit a .227, but with three homers and 13 RBIs, he left the Cubs searching for more. Deichmann also reached the majors twice this season, hitting .133 across 14 games with one RBI.
For the longest time, everyone said Deichmann's best attribute was his raw power from the left side of the plate. I am not denying that the power isn't there, but he hasn't shown it since turning pro. That power comes from a quick bat which was on display during the 2019 AFL, where he led the league with nine homers in 23 games. Although plate discipline has been an issue, he was much more selective at the plate this season, leading to more walks and fewer punchouts.
More walks and more contact are always good things, but he is homering less now than ever before, which has to make you wonder about his power potential in the future. He is no longer a power-hitting guy and instead could be a top-of-the-order bat capable of making contact and delivering plenty of extra-base hits to jumpstart the offense.
Deichmann will be a corner outfielder as he doesn't possess a ton of speed, but he has the instincts that make him look faster than he is. Ironically, Deichmann was an infielder in college before moving to the outfield during his junior season. Although far from polished, Deichmann has turned himself into an adequate outfielder, which will only improve with more reps and experience.
The above-average arm will allow him to stick in right field should that be the Cubs plan for him in the future. Like many guys in the Cubs system, Chicago will give him plenty of looks this spring to see the type of hitter he is with consistent reps. Whether he makes the MLB roster or not is yet to be seen, but he will have an opportunity to make some noise.