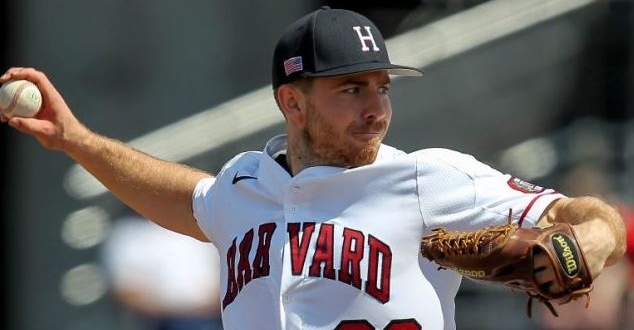 | | |
| --- | --- |
| Cubs Prospect Focus: Hunter Biggie | |
---
| | | |
| --- | --- | --- |
| Thursday, January 20, 2022, 4:32 PM | | |
The last several MLB drafts have been a crapshoot for the Cubs, but have come with plenty of success stories. While many of the 2019,2020, and 2021 classes may still be a few years away from making a name for themselves, you can't help but congratulate the Cubs front office on doing a great job adding depth to the organization help restock the farm system for the future.
One of the names that most people haven't heard of to this point is Hunter Biggie, who is on the verge of breaking out for the Cubs. A 2019 12th round pick out of Harvard, Biggie has dealt with minor injuries across his career, especially in 2021, but it hasn't taken away from the job he has done when healthy.
The 6-1 205 pound righty from Los Gatos, California, is the perfect size for a pitcher and had a good career with Harvard. During his freshman season, Biggie was primarily a reliever giving the Crimson 14 innings of work and going 4-3 over that span. His 6.43 ERA was expected from a freshman, as was his 8BB/12K ratio. One year later saw Biggie not only made significant improvements, but emerged as one of Harvard's more trusted arms in relief.
Biggie nearly doubled his workload that season pitching just under 27 innings and going 5-3 in relief. His 2.70 ERA was something that turned heads, as was his 16BB/26K, as Biggie proved he can be a strikeout pitcher even if the walks remained a bit high. Biggie also added a pair of saves that season and showed he could be trusted in high leverage situations. Expecting good things out of him in 2019, Biggie made the transition from reliever to starter, and the rest is history.
From a record side of things, Biggie was outstanding, going 7-2 and giving the team nearly 75 innings of work on the mound. His 4.58 ERA is not what you would like to see from a starter, but his 36BB/76K ratio continued to show improvement from the season before, which is all you can ask for when it comes to a college pitcher. That type of season may not have been great, but it showed plenty of upside and one the Cubs wanted to take a chance on.
They took that chance by taking him in the 12th round of the 2019 draft and have had him in their organization ever since.
Like most collegiate pitchers who are drafted, the Cubs gave Biggie the opportunity to join the team almost immediately to keep his workload going. He did just that pitching in both the ACL summer league and the Northwest League short-season league pitching for the Eugene Emeralds. Across nine games that season, Biggie in 16 innings as all those games were relief appearances. Small sample size, yes, but the results of that sample size were impressive.
The 2-0 record is one thing, but his 1.13 ERA is impressive no matter how you look at it. He surrendered just two runs on just seven hits over those 16 innings, walking 10 and striking out 22. Considering how his junior year at Harvard went, it followed the same trend of Biggie constantly improving from one season to the next, which is what the Cubs were hoping he could do with them.
2020 was supposed to be a huge season for Biggie as he would have an opportunity to be a valuable piece in the full-season leagues. Instead, Biggie had to suffer a season of lost baseball as COVID forced him to pitch in instructional ball all season. Although pitching in instructional ball is good in terms of development, it doesn't always lead to success as you are not facing competitive pitching.
Once 2021 got underway, Biggie had a successful spring, which led the Cubs to send him to High-A South Bend for his first crack at full-season ball. Although the results were not the best, Biggie did battle through several injuries that limited him to just 17 games across the season and just 20 innings. Looking at the results, you would call his season a disappointment, but it is all part of the process, especially after a lost season.
Over those 17 games, Biggie posted a 1-2 record to go with a 5.66 ERA. His command was a bit iffy at times 17BB/29K, but he did manage to record three holds, and one save. One of the most promising improvements for Biggie is his overall increase in velocity. A guy who sat in the 89-90 MPH range while at Harvard has seen a significant uptick to the 92-95 MPH range in pro ball.
Last fall, there were even times when he touched 97 MPH, so there is plenty of velocity left in that arm. Even with the injuries, Biggie was still seen in the 94-97 MPH range last season, so that wasn't affected at all. He looks the part of your typical reliever and now must work on his secondary pitches to get where he needs to be.