| | |
| --- | --- |
| Cubs Prospect Focus: Jacob Wetzel | |
---
| | | |
| --- | --- | --- |
| Monday, February 14, 2022, 8:26 AM | | |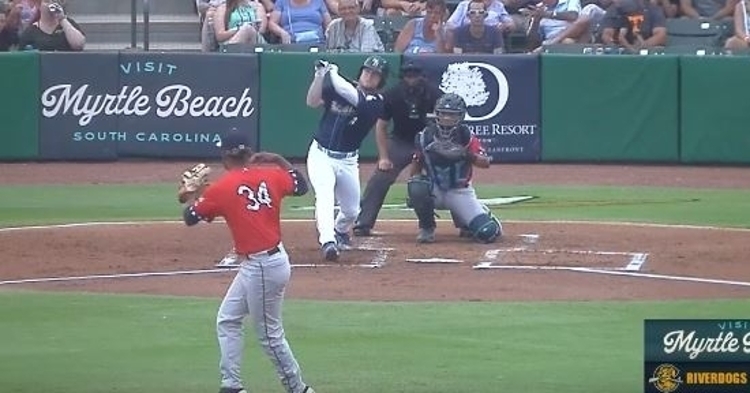 Just when you thought the prospect focus series was over, more names have started to pop up on prospect watch lists as we push toward Minor League baseball. Although the recent names added to the list may not be anything special, they are at least viewed as sleeper picks which could put the Cubs farm system in the top five if things go right.
One of those sleeper picks made a home with Myrtle Beach last season in OF prospect Jacob Wetzel. Part of the 2020 summer draft that was shortened to just five rounds, Wetzel wasn't even drafted as he signed with the Cubs as an undrafted free agent. Undrafted or not, Wetzel was one of the players the Cubs were hoping to get off the waiver market, so when he became available, the Cubs made sure to grab him.
The former Old Dominion product, Wetzel has a long way to go in terms of his overall development as a player, but he has shown plenty of ability to become a great hitter. However, his baseball journey certainly hasn't come easy, and some would argue that his overall success nearly ended as quickly as it started.
Before arriving at Old Dominion, Wetzel was a two-sport athlete and was also being recruited by schools to play WR in football. Although he had plenty of great offers on the table, Wetzel ultimately decided baseball was his best sport and committed to Old Dominion shortly after. He was expected to be one of the better players for the Monarchs once he arrived, but that was not the case, at least not early on.
Wetzel was dealing with some mental health issues from the day he arrived on campus, and after trying to battle it for months, elected to withdraw from Old Dominion to focus on his mental health and well-being. That put his baseball future up in the air as no one knew what would come next for him. Not ready to give up his dream, Wetzel returned to school and took his talents to his local JC in hopes of turning things around.
Taking a year off from college baseball is never easy, but not only did Wetzel make the JC team, but he proved he was one of the best players on that team, showing everyone why he was a Division 1 caliber player. In 50 games as a freshman, Wetzel flat out raked as he hit .377 and posted a .510 OBP and .667 slugging. Those numbers are unheard of for power hitters, and Wetzel is far from a power hitter.
Not only did his high on-base percentage come from his impressive average, but Wetzel was also an extremely patient hitter at the plate, where he took 35 walks to just 23 strikeouts. That is something you can't teach an MLB player as plate discipline is something most of these players don't learn that young. Looking back at his average for a second, Wetzel can use the whole field to his advantage as he logged 61 hits, with seven doubles, 11 triples, six homers, and 55 RBIs.
Although that may have been his best season, Wetzel continued to play well over the next few seasons and eventually put his name on the radar for plenty of teams. Had the 2020 draft been more than five rounds, there is no question he would have been drafted, but regardless he has found a home in the Cubs system where they are hoping to see what he can do in the coming years.
2020 was a difficult season for him as it was for everyone else as COVID prevented the minor leagues from playing. That meant following the MLB draft and him signing as a free agent; Wetzel was stashed in Mesa, Arizona, where he just went through basic instructional workouts for an entire summer. Not knowing what to expect out of him in 2021, the Cubs took a chance on him and placed him in full-season ball with the Low A Myrtle Beach Pelicans.
Not expected to rake as he did in college, Wetzel was still going to be counted on a lot as the Cubs wanted to see what he could do at the plate. Not only was he trusted, but he emerged as a near everyday player where he played in 86 games last season. Although not the greatest in terms of statistics, it was Wetzel's first competitive environment in over a year, so the learning curve was to be expected.
Across those 86 games, Wetzel managed to hit just .229, but did way better the second half of the season. With that, he collected 66 hits, with five of them coming as doubles and three more as triples. Wetzel also showed some surprising pop where he finished second on the team with eight homers and ranked near the top in RBIs with 45. He also added seven steals to his name on 10 attempts.
One aspect of his game that didn't translate well was his patience at the plate. Yes, Wetzel still showed patience collecting 40 walks, but his 87 strikeouts were unfamiliar territory. That shouldn't come as a surprise making the jump to pro ball, and the Cubs are not worried about it yet. Wetzel is the kind of low-risk signing that many teams make to round out their roster. Although he may not be viewed as an elite prospect, there is plenty to like about his game, and it will be interesting to see how much different he approaches things this season.