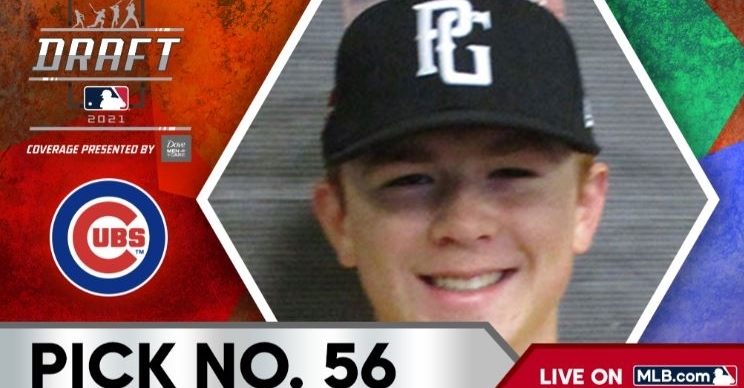 | | |
| --- | --- |
| Cubs Prospect Focus: James Triantos | |
---
| | | |
| --- | --- | --- |
| Monday, December 13, 2021, 10:00 AM | | |
When the 2021 MLB Draft was set to begin, the Chicago Cubs had one thing in mind. Rebuild the farm system with quality talent that could lead to long-term success. Although it is way too early to see how things will pan out, many people felt the Cubs did a phenomenal job in this year's draft and that this could be the telling point for the future of the franchise.
Three of the 20 picks they made are listed in the Cubs top 30 prospects, with two landing in the top 11. I would argue that the one with the most upside checks in at No.11 on their prospect list in James Triantos. Drafted in the second round last summer, Triantos was listed as a third base product but spent a ton of time playing shortstop last season.
Not only are the Cubs fortunate to have him in the second round, but they are lucky to have him in general as he was supposed to graduate from high school this spring, but chose to reclassify last fall. Triantos was your classic two-way player at the prep level, helping lead Madison High (Vienna) to the Class 6 Virginia state championship. During the championship game, Triantos not only homered, but he tossed a complete-game one-hitter with 12 punchouts.
Although the pitching numbers were impressive, Triantos will see his days as a two-way player come to an end as the Cubs want him to focus on hitting and playing in the field. Given the talent and the potential that comes from his bat, Triantos was the fastest rising prep start in the entire draft class. Because of that, the Cubs knew they had to pursue him aggressively and signed him to a 2.1 million dollar bonus which is well above second-round value.
Like most players who see action the same year they are drafted, it took Triantos a little bit to get acclimated to professional ball even though he arrived sooner than most picks. Once he signed, Triantos was assigned to Mesa and played for the ACL Cubs. While in Mesa, he played in 25 games and did nothing, but deliver.
Not only did he connect for 33 hits in 107 at-bats, good for a .327 average, but Triantos flashed plenty of power potential belting six homers and driving in 19 RBIs. He added seven doubles, one triple, and three steals to that line showing he is more than just a power-hitting infielder. Another thing that fans notice is his overall feel for the plate, where he took seven walks and struck out 18 strikeouts.
Triantos wasn't as coveted as other high school players considering he reclassified after the summer showcase. However, had they known he would produce at the level he did in the ACL, you may have seen more teams pursue him in the first round. The bottom line is the Cubs have a great talent who is a first-round caliber talent and is drawing comparisons to Alex Bregman and David Wright.
Those are two of the best third basemen ever to play the game so being compared to players like that is certainly worth noting, even if it is way too early to draw those comparisons. However, Triantos has a very compact swing comparable to both of those players while having a good feel for the barrel, which allows for not only consistent contact but consistent hard contact.
At 6-1 and 195 pounds, Triantos may have filled out as much as he can with his frame, but that shouldn't matter in terms of his future production. He already has enough strength and bat speed to generate at worst average power at this stage of his career, but showed plenty of pop in the ACL. The big question will be how will that power translate once he is away from the thin Arizona air and playing in the Full Season Leagues.
Despite being listed as a 3B when he was drafted, Triantos played his prep career at the shortstop position and continued to stick thereafter, making his pro debut. He has shown plenty of potential to be, at worst, an average defender at that position, but most scouts think he is destined to move to either third or second when you look at his body build and athletic stature.
While the power and overall athleticism are there, Triantos is not the fastest runner in the world and has only average speed at best. That alone limits his range at SS, which is why a move to either the left or right side of him may be in order. He makes up for what he lacks in speed with elite arm strength, as he was clocked at 96 MPH on the mound during the summer.
That fastball velocity is intriguing if you ask me because I wonder if the Cubs should allow him to be a two-way player for the time being. Fans have seen how that has worked for Shohei Otani thus far, and Michael Lorenzen appears to be signing as a two-way player this season. Although it may not be the future for Triantos, his high baseball IQ and work ethic make it a possibility to at least try him out as a two-way player right now.
It would allow the Cubs to have his bat in the lineup every day while also trying to see what they can get out of his fastball, which could be one of the best in the system right now. Regardless of what the future holds for Triantos, he is an intriguing prospect that the Cubs are lucky enough to have right now.