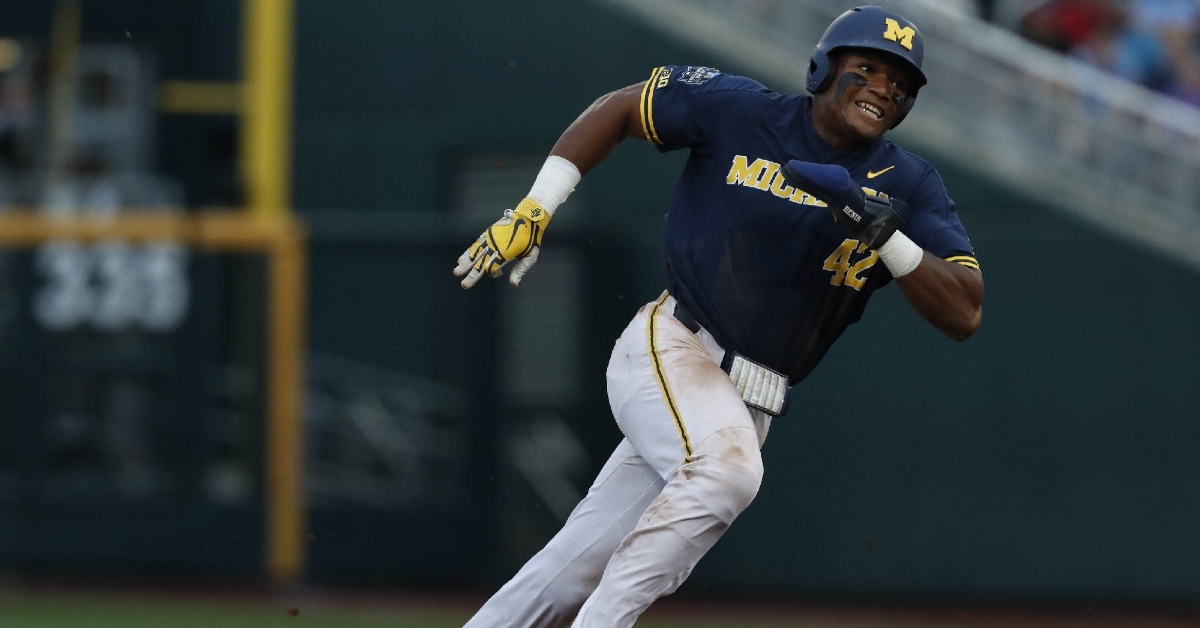 | | |
| --- | --- |
| Cubs Prospect Focus: Jordan Nwogu | |
---
| | | |
| --- | --- | --- |
| Tuesday, November 23, 2021, 9:01 AM | | |
The 2020 MLB season was one for the memory books, but not in a good way. With Spring training nearly 60% completed at the time, COVID swept through the World unexplained and unexpected, causing the entire world sports included to come to a crashing halt. With no clear picture as to what was going on, no one knew if baseball or anything for that matter would return in 2020.
After months of talking and working out the logistics of everything, baseball settled on a 60-game schedule that was set to take place in late July. A small victory for the game, yes, but without fans, it was a losing battle as things were still far from normal. Speaking of far from normal, the 2020 MLB draft was also much different after the NCAA seasons ended prematurely.
What was supposed to be a 42 round draft was cut down to five rounds with lots of players electing to come back to college one more year. The lucky players selected in the draft would have to wait until 2021 to showcase their stuff as no minor league season took place in 2020. The Cubs made five selections in that draft, plus adding tons of undrafted free agents that finally took the field this season.
One of those selections was third-round pick Jordan Nwogu, who checks in as the team's No. 26 prospect. The 6-3 230 outfielder from the University of Michigan is a physical specimen and someone who drew the attention of football scouts to play defensive end out of high school. Instead, he elected to stay close to home, taking an academic scholarship at Michigan before walking on to the Wolverines baseball team.
That was just the start of things for Nwogu, as his work ethic helped him earn the top offensive performer for his team in 2019 while earning that award again in 2020 before the season was cut short.
Two great years of production helped him get drafted in the third round and signed with the Cubs for $678,600. Even with no minor league season in 2020, Nwogu saw some pitching as he introduced pro ball at the instructional league. One club official noted that he was as tooled up as any prospect the organization has had in years.
Looking to prove that club official right, Nwogu made his pro debut this season with Myrtle Beach and put together a pretty strong campaign. Although Nwogu got off to a slow start, which was expected, losing a year of baseball action, Nwogu came on strong and emerged as one of the Pelicans best hitters over the final two months of the season. Across 94 games, Nwogu posted a .248 average which included a .277 over those last two months.
His 10 homers tied for the team lead with Matt Mervis, while his 40 RBIs led the team. Add in 16 stolen bases, and Nwogu showed impressive speed for his size, proving that he has multiple tools to work with. Even though his 42BB to 105K doesn't look great on paper, he did improve that as the season went on and posted a .344 OBP to go with a .390 slugging. Nwogu also added 12 doubles and two triples as big things could be in store for him in 2022.
When you see Nwogu in person, you immediately notice his size as he is a very well-built human. Add in the impressive upper body strength, and it shouldn't come as a surprise to see the high exit velocities that come off his bat. His swing is a bit unorthodox and will need some adjusting as he gets into the higher levels of professional ball. Still, for now, he has proven to be a dead-read fastball hitter capable of driving the ball over the fence all over the field.
While his unorthodox approach isn't ideal, Nwogu makes up for it with his strength, and hand-eye coordination as a good feel for the strike zone mixed with a quick bat leads to those impressive exit velocities you see. Managing the strike zone was a big key to his second-half surge this season, but like all young players, he needs to recognize both change-ups and breaking balls to take those next steps as a player.
Ultimately, the bat will carry Nwogu to the next level, but don't sleep on the other parts of his game. He has great speed for his size, making him a threat on the bases, and he can play an average outfield. He needs to work on getting better jumps in the field as he tends to get bad reads when going back on baseballs. Look for him to lock down a left-field position for the Cubs as he looks like an ideal corner outfield fit.