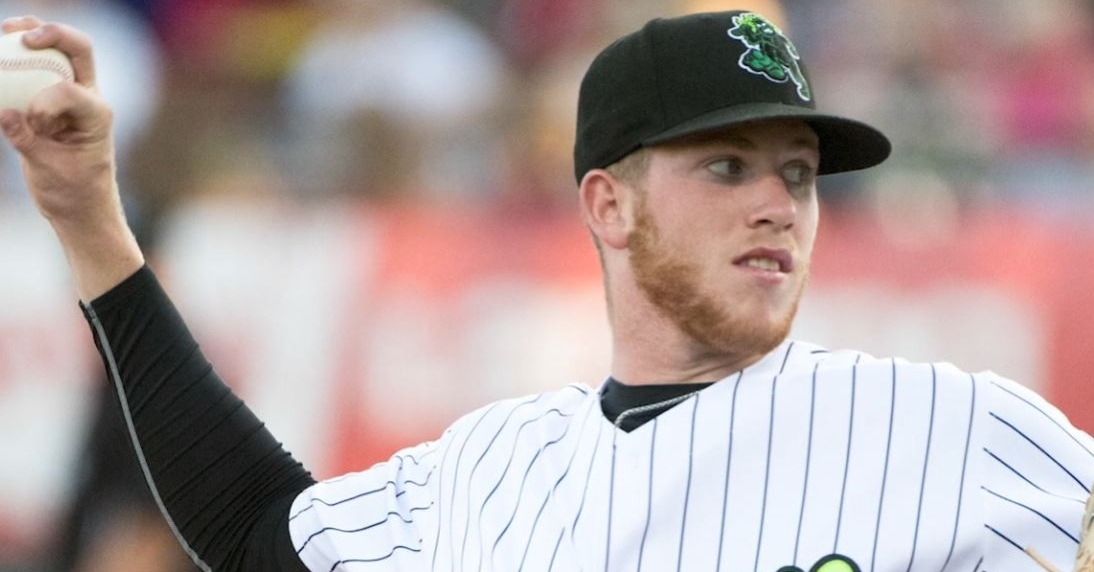 | | |
| --- | --- |
| Cubs Prospect Focus: Kohl Franklin | |
---
| | | |
| --- | --- | --- |
| Tuesday, December 14, 2021, 8:31 AM | | |
For the Cubs to be taken seriously in the next few seasons or to become contenders once again, it will hinge on the development and success of the farm system. Going a bit further than that, the pitching side of things in the minors will determine the direction this team goes as they continue to struggle when it comes to developing MLB-ready arms.
For all the good that came with Theo Epstein during his regime, developing pitching was not one of them.
It was the knock against him before he arrived, and that continued to be an issue when here. Knowing they needed to address that in the future to be a contending team long-term, the Cubs have spent the last several drafts stocking up on pitching with hopes that some of them will start to pay dividends this season.
One of those highly regarded arms is the No. 10 prospect in the Cubs system in Kohl Franklin. Drafted in the sixth round of the 2018 MLB draft, Franklin is one of those middle-round picks that came with plenty of potential only to burst onto the professional scene when he made his debut. Franklin is the nephew of former MLB all-star Ryan Franklin, so baseball runs in his blood.
You saw that during his prep career, where he emerged as the top high school prospect in Oklahoma during his senior season before missing a majority of that season with a broken foot. That injury saw his draft stock take a little bit of a hit, but it worked out in the Cubs favor as they were able to swoop in and grab him in the sixth round, signing him for 450,000. That is equivalent to a third-round selection, so you can see what the Cubs think of him.
A big reason they paid such a hefty penny to sign him was to pry him away from his Oklahoma commitment which seemed like a done deal heading into the draft. Once the Cubs had him in their system, he put on a show as Franklin saw his stuff take giant strides forward immediately, which saw him rise up the prospect lists just one season in.
While pitching for the Cubs Rookie League site in 2018, Franklin made five appearances, including three starts where the results were not pretty. He posted an 0-1 record with a 6.23 ERA to go with six walks and eight strikeouts. Not knowing what to expect in 2019, Franklin spent time with both Eugene and South Bend, and his stuff started to come together.
Across 11 starts that season, 10 with Eugene and one with South Bend, Franklin was money even though his record was 1-3. His 2.36 ERA was precisely what the Cubs were looking for, and his improved command saw him walk 19 hitters compared to 52 punchouts as he was showing everyone why he was a top high school prospect.
That season alone not only saw him surge up the prospect list but had the Cubs intrigued by what he could do hence the reason to stash him at the teams alternate site in 2020 to give him as much work as they could during that COVID season. One year later, Franklin continued to climb the prospect list and was expected to get plenty of looks during spring training. Not only did that not happen, but 2021 was a complete waste for him as an oblique injury forced him to miss the entire season and leaves empty questions about what comes next for his overall development.
Clearly, the stuff plays and is a legitimate pitcher at the MLB level, but at 6-4 and 195 pounds, Franklin also has the ideal size. Franklin lived around 88-89 with his fastball as a high school star, but has continued to add velocity in every season since. He has been around the 91-97 range as a minor leaguer, including 2019 that saw him sitting consistently between 94-96 with a top-end fastball at 99 with Eugene.
As always, a pitcher is only as good as his secondary pitchers are, and Franklin complements that fastball with a pair of secondary pitches, both of which are above average. His change was seen to be the better of the two coming out of high school as it provides a hard sinking action with some late fade. However, the knuckle-curve has emerged as his best secondary pitch as a pro sitting in the 82-85 range and offering some good spin with a sharp break.
Not only is Franklin an athletic pitcher which bodes well on the mound, but he can repeat his delivery nearly every pitch. That alone allows him to consistently throw strikes which is always a good thing. His plus size and ¾ arm slot delivery helps create a downhill release point and can make it difficult for hitters to square up a baseball.
As things sit right now, Franklin is an ideal candidate for the rotation, but after losing a year of development, it will be interesting to see how things go. For an organization starving for pitching help of any kind, Franklin gives them that help and could be a nice middle-of-the-rotation arm for years to come.