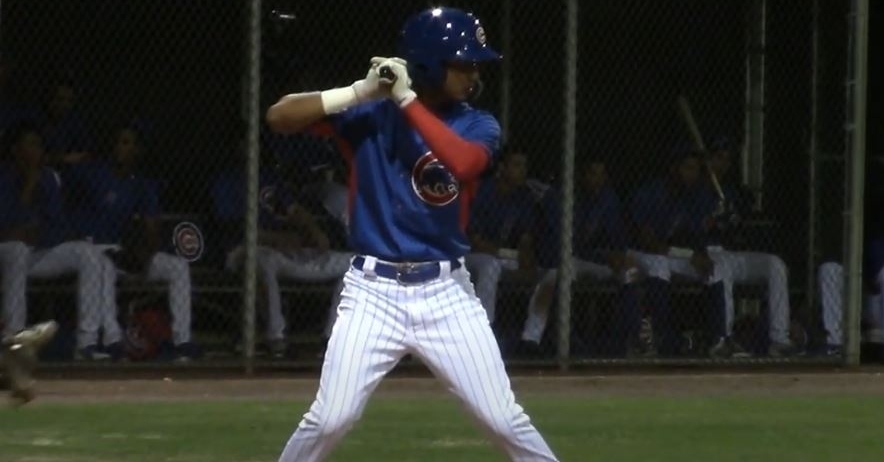 | | |
| --- | --- |
| Cubs Prospect Focus: Luis Verdugo | |
---
| | | |
| --- | --- | --- |
| Wednesday, January 12, 2022, 10:24 AM | | |
When you look across the Cubs minor league system, you immediately notice one thing. This team is much better than where they have been in terms of minor league talent, and a lot of that stems from the pitching and infield side of things. Speaking of the infield, the Cubs have an embarrassment of riches when it comes to the shortstop position as that is their stand-out position inside the organization right now.
Things may change over the next several years as not everyone can play shortstop, so look for potential talent to be traded away for other needs. In the meantime, fans can sit back and enjoy the minor league product on the field as the Cubs have a bright future ahead of them. While most of the Cubs top-tier shortstop prospects are ranked in the top 30 right now, another shortstop that is often overlooked shouldn't be.
Former top 30 prospect Luis Verdugo is a name most Cubs fans are familiar with and someone who will look to make more of an impression in 2022. Ranked the 28th best prospect in the system in 2019, Verdugo was an international free agent signing in 2017 signed out of Mexico. The Cubs are heavily invested in the Mexican circuit, and they do as much if not more scouting than any team in that area. Verdugo played for the Mexico City Red Devils, where the Cubs loved what they saw and eventually inked him to a 1.2 million dollar deal.
A big reason the Cubs spent so much to have him was his advanced instincts both in the field and at the plate, which saw him come stateside and make his debut at just 17 years old. Verdugo has done nothing but impress from the moment he arrived as observers love his make-up on both offense and defense so far.
Verdugo made his professional debut in 2018, playing for the ACL 2 Rookie league team. Across 47 games that year, Verdugo hit just .193 to go with four homers and 20 RBIs, but he showed plenty of potential.
As expected, more experience should bring in more results, and one year later, Verdugo was back at it for the ACL 2 Cubs. He played in six more games that season, but all he did was hit where his average rose to .305 to go with five homers and 38 RBIs. He also added a career-high eight steals that season, so the Cubs had to have liked what they saw.
Not only did Verdugo improve immensely at the plate from one year to the next, but his defensive work in the field gave him the reputation of having the best glove of any infielder in the system. 2020 was supposed to be his breakout campaign, but like everyone else, he was forced to do instructional work all season as the minor league season was canceled due to COVID.
Hoping to see that instructional work payoff, the Cubs wanted to see what he could do in a full-season league and sent Verdugo to Myrtle Beach for the 2021 season.
While with the Pelicans, Verdugo was not an everyday player, but still managed to appear in 62 games which were half their season. The results were not pretty, hitting a career-worst .187 while posting just three homers and 25 RBIs. Verdugo also took just 11 walks and struck out 65 times as he showed some learning curve issues last season.
That may come as a concern to fans, but he will not be known for his offensive game as the defense will carry him. He has excellent athleticism and a strong arm, quick hands, and an excellent internal clock that helps him make nearly every play. That alone gives him the opportunity to stick at shortstop long-term, which is always a good thought. Verdugo also has shown versatility in the past, seeing time at third base, and has been willing to play second if needed.
Even though the average and numbers may not back this up yet, but Verdugo has shown plenty of pop at the plate to all fields, especially at the ACL level. He needs to tone down his aggression at the plate and shorten up his swing if he wants that power to come full circle. If he doesn't do that, you will have the inconsistent results the Cubs have seen for three years, which is not a good thing.
As things sit right now, Verdugo makes enough contact to be one of the better overall hitters in the organization but has a long way to go for the results to translate. The more physically maturing he gets, the better chance of more power to be a 15-20 homer guy instead of a 5-10 homer guy. Verdugo is still years away, but early comparisons compare him to former Cub Starlin Castro. If he is even half the player Castro was, that is not a bad option for the Cubs to build around for the next few years.