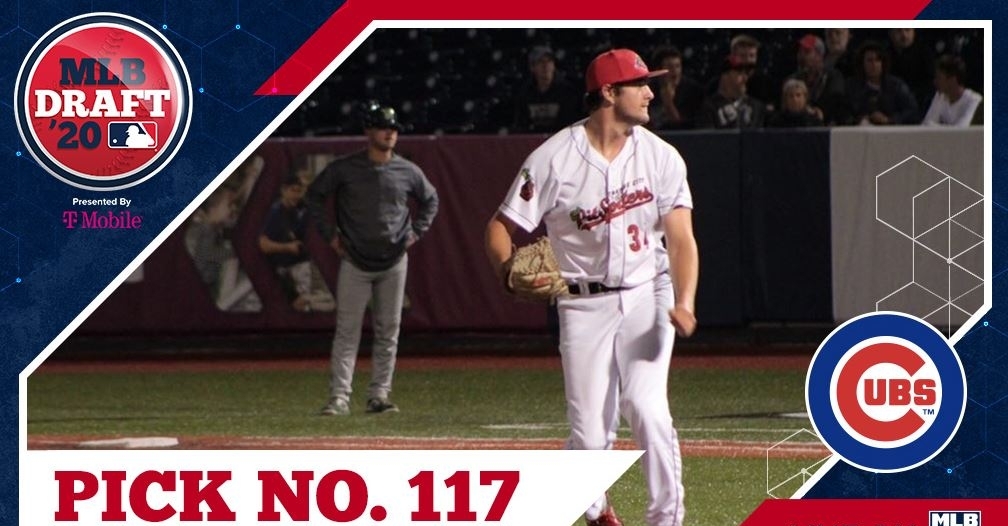 | | |
| --- | --- |
| Cubs Prospect Focus: Luke Little | |
---
| | | |
| --- | --- | --- |
| Tuesday, January 11, 2022, 8:31 AM | | |
The 2020 MLB season was strange in so many ways that it will go down in history. For starters, like everywhere else in the world, Baseball had to deal with COVID 19 and was forced to cancel spring training early and delay the start of their regular season. That delay wasn't a one or two-week thing, but instead a nearly four-month hiatus that saw the season resume in late July.
Once the season picked up, it was a 60-game sprint to the finish line, where all 60 games were played without fans. That was a unique experience for everyone involved, but one the Cubs and no one else ever wants to experience again. There were also significant changes made to the 2020 MLB draft, where the league cut 35 rounds out. Instead of 40 rounds, teams would only have five to find talent, which drastically altered the field.
With roughly 300 players being selected, many prospects chose to return to school in 2021 in hopes of better fortunes for the 2021 draft. Given that there would be significantly fewer rounds to pick players, you had to like your chances of finding quality talent across the board. Not only did the Cubs focus on a specific area of need, but they managed to make some of the more impressive across the board that could play huge roles for the future of this organization.
One of those players comes with a ton of upside in fourth-round pick Luke Little. Ranked 166th in terms of draft prospects, the Cubs liked what they saw in Little from a potential side of things and made sure to snag him when they had the chance. The big 6-8 220 pound lefty was originally a JC product who was set to transfer to South Carolina to finish his career. Instead, the Cubs grabbed him and gave him an offer he couldn't pass up and is now part of the Cubs system.
San Jacinto JC (TX) has produced 18 big league pitchers, with Roger Clemons and Andy Pettitte headlining that list. 2020 saw the Gators with three pitchers looking to follow in those footsteps, and Little was one of those guys. Before COVID shutting down the 2020 season, Little injured his back early in the season, which saw him miss four weeks. When he was cleared to return, he made a handful of relief appearances but looked great in all of them.
Not only is Little known for his heater, but he had the highest velocity of anyone in that class. A video released on YouTube saw him touching 105 MPH at an indoor training facility, although he hasn't done that in a real game. Little tends to sit in the 93-96 MPH range with his heater, but has consistently been around 100-101 as his large frame makes it easy to generate that type of velocity.
The more he can control the heater, the better he will be. However, the secondary pitches will set Little apart, and those continue to be a work in progress. Over the last few seasons, Little has put in plenty of work to improve those secondary pitches, but they still need some work to be perfected. His 83 MPH slider has become his most trusted off-speed pitch and a solid No. 2 option, but look for his 79 MPH curve to start showing up more. Little also has a change-up that he hasn't used much, but it could emerge with more innings.
2020 was a wasted season for Little, considering he never saw the mound again after the COVID cancelation.
He did get minimal time at the Cubs Alternate site and instructional league, but it wasn't until this past summer when Chicago got him on the mound. As a member of the ACL Cubs, Little appeared in five contests this past season, four coming as starts. Over those five games, Little gave the Cubs 11 innings posting an 0-1 record with a 4.91 ERA. They were looking for improved command, and his 5BB/19K ratio showed improved command, as did his opponents .154 average.
Over the last two seasons, Little has put on 30 pounds of muscle to his frame and has gotten in much better shape along the way. Although scouts still dislike his arm action and delivery, Little has done a better job when it comes to repeating his delivery consistently, which will go a long way in helping him develop as a pitcher. There is no set plan as to where he fits within the organization at this point, but you have to think, given his fastball velocity, he is destined to be a reliever.
Should he start, he needs to improve his command as he walked 39 hitters in 44 1/3 innings of work in college to go with 86 strikeouts. Also, if you want to maximize his fastball velocity, leaving him in the pen is a win-win as he can give you 100% max effort for short stints. This is one intriguing prospect and someone the Cubs will take a long look at over the next few seasons.