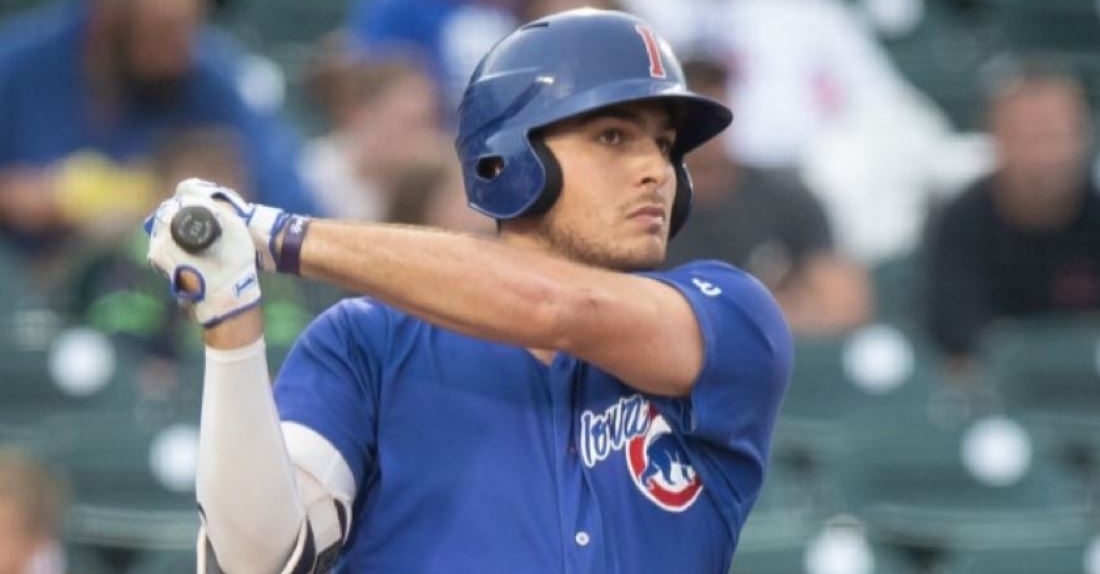 | | |
| --- | --- |
| Cubs Prospect Focus: Matt Mervis | |
---
| | | |
| --- | --- | --- |
| Monday, February 6, 2023, 8:20 AM | | |
As we approach the Chicago Cubs top 20 prospect list, you are reaching the point when you can see the cream of the crop. Granted, not all of these guys will make an impact on this team, but these are the ones generating the most headlines and will be the ones to follow again in 2023.
Perhaps the biggest storyline for the upcoming Spring Training season is what to do with No. 21 prospect Matt or, should I say, Mash Mervis. This is a classic example of a player having a breakout season, as his amazing 2022 not only put him on the map but also has him knocking on the door of the major league roster.
While his 21 ranking may seem low, keep in mind that this guy was on no one's radar until last season. He finished the season ranked 21st in the Cubs system, and when the newly updated rankings come out, Mervis will be a top five, if not a top three prospect in the system. Currently listed as the 8th best 1B prospect in all of minor league baseball, Mervis has perhaps the most challenging job of any Cubs prospect this season as he needs to prove last year was not a fluke.
A former two-way prospect at Duke University, Mervis was always known for his bat; hence why, he gave up the pitching side of things late in his collegiate career. Originally a 39th-round pick in 2016 by the Washington Nationals, Mervis elected to go to college to improve his status; the rest is history. At 6-4 and checking in at 225 pounds, Mervis is the perfect size for a 1B, but he can fill various positions for this team.
After electing to go to college, Mervis spent his first two seasons on the Blue Devils mound before moving to first base his junior year. One of the more intriguing bats after a fantastic senior year, Mervis was one of the COVID-shortened draft casualties as he went undrafted in those five rounds. Frustrated, Mervis hit free agency and elected to sign with the Cubs for 20K.
Fans all across the world are happy he chose to come to the Northside, as they have quickly fallen in love with him and what he brings to the table. Following the COVID-shortened season in college, Mervis was then unable to make his pro debut until 2021, as no minor league baseball was played that season. Hoping to continue to build off his senior year, Mervis had a rough go of things in 2021, hitting a .208 with nine homers and 44 RBIs.
Mervis was not happy with his performance and put the work in over the winter to improve his game. Not only did he improve, but he quickly became the most dangerous hitter in the entire system, which has him knocking on the door for the majors. Following his 2021 showing, Mervis broke out in a big way in 2022, hitting .309 with 36 homers and a minor league-best 119 RBIs. The homers were also second in the system to Alexander Canario and fourth in minor league baseball as Mervis took home Minor League player of the year honors.
What people don't realize about the season he just had was how effortless he made it look at times. Not only does he hit the ball harder and farther than most of the Cubs prospects, but he does it with very few swings and misses. That is a deadly combination, and should that continue again this season, it will make the fans forget about the recently departed Anthony Rizzo.
Not only did Mervis tap into his raw power potential this season, but he also improved his approach at the plate by swinging at better pitches and using a more direct approach to make contact. His bat speed and the strength in his 6-foot-4 frame are his most prominent attributes, but he also has some hitting ability and a decent approach.
If you are going solely off his offensive numbers from a season ago, then there would be no reason why Mervis would be going back to the minors, as the Cubs could stash him in the DH role. However, with Eric Hosmer and Trey Mancini now on the team, it makes it very difficult for how the Cubs will handle him come opening day.
Most of his offensive numbers are major-league-ready, but his inability to hit southpaws consistently appears to be the hangup right now. Throw in some inconsistent defense at first base, and aspects of his game still need a ton of work. Ultimately, that is what spring training will be about for Mervis this year, as the Cubs will give him every opportunity to prove he deserves to be on the opening-day roster.
If Mervis can show even reliable defense with the ability to hit lefties on a more consistent basis, it would be nearly impossible for the Cubs to send him down to the minors making the Hosmer signing seem like a wasted pickup at that point. You also have the DH option to use Mervis should the Cubs want to keep his bat in the lineup and go with Mancini or Hosmer at first.
In any case, Mervis will be one of the biggest, if not the biggest, storyline in camp this season. He knows he is ready to take his game to the MLB, but he needs to go out and show the Cubs that he is ready. If last season indicates what he can do, the Cubs have a good one they can build their offense around for years to come.