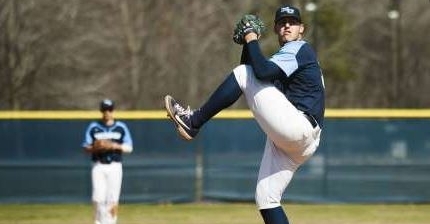 | | |
| --- | --- |
| Cubs Prospect Focus: Max Bain | |
---
| | | |
| --- | --- | --- |
| Wednesday, December 8, 2021, 9:32 AM | | |
Now that the dust has settled and we are in the middle of the first work stoppage in over 27 years, there will be a lot of questions about what comes next. In terms of players, no one is allowed to sign with anyone for the time being, nor can they contact their new or current team.
That makes the Marcus Stroman signing that much more critical as they were able to land him before the CBA expired, and now that is one less thing to worry about once the two sides come to an agreement. Over the next few months, there will be plenty to talk about regarding what is going on with the Cubs, the labor agreement, and such.
In the meantime, CubsHQ will continue to focus on prospects in the minor league system that fans can look forward to in the coming years. Next on our list is Max Bain, who is another pitcher starting to make some noise in the system. Unlike the previous installments of this series, Bain was not involved in the AFL, and he isn't on the top 30 prospect list.
Instead, Bain is a guy full of intrigue that could make some noise in the minor leagues next season. Bain may not be a name that most fans have heard of thus far, but he is one to take note of. The 2020 MLB Draft was cut to five rounds in 2020, but that didn't mean there wasn't talent there to be had. The best part of that draft was that it allowed teams to sign plenty of undrafted free agents, and Bain was one of those players as he landed a contract with the Cubs.
The big 6-5 240 pound righty is everything you could ask for from a starting pitcher, even if the numbers are not there. Bain was not your typical pitcher from a big-name school as he pitched for Northwood University in Michigan. During his time there, Bain posted an impressive 14-4 mark with a 3.83 ERA. Take away his 4.66 ERA in his first season, and Bain had an ERA under 3.5 while posting 58 walks to 160 punchouts.
Not only was he strong on the collegiate circuit, but Bain spent three seasons playing summer ball, including his 2019 summer in the independent League.
Across 33 games over those summers, Bain made 10 starts going 7-4 with a 3.61 ERA. His command wavered a bit as he walked 67 hitters compared to just 107 punchouts, but there was still a lot to like about his performance on the mound.
That alone is why the Cubs chose to sign him as he made his professional debut with the Cubs organization in 2021. The original plan was for him to start the season with ACL Cubs in Arizona and work his way up. However, that plan changed after he put together some impressive side sessions during spring training and then showed what he could do at the alternate site leading up to the start of the Minor League season.
Essentially, the Cubs felt it would be best for Bain to begin his professional career with South Bend, and he took ownership of a middle-of-the-rotation arm. Bain was an extremely busy man for South Bend, making 22 appearances, 21 of which were starts. From a results side of things, there is a lot left to be desired for as he went 5-9 with a 5.52 ERA across his first professional season.
Although his command wavered at times with 56 walks and 113 strikeouts, there was a lot to like about him, and I am here to tell you why. Take the record out of the equation for a second, and you have a big strong right-hander who lived in the 94-96 range with his heater. There were times last year where Bain maxed out at 98 MPH, so the Cubs have to like what they see out of him there. The key to his development will be the secondary pitches which are inconsistent at best right now. His change-up is the better of his two offerings, but wasn't consistent enough with it to make it a reliable option. Once that starts to happen, Bain will take off.
Going back to the results for a moment and you can break his season down into two parts. Looking at his nine losses and Bain was hit hard where his ERA was north of 7.00 as he struggled to make it out of the third inning. However, in his five wins, Bain was impressive, posting an ERA around 2.30, including a four-start stretch where he allowed one run or less in each start compiling 23 innings.
In other words, when Bain is on, he is as dangerous as they come, but when he struggles to locate, he gets hit hard. For any pitcher to succeed on the major league level, Consistency is always needed. That is something Bain knows, and something he is hoping comes in 2022. Bain is another under-the-radar arm in the Cubs system that made significant strides as the season went on, and someone the Cubs may lean on heavily in the Minors this year.