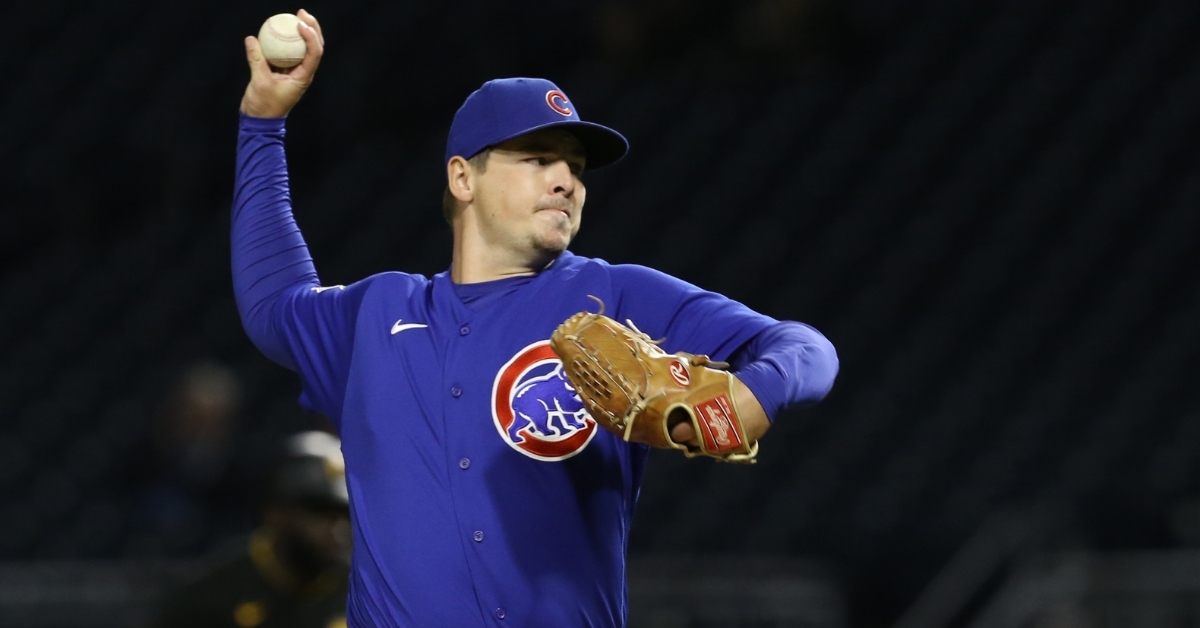 | | |
| --- | --- |
| Cubs Prospect Focus: Michael Rucker | |
---
| | | |
| --- | --- | --- |
| Sunday, January 9, 2022, 9:39 AM | | |
Despite the Cubs having their worst season since 2014, there were some things to like and take away from that season. For starters, fans now know the Cubs' plan with the core group of players as they parted ways with virtually every start outside of Willson Contreras. Secondly, the team has said they don't want a complete rebuild and instead more of a retooling process which has shown through their free-agent signing of Marcus Stroman and Wade Miley.
As the trades and struggles were happening last season, Cubs fans had an opportunity to see a lot of prospects they may never have seen, and some are looking like legitimate faces for this team. On offense, you have Patrick Wisdom, Rafael Ortega, and Frank Schwindel, who all produced at a strong level and should garner plenty of playing time this season if they return.
The one area that saw the most turnover throughout the season was the pitching front, where the Cubs used over 40 pitchers throughout the season. Most of that was relief help as the Cubs struggled to find the right combo after trading away their three-headed monster. One good thing about that was it gave the organization a chance to call up plenty of minor league faces in hopes of finding a few players who might stick with the organization.
One name that was a late arrival to the team coming aboard in late August is 27 year old Michael Rucker. Drafted in the 11th round of the 2016 MLB draft, Rucker is a BYU product who has had to work his way up through the Cubs system. Initially viewed as a starter type of guy who could be a middle-of-the-rotation arm, Rucker has bounced between starter and reliever and appears to have found his niche in the pen.
Rucker took a while to arrive in the minors following his draft selection, where he split time between the ACL Cubs and Short season Eugene. Although a limited sample size, just seven games, Rucker posted a 3-0 record to go with a 0.00 ERA in 12 2/3 innings of work walking one and striking out 18. I don't care how small of a size that is. Those are impressive numbers and ones to take note of.
The Cubs wanted to see what Rucker could really do after that performance and challenged him with a much more significant role in 2017. While pitching for South Bend and Myrtle Beach, Rucker appeared in 27 games, 15 of which were starts. All 15 of those starts came with the Pelicans, continuing his impressive run. He posted a 5-5 mark for the year, but his 2.38 ERA is what stood out, as did his 21BB/114K. Needless to say, the Cubs felt they had an incredible steal with Rucker, and the results backed that up.
Heading into 2018, Rucker was one of the fastest rising arms in the entire system and thus found himself promoted again to AA Tennessee. Once again, Rucker was placed in the starting rotation, where he was a workhorse making 26 starts and tossing 132 innings. His 9-6 record was all the Cubs could have asked, but his 3.73 ERA was much higher than his previous two seasons. The 38BB/118K ratio continued to be great as Rucker proved he has an MLB caliber starting rotation arm.
In 2019, things went south for him, and you have to wonder if the Cubs decided to move him to the pen was a part of that. In 36 games between Tennessee and Iowa that season, Rucker made just one start and threw just 79 innings. He went 0-3 on the season with a career-worst 4.18 ERA with 25BB and 98K. Definitely not what the Cubs saw from him before that, and it left the question, why move him to the pen? One year later, COVID wiped away the minor league season leaving Rucker with an extra year to sit and think about those struggles while hoping to bounce back in 2021.
With 2021 starting late for Minor League players, Rucker had a brief taste of life in the bigs during spring training before being sent to Iowa again. While with AAA, the Cubs once again put him in a relief role where he pitched 19 games totaling 39 1/3 innings. His 3-0 mark is what the team needed, but his 4.81 ERA was a concern. The command continued to be his strength walking just nine to 49 strikeouts and has 94 walks to 392 strikeouts in his minor league career.
Despite those struggles in the pen over the last two years, you have to wonder if the Cubs did that too fast track him to the majors. If that was the case, the plan worked as Rucker reached the majors in late August and finished the team with the Cubs. Across 20 games on the Northside, Rucker pitched 28 2/3 innings, but struggled with a 6.99 ERA. His 11BB/30K ratio continued to show the command the Cubs fell in love with, and it gives him something to build off of for 2022.
For whatever reason, Rucker was never a stand-out prospect like some of the Cubs pitchers have been despite the great numbers. He was someone who lived in the 92-93 MPH range for the longest time, but saw a nice velocity spike that saw him average 95-97 MPH with his heater. He also maxed out at 99 MPH, getting the most out of shorter bursts in the pen.
Even with the velocity spike, Rucker is not done as he is mixing in that heater with a steady diet of offspeed pitches, including his 88 MPH cutter, which is his best-offspeed offering. The increased velocity shouldn't come as a surprise to anyone, as this was the second time in the last three years that he has seen an uptick of at least 2 MPH. To go with that cutter comes a curveball and slider that he commands pretty consistently, and his delivery is a little funky, which makes him tough for hitters to time initially. His mix plays best in multi-inning relief option who can be a spot starter, but don't rule out the possibility of getting another shot to start given his pedigree and track record.