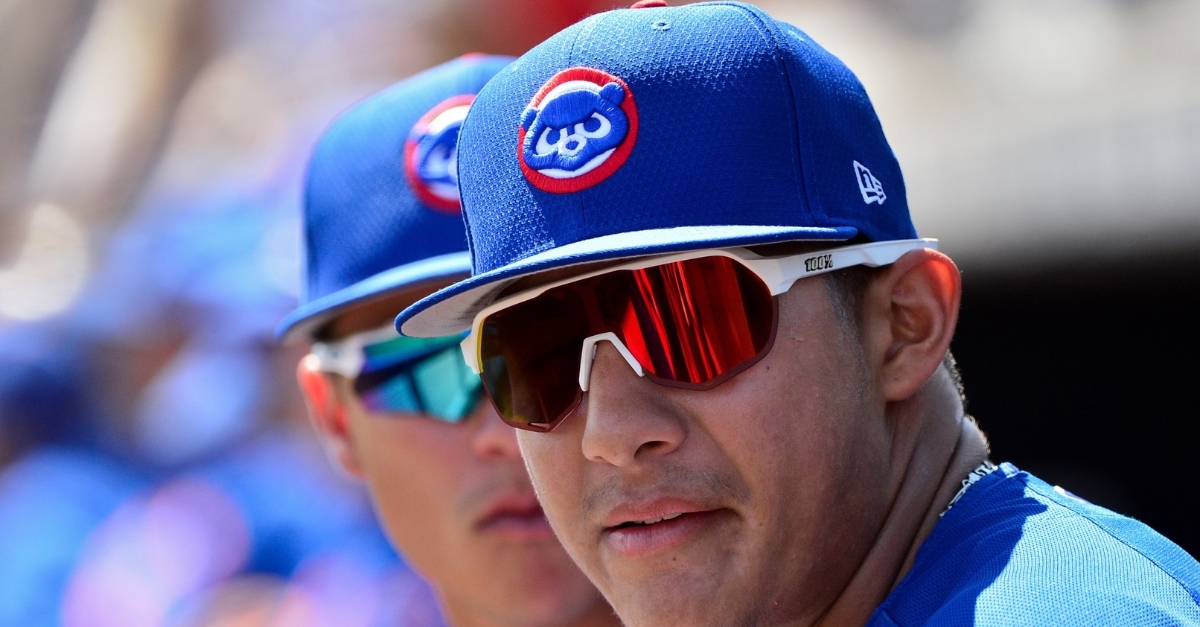 | | |
| --- | --- |
| Cubs Prospect Focus: Miguel Amaya | |
---
| | | |
| --- | --- | --- |
| Thursday, December 23, 2021, 9:32 AM | | |
When you look across the Cubs organization and dive into the prospect side of things, you can see why this organization is excited about the future. Granted, they are just prospects, and no one will ever know if they pan or not until they get to the show, but there is a lot to like inside the Cubs system.
Look no further than the top four prospects in the organization, including a pair of top 100 prospects, one former top 100 prospect, and a prospect on the rise, as these are the faces, fans are the most excited to see. Catcher Miguel Amaya has been a household name for quite a while, and it is only a matter of time until fans finally see him on the field.
Billed as the replacement for Willson Contreras, Amaya was the top prospect in the organization for several years and has now fallen back to No. 4. He has always been viewed as a difference-maker type of player, but it hasn't always gone as planned from a development side of things. Amaya is no stranger to the Cubs organization, as they signed him as an international free agent back in July 2015.
That was known as the year of international spending as the Cubs had 16.4 million dollars to spend on the international market and used just one million of those dollars to sign Amaya out of Panama. This was not only a bargain signing, but many feel Amaya was the best player to come out of that crop, even if he hasn't contributed on the major league roster yet.
Since his signing, Amaya has shown plenty of good things and has a lot to work on, primarily on the offensive side of things. You wouldn't have guessed that early on in his career, as he participated in two MLB Futures games, and at age 20, became the youngest batting qualifier in the history of the Carolina league in 2019. 2020 was a big year for him despite not having a season as Amaya spent the summer at the Cubs alternate site to improve his pitch framing and overall communication with the Cubs pitchers.
For all the stock put on the offensive side of things when it comes to baseball, Amaya isn't going to be the most gifted player offensively as the defense will set him apart. During his first two seasons as a pro taking part in the DSL in 2016 and then with Eugene in 2017, Amaya played in 58 games each season and left plenty to be desired for. He combined to hit just a .236 those years with four homers and 48 RBIs to go with 33 walks and 76 punchouts. Amaya also used his legs a bit more than you would expect, swiping 10 bases in 16 tries.
Looking to break out in the full-season leagues, the Cubs assigned Amaya to South Bend in 2018, where he played in a career-high 116 games. Not only that, but every aspect of his game started to improve, with his average reaching a career-high .256 to go with 12 homers and 52 RBIs. That was exactly the type of season the Cubs were hoping for from him as he was starting to come into his own as a player.
One year later, Amaya was on the move once again as he called Myrtle Beach home in 2019. Unlike 2018 that saw drastic improvements, Amaya got off to a terrible start before looking like the 2018 version of himself down the stretch. Despite hitting just .235 on the season, Amaya connected for 11 homers to go with a career-high 57 RBIs as the offensive production was still there. What stood out the most was his overall improvement in terms of pitch recognition, as he took 54 walks to just 69 strikeouts.
The vast improvement hat he made in two seasons not only earned him another promotion to AA Tennessee in 2021, but saw him earn some time with the big league team in spring training, where he saw minimal at-bats. With the Smokies, Amaya played in just 23 games and produced the way you would expect in that league early on.
Historically, the AA affiliate of the Cubs is one of the most challenging destinations for a player as the Southern League is tough. Amaya hit just a .215 for the season with one homer and 13 RBIs. However, the patience was still there as he accumulated 21 walks and 22 punchouts. Things were looking up until a forearm injury sidelined him for the remainder of the season. Hoping to recover enough to play winter ball, that forearm began acting up yet again, forcing Amaya to have Tommy John and putting his 2022 season in jeopardy, which will be a massive blow for him and this franchise.
Ideally, the Cubs would love for his offensive game to resemble Contreras, but he stands out for his defensive skills, which might be a good thing. He has always framed and blocked pitches well, but showed more consistency during the instructional league season, which carried over into his brief 2021. Although his arm strength isn't that of Contreras, it is still better than advertised as he has erased 35% of the base stealers against him.
When fans look at his offensive numbers, they tend to cringe a bit and wonder what all the hype is about with him. Keep in mind the numbers say a lot about a player, but Amaya has been one of the youngest players everywhere he has gone, so there is a steep learning curve he has had to get over. Managing the strike zone is something he continues to do well with, which will help lead to more consistent hard contact. Most scouts feel he can develop into a 260 plus hitter with 15-20 homers, allowing the Cubs to move on from Contreras should they feel Amaya is ready.