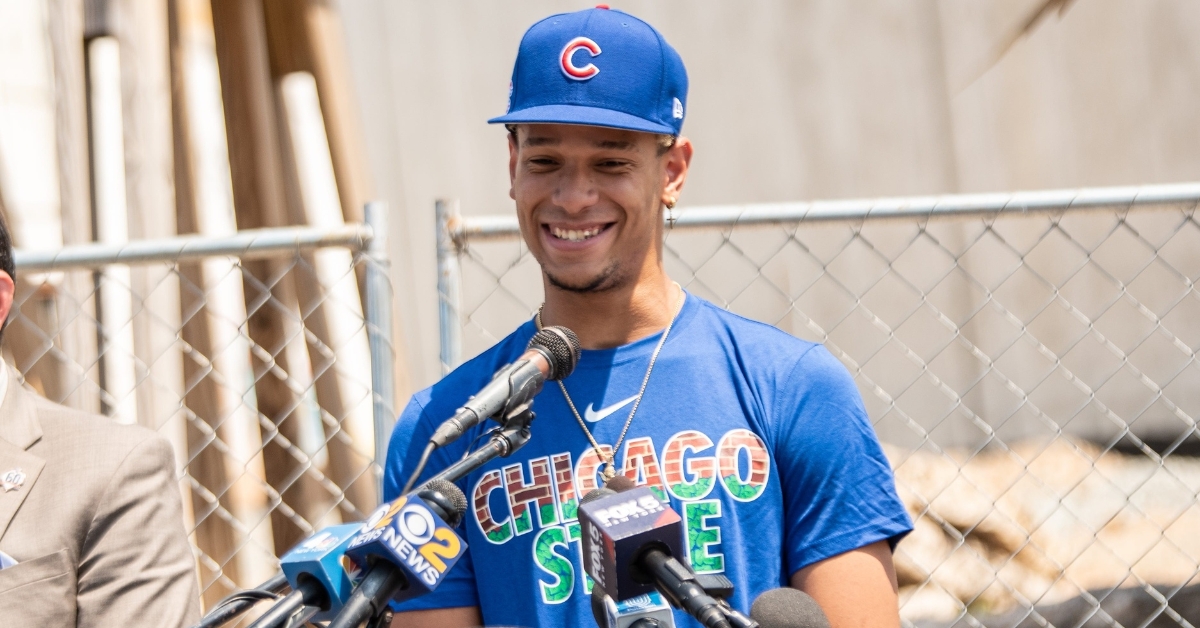 | | |
| --- | --- |
| Cubs Prospect Focus: Nazier Mule | |
---
| | | |
| --- | --- | --- |
| Friday, February 3, 2023, 7:49 AM | | |
The Cubs top 30 prospect list has gone through significant changes over the past few months, but in a very good way. Not only have a lot of former top prospects fallen out of the list, but tons of new faces are starting to emerge, with many of them having the potential to do plenty of good things in the future.
Looking back at the 2022 season, you will notice how much overall success the organization had as they sent three of their four minor league teams to the playoffs and saw one team come away with a title. That kind of success can't happen without a talented group, and the Cubs have tons of talent.
Some of the talent falls on the new faces this organization has added, with some of them added to the team in 2022. Take the No. 23 prospect in the system, for example, Nazier Mule. Drafted by the Cubs in the fourth round of last year's first-year player draft, Mule has a bright future, but hasn't gotten his feet wet a ton quite yet.
Not only did he not pitch in 2022 after being drafted, but he will be pitching in the middle of the summer as his season will start with the ACL Cubs in June. Once he finally takes the mound, it will be interesting to see how things play out, as he has the potential to make the jump to Myrtle Beach this season.
Looking back at his high school stats and Mule impressed with his two-way play, especially on the summer showcase circuit series. Not only did he show great athleticism and arm strength at shortstop, but he also displayed plenty of raw power with the bat that had some teams intrigued to put him at SS if they drafted him.
The Cubs had other plans for him as they took notice of the pitching side of his game more than the hitting. Granted, he didn't pitch as much as some top high school hurlers, but Mule still flashed enough potential for the Cubs to sign him above the one million dollar slot value range. Chicago feels he has a brighter future on the mound, and 2023 will be the first time in his career that he can show everyone how bright that future can be.
At 6-3 210 pounds, Mule is an imposing figure on the mound who only becomes more imposing when you face him. This guy loves to work in the 93-96 MPH range with his fastball, but has reached 100 MPH plus numerous times and has shown he can do it consistently. The only problem when he hits that velocity is the need for more movement as his fastball becomes flat.
When he sticks in the lower velocity ranges, Mule gets more riding action, making him tougher to hit. You also have a guy who has worked extremely hard with his secondary pitchers and seen his 84 MPH slider improve since the spring of 2022. That pitch comes with more break than a sweeping motion, making it look more like a curve ball than a slider.
The next stage of his development, which he will be focusing on a ton this summer, is adding a third pitch which is a change-up. Granted, he is still learning the feel for that pitch, but Mule has flashed some potential with it as it sits around 82 MPH and comes with fading action. It acts like a faster version of the Kyle Hendricks change, but is less consistent at this point in his career.
Although still a raw pitching talent, Mule has the overall athletic ability to throw strikes and has done a better job of throwing strikes since his senior year of high school. His fastball is a plus pitch, but the secondary pitches need a ton of work, which he will spend a ton of time doing with the ACL Cubs this summer.
Along with developing his secondary pitches comes the development of his command and control, which has varied at times. I expect that to improve this summer as his upside and potential on the mound could be the highest of anyone in the system.
Looking at how things sit right now, the Cubs long-term view of Mule is a starter, so they plan to develop him as a pitcher. However, scouting director Dan Kantrovitz has also hinted at an open-minded thought process with Mule considering what his bat can do. With the DH being a permanent thing, Mule could become the Cubs version of Shohei Otani should everything come together as planned.