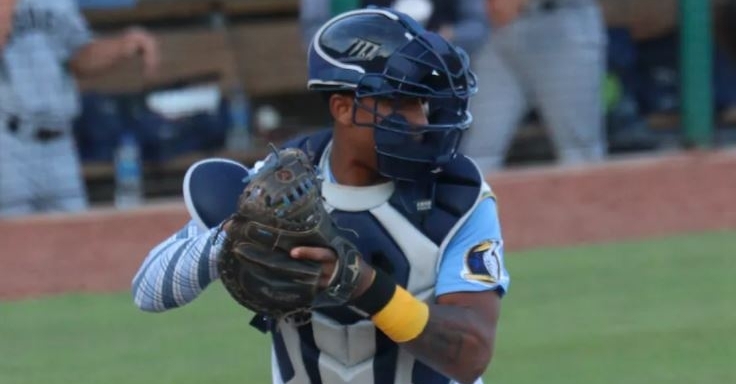 | | |
| --- | --- |
| Cubs Prospect Focus: Pablo Aliendo | |
---
| | | |
| --- | --- | --- |
| Monday, November 22, 2021, 10:28 AM | | |
Over the last two seasons, the Cubs have done a great job retooling their farm system in hopes of building it up for another run. Most of the talent is stashed away in the low-level full-season leagues, with many players sitting at 21 years of age or younger. There is some good or bad when you think about that.
The good, the Cubs' future appears bright as they have plenty of young talent capable of making things happen. The bad, given how young some of these players are, it could take a while to see them land on the big league stage. Cubs have fans who have been patient their whole lives, but can they afford to be patient again after having the best run of success in the franchise's history.
One of those young prospects that took significant strides this season is No. 27 prospect Pablo Aliendo. Signed in May 2018 as an international free agent, the catcher was in the same class as Ronnier Quintero and Ethan Hearn, who was added in the draft that summer. Quintero signed for nearly three million, while Hearn signed for 950K. Not only did Aliendo sign for a fraction needing just 200K to get a deal done, but he has surpassed both of them in the system rankings.
The Venezuelan-born native did very little during his first two seasons in the DSL and then was limited to instructional duty in 2020 due to the Pandemic. That meant through three seasons, no one knew what Aliendo would become when you look at the lack of production to that point. Fast forward to 2021, and not only did Aliendo land stateside, but he made significant strides at the plate, which now has him ranked one of the better catchers in the system.
Across his first two seasons with the DSL, Aliendo struggled to get anything going hitting just .202 across 60 games, hitting one homer, and driving in 24. Despite those struggles, Aliendo showed a great eye at the plate, which was a positive sign. 2021 was the first time Aliendo was in the United States and put together a better showing across 79 games.
Across those 79 games, Aliendo hit .223 with five homers and 30 RBIs, but his season can be broken down into two parts. Part one was his time with Myrtle Beach, where he spent 64 of his 79 games. As a member of the Pelicans, Aliendo hit .249 with all five of his homers and 27 RBIs. As the season went on, he landed in South Bend, playing the final 15 games of the season for them. His numbers were not great, hitting just .118 with three RBIs, but to see his significant progress is a positive step in building for 2022.
Unlike Willson Contreras, who is known for his offense, while Miguel Amaya is known for his defense, Aliendo is known for his athleticism which has allowed him to see action at third base and shortstop to go along with catcher. He is very agile for a catcher and is expected to be a great pitch receiver and framer as he gains more experience behind the dish. That is something the Cubs could have used considering the makeup of the staff last season, while Aliendo also possesses a strong and accurate arm which is another plus.
While playing this season mostly at 19 years old until he turned 20, Aliendo proved he could hold his own and made significant strides from where he was in the DSL. He has a long way to go to become a polished player, but he proved he could hit more than he showed in the rookie league. If the improved hitting continues and he can prove that he is a better overall offensive player, you are looking at an everyday catcher in the making.
Not only has his offensive game improved, but he has gotten better in terms of plate discipline while also adding a lot of strength. Both of those are vital to becoming a better offensive player, and Aliendo knows that hence the work he has put in to improve. That added strength has turned him from being a dead pull hitter into someone who is starting to use the entire field.
A right-handed hitter, Aliendo has average to solid raw power and below-average speed. That shouldn't come as a shock considering most catchers don't run that well. Regardless of his past numbers, Aliendo has put in the work to become a better player, and the results are starting to show. Of all the catchers not named Amaya, he made the most significant jump in 2021 and is ready to break out in 2022.