| | |
| --- | --- |
| Cubs Prospect Focus: Ronnier Quintero | |
---
| | | |
| --- | --- | --- |
| Wednesday, January 26, 2022, 9:10 AM | | |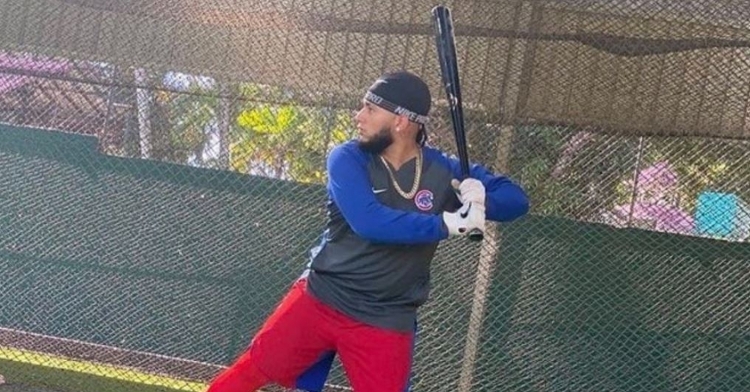 Now that the Cubs have traded away most of their core pieces away, a mini rebuild could be starting at Wrigley Field this season as Chicago builds towards their next championship. Rebuild or not, they still have some valuable pieces, and Willson Contreras remains the most valuable asset. Part of the Cubs system for over a decade, Contreras is nearing the end of his time with Chicago as free-agency will be hitting him next offseason.
That leaves the Cubs with the difficult decision to either extend him or trade him for as many assets as possible. When you look at his overall production, resigning him is a no-brainer as there are not too many catchers that produce the offensive numbers he puts up during the season. However, from the money side of things and considering where the Cubs are, trading him may seem like the best option as he would net the most significant return of anyone right now.
As tough as it would be to see him leave, the Cubs have plenty of catcher depth in the system, with Miguel Amaya headlining that group. Amaya underwent Tommy John Surgery a few months ago, and his 2022 season is in question, but there are several other young catchers to watch this season. One of those catchers who might have the most pressure on him this season is 19-year old Ronnier Quintero.
An International Free Agent signing in 2019, Quintero came with plenty of expectations and ranked No. 19 on the Cubs prospect list in 2020 before falling out of the top 30 this season. Chicago loved their catchers in 2019, as they drafted the top high school catcher in Ethan Hearn, who we will discuss in a few days, and then turned right around and signed Quintero out of Venezuela.
Not only was Quintero the top international catcher on the market, but the Cubs made sure to reward him by giving him a $2.9 million dollar contract, the largest international deal the Cubs ever dished out. $2.8 million was the previous record given to Eloy Jimenez in 2013, who now bats in the middle of the White Sox Lineup.
Despite signing with the Cubs in 2019, it took two years for him to make his professional debut as COVID impacted his arrival in 2020 and then saw the season shut down because of it. Not knowing what to expect from him last year with two years off, the Cubs knew he would struggle at times, but also knew they would be patient with him given his potential.
Unlike most foreign-born players, the Cubs brought Quintero stateside and placed him in Mesa to play for the ACL Cubs. Quintero was one of several catchers at this facility, so he has far from an everyday player, but he still logged 20 games and 55 total at-bats to give the Cubs s decent sample size. The results were not pretty, hitting just a .182 with two homers and eight RBIs, but that is expected from a young player. Now that 2021 is over, Quintero knows what to work on over the winter and is hoping to come to camp better and more focused than ever.
Quintero has an extremely lofty offensive ceiling similar to what Kyle Schwarber had when he was drafted. He has excellent bat speed, and his plus strength behind it gives him plenty of raw power from the left side of the plate that has shown the ability to put the ball over the fence already. Quintero may be viewed as a slugger right now, but he is far from that as he has an excellent feel for hitting and could offer the same kind of production that Contreras offers if he reaches his full potential.
While the offensive production has a chance to be great, let's talk about the defense, which is just as important when it comes to a catcher. Not only does Quintero have a strong, accurate arm, but it comes with a quick transfer making it difficult to run off of him. He also possesses excellent leadership skills, which is why young pitchers love throwing to him.
Although he needs to work on his receiving skills in pitch framing, he is just 19 years old. Quintero is also an above-average runner for catchers, so you can see where the overall skillset stands out compared to others. All of these things should allow him to remain behind the plate long-term.
Should you pair him with Amaya down the road, you have two legitimate catchers who can play defense and hit the ball. However, if Amaya is not the answer, Quintero and several other guys are lined up, ready to take over behind the Cubs dish.