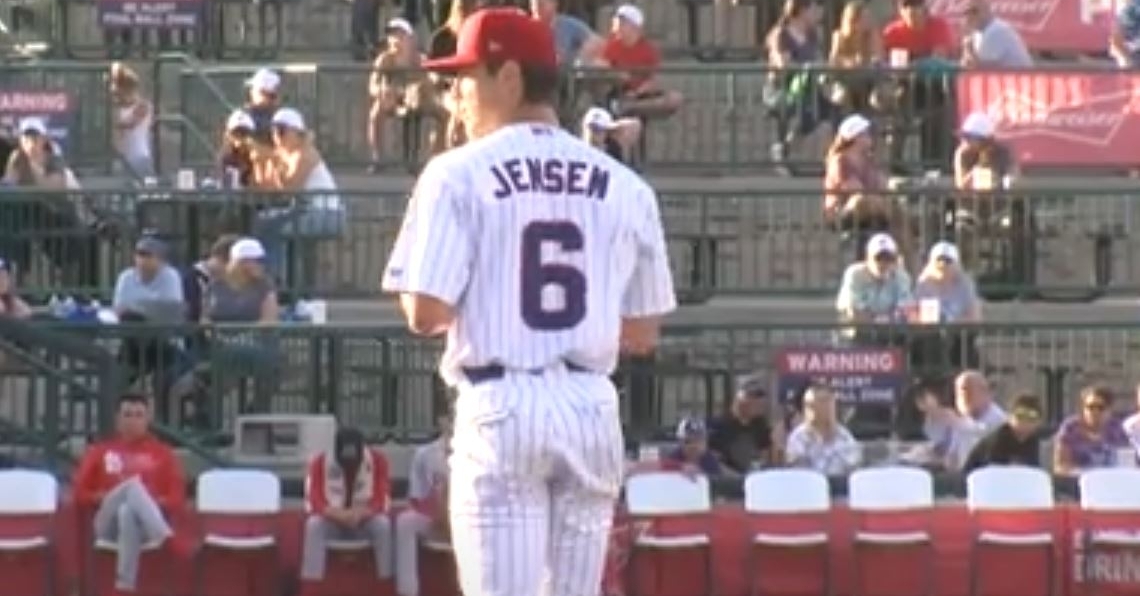 | | |
| --- | --- |
| Cubs Prospect Focus: Ryan Jensen | |
---
| | | |
| --- | --- | --- |
| Sunday, November 14, 2021, 2:42 PM | | |
As difficult as the Arizona Fall League is to follow, I tend to find box scores and watch as many videos as possible. This is a rapidly growing league, and more high-level prospects are starting to participate in the league. What was once viewed as a continuation of the short-season rookie leagues is now a more competitive league that gives prospects more of an opportunity to improve.
The Cubs have sent seven players and a manager to Mesa to participate with the Mesa Solar Sox. Four of those prospects happen to be pitchers, with two of them highly regarded in the Cubs system. We touched on Caleb Killian about a week ago, and now it is time to shift our focus to another top 20 prospect in Ryan Jensen.
When the Cubs won the World Series in 2016, one thing they did better than anyone was drafting MLB caliber bats that contributed almost immediately. On the flip side, this team failed to develop enough pitching to sustain that success, which has hampered them drastically. Before leaving the Cubs in 2020, Theo Epstein made it a point to restock the farm system with arms in an effort to develop pitching.
While most of those arms are years away, you have to give him some credit for changing his approach on the fly as he started to change the team's fortunes in 2019 by selecting Fresno St. starter Jensen in the first round of the MLB draft. Known for having a consistent 96-98 MPH heater in college, Jensen was viewed to have the best fastball of any starter in the class. That immediately intrigued the Cubs to him as they used their first-round selection on him.
However, after posting a 5.84 ERA and struggling with his command his first two seasons in college, there were a lot of concerns surrounding him when he elected to enter the draft. He put a lot of those concerns to bed in 2019 when he flat out dominated to earn Mountain West player of the year, and the Cubs didn't hesitate to pounce on that. Now finishing his third year in the Cubs system, Jensen remains a pitcher with a ton of upside and a hefty amount of risk.
Ideally seen as a starter considering his three-pitch mix, the Cubs still don't know what the future holds for him as they are still figuring him out. Yes, that fastball is major league ready at 98 MPH, but when you lack command of secondary pitches, it will not help your cause. To go along with his fastball, Jensen has a change-up that sits around 89-90 MPH and a slider in the same velocity range. When he is on, he can be as lethal as they come, but when he is off, he struggles immensely.
Take 2019, for example. While pitching for Eugene, Jensen made six appearances all starts and posted a 0-0 record with a 2.25 ERA. Although he started six games, he never pitched more than two innings striking out 19 hitters in 12 innings, and walking 14. The results were mostly positive, but his command issues came full circle, which the Cubs were afraid of.
After losing 2020 due to COVID, Jensen opened 2021 with South Bend before landing in Tennessee to finish off the year. For the most part, the results were not favorable, posting a 3-7 mark with a 4.16 ERA but was much better at Tennessee. Ironically, Jensen suffered some of the worst luck in the minor leagues as he had four starts of fewer than two innings, but then several other starts where he had no-hit stuff through five.
That lack of consistency has to be ironed out, which is why I think he is better suited as a high leverage reliever when you look at his stuff. However, I give Jensen a ton of credit this season as he has changed a lot about him to hopefully stick in the rotation permanently. Instead of trying to hit 98 MPH with his heater, Jensen has toned that back a bit and now sits in the 94-96 range. Yes, the 98 is still there, but his command is much better now, which is evident when you look at his 31BB to 90K ratio this season.
The results were evident as the season went on, and now with Mesa, he continues to show his improvement as a pitcher. Along with improved fastball command, he has a much better feel for his change and has even taken his slider down a few MPH. That creates a better velocity deception from his fastball and off-speed stuff, making him harder to hit.
Although the results haven't been great for him with Mesa, posting an 11.05 ERA across five games (3 starts), Jensen continues to go about his business by making adjustments as a pitcher. Through 14 innings, he has struck out 17 hitters, while walking nine in the process. That is the command issue we are talking about, but his last three outings have been great.
Not only is he allowing fewer hits, but he has three walks to 11 strikeouts in his last seven innings of work. That goes to show you the work he is putting in to improve as a pitcher. Jensen will be a big part of the Cubs future, but his role is still undefined. He was once a top 10 prospect that checked in at No. 8, but now lands at No. 15. That isn't because he has been terrible, but instead, the overall increased talent has moved him down the list. Look for 2022 to be huge for him as the Cubs may get a great look as to where he best fits with this team.