| | |
| --- | --- |
| Cubs Prospect Focus: Sam Thoresen | |
---
| | | |
| --- | --- | --- |
| Tuesday, February 8, 2022, 10:00 AM | | |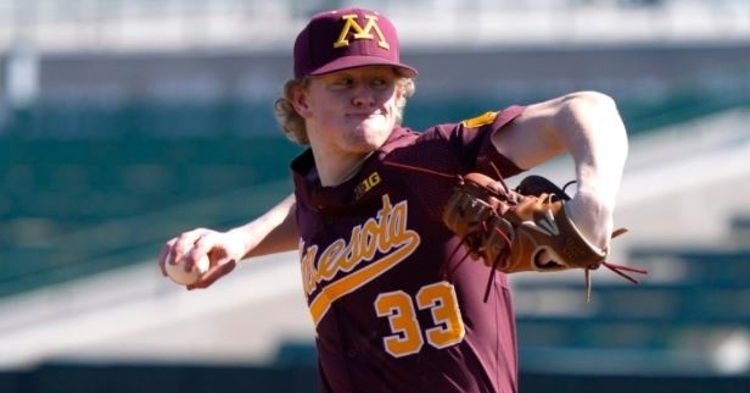 2020 was an extremely odd season in plenty of ways. For starters, you had Spring Training 60% until the COVID pandemic wiped away the remaining two weeks. Then you had the MLB go with a shortened 60-game season where no fans were allowed to attend games until late in the playoffs.
Going along with that, the Minor League season was completely washed away as thousands of minor league players lost a year of their development which is never good. Perhaps, the one thing that took a back seat to all of this was the MLB draft, as that too took a significant hit.
The draft was trimmed down from 40 rounds to 20 rounds this season, which is the new number, but 2020 saw the draft cut down to just five rounds. That meant that plenty of talent would be left off the board and allowed teams to sign them as undrafted free agents. The Cubs wasted little time scouring the Undrafted Free agent market, where they found RHP Sam Thoresen available for the taking.
I am all for finding value in undrafted arms, and Thoresen fits that mold to a T. At 6-3 and weighing 210 pounds, Thoresen is the ideal size you are looking for in a pitcher, and that is a significant plus. Coming out of high school, Thoresen was ranked the sixth-best prospect in Minnesota and then went on to post a 1.64 ERA across 47 innings as a senior. He then chose to keep his talents in the state where he signed with the Minnesota Golden Gophers.
Once he arrived on Campus, it was evident that the Golden Gophers had big plans for him as they immediately thrust him into action. Not only did he appear in 14 games that season with five of them starts, but he tossed more than 35 innings, going 2-2 with a 5.86 ERA. Add in his 24BB/30K, and you could see some command issues, but opponents hit just a .206, so the tools were there to be good.
Those five starts served as a significant learning experience where he improved his usage to 15 games and 12 starts over his sophomore season. Even with that increase, his innings only went up by 11 while his ERA was still high at 5.24. Thoresen had a high strikeout to walk rate for the second season in a row, but the overall numbers reminded fans a lot of Tyler Chatwood.
2020 was supposed to be a breakout season for him, but after posting a 7.71 ERA during the COVID shortened season, that breakout would have to wait.
Seeing the numbers he posted in college is certainly a concern, but the Cubs must see something in him that others don't. If they didn't, they wouldn't have signed him as an undrafted player, and now he has a chance to make a name for himself.
Since his signing, Thoresen has worked on a lot and has improved immensely as a player. It took more than a year for him to take the mound as a pro, but he made his Cubs debut in 2021 as a member of the Myrtle Beach Pelicans. Although limited in action, Thoresen made seven starts last season, compiling 23 innings of work where you had to like the results you saw.
From a record side of things, Thoresen went 0-2, but his 3.13 ERA shows promise in that arm. His 17BB/36K ratio is still low in terms of the elite status, but it was miles better than what he showed command-wise in college. Now that he has that season under his belt, I am curious to see what the Cubs plans are for him in 2022, as he could be a valuable asset in a variety of ways.
The thing that the Cubs are banking on regarding Thoresen happens to fall on his heater. Typically a guy who sits in the 92-94 MPH range, Thoresen has seen that fastball tick up to 96 MPH in recent seasons, which does help. With that improving velocity, his fastball became an untouchable pitch for right-handed hitters in college.
Whether it was the spin rate, movement, or something else has yet to be determined, but Thoresen made hitters look silly at times with that pitch. Chicago took notice of that, which is a big reason why they took out a flyer on him. If they can get him into their pitching lab to uncork what makes that pitch work, they may have something in him. Whatever they discover, they could use it to their advantage and maybe help him unlock his true potential.