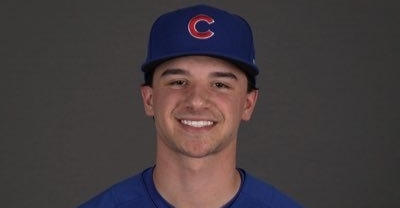 | | |
| --- | --- |
| Cubs Prospect Focus: Tyler Schlaffer | |
---
| | | |
| --- | --- | --- |
| Friday, January 7, 2022, 8:46 AM | | |
One thing about the 2019 MLB draft was that the Cubs did a great job finding plenty of talent that could contribute in the future. Although most of that talent is years away, and there may not be a stand-out star at this point, it is more about the quality of the players in that class that stands out the most. The main focus for the Cubs in that draft was starting-caliber pitching, which they addressed early and often.
They continued to address pitching in 2020 and then again in 2021 as the organization has identified their most significant need and is trying to roll with it. One of the names overlooked in the 2019 draft class was a ninth-round pick in Tyler Schlaffer. The 6-1 180 pound 20 year old is an Illinois native that grew up in Homewood, IL.
One of the better prep pitchers in Illinois, Schlaffer has a chance to make a name for himself the next several seasons after showing plenty of promise throughout his first few professional seasons.
How it started: How it's going: pic.twitter.com/mS2VkNeZIl

— Tyler Schlaffer (@TylerSchlaffer) October 9, 2020
Originally a UIC commit, Schlaffer was ranked the 21st best prospect in Illinois but was a top 10 pitcher in those same rankings. He was one of the biggest risers during the spring of 2019, which is why the Cubs took a chance on him in the ninth round. Hoping to pry him away from his college commitment, Schlaffer signed with the Cubs and now has two years of professional experience under his belt.
Official ?? #Signed pic.twitter.com/9bAa7POnL3

— Tyler Schlaffer (@TylerSchlaffer) July 3, 2019
The lean, wiry, and dynamic right-handed pitcher has a long way to go in terms of development, but he has a high ceiling once the Cubs figure out the ideal role for him. Following that draft, it took Schlaffer over a month to land with the organization before being stationed at Mesa for the final few weeks of the 2019 season. Although limited in action, he showed plenty of promise, which gave the Cubs hope for 2020 and beyond.
Schlaffer appeared in three games with the ACL Cubs that summer compiling just 5 1/3 innings of work. Over those outings, he allowed three runs (two earned) on six hits which were good for a 3.38 ERA. When you consider how the ball flies out in Mesa, that is a solid season by any means. As the small sample size was good, Schlaffer added one walk and five strikes and needed just 38 pitches across those innings to get the job done.
Knowing that he needed a ton more experience, 2020 was a year that Schlaffer was looking at taking the next step. Instead, the COVID pandemic not only canceled the 2020 Minor League season but caused Schlaffer to lose a year of development as he was not invited to the alternate site and or the Instructional league in the fall.
Losing a year of development is one thing for a hitter or a college player, but it becomes difficult to overcome for a player coming out of high school and learning pro ball. You could see that in 2021 as Schlaffer returned to the mound and went through his fair share of troubles all season long. Once again, he landed in Mesa to start the season, where he made three starts totaling 14 plus innings of work. From a record side of things, Schlaffer went
2-1, but his 4.41 ERA was over a run more than the 2019 season, although his command was still good.
Following those three performances, the Cubs wanted to see what he could do with a more regular role and thus moved him up to Myrtle Beach to pitch for the Pelicans. He made nine appearances with the Pelicans spanning two months, with all nine of those coming as starts. From an innings side of things, he compiled just under 41 innings as he averaged between four and five innings per start.
He was expected to go through some bumps along the way. Schlaffer posted a 2-5 record with the Pelicans while his ERA rose to 4.65. At one point, it was approaching 6.00, so you can see the improvements he made throughout the season. From a command side of things, Schlaffer was still solid with 17BB/40K, but he did lose some of that tremendous command which was to be expected. Hitters also hit a .296 off him, which needs to go down to have more success.
Tyler Schlaffer looked sharp in his final start of the season! ????

5 IP, 3 H, 1 R, 1 BB & 7 K's ??

(??: @Pelicanbaseball) @TylerSchlaffer pic.twitter.com/NhZIevbIgw

— Cubs Zone ™? (@CubsZone) September 16, 2021
Someone who normally sits in the 91-93 range, Schlaffer showed the ability to reach back quite often last season, where several of his starts saw him hitting 95. Along with the increased velocity, Schlaffer has improved his low 80s changeup giving him not one, but two off-speed offerings. To this day, his bread and butter remains his 77 MPH curveball that comes with a great break and terrific spin. While his overall future is undefined at this point, the way things are tracking could have him land as a solid No. 5 in the rotation.
https://publish.twitter.com/?query=https%3A%2F%2Ftwitter.com%2FCubsZone%2Fstatus%2F1438314102569504782&widget=Tweet