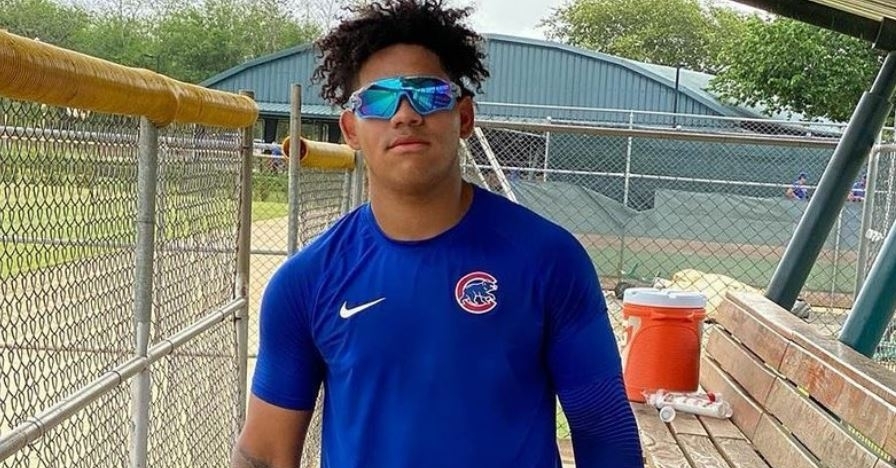 | | |
| --- | --- |
| Cubs Prospect Focus: Yohendrick Pinango | |
---
| | | |
| --- | --- | --- |
| Sunday, December 5, 2021, 9:09 AM | | |
There were a lot of prospects within the Cubs system that took significant steps forward in 2021. However, what about those that burst onto the scene in 2019 and then carried that over to 2021. With COVID wiping out the 2020 season, it was fun to watch these players adapt to missing a year of action while trying to build off the success they had in 2019.
For the most part, there were plenty of bumps along the way, as you could see how much a year off affects certain players. Fortunately, some players overcame slow starts and finished the year as they did in 2019. One of those players is Yohendrick Pinango, who checks in at No. 18 on the Cubs prospect list.
An international free agent in the 2018 class, Pinango is a Venezuelan born outfielder who signed on the dotted line for 400,000. The Cubs wasted no time getting him in pro-action, as he made his debut in 2019 with the Cubs DSL affiliate and put on quite a show. Known for having success with International pickups, the Cubs have to like what they have seen with him so far as he could be the next in a long line of successful International pickups.
While playing in Rookie ball during the 2019 season, Pinango found himself as one of the consistents in their lineup, seeing action in 62 games. He logged 240 at-bats during the year and hit an impressive .358 while logging 86 hits during the season. That landed him No. 1 in the league in hits and No. 4 in the league in average.
Not only did Pinango hit, but he used the gap to his advantage, logging 20 doubles to go with no homers and 36 RBIs. He also swiped 27 bases on the season, showing that speed was also a significant part of his game. The thing that stood out the most was his eye at the plate, which was impressive at any age, but especially for an 18-year-old. Pinango struck out just 20 times during the season while logging 27 walks. That gave him one of the best on-base percentages in the league and made him an ideal candidate to be a leadoff hitter.
With the 2020 season being canceled, Pinango was allowed to come stateside but spent his time in the instructional league trying to stay fresh and focused on 2021. That proved to work in his favor as he played in 108 games this season across Myrtle Beach and South Bend. In his 84 games with the Pelicans, Pinango struggled out of the gate but finished as the team's hottest hitter the final two months to cap off his stay with a .272 average, four homers, and 27 RBIs.
His consistent production continued to open the eyes of the Cubs front office and earned him a promotion to South Bend, where he finished the final 24 games of the season. Not only did he see his average increase to .289, but Pinango proved he could hit better pitching, connecting for one more homer to go with nine RBIs while logging seven walks and 12 punchouts. He has one of the more advanced bats in the Cubs system, and his development over the next few seasons will be fun to watch.
Not only does he fit the mold of an ideal leadoff candidate, but Pinango is a left-handed hitter with one of the smoothest swings in the game. Add that to being one of the more advanced hitters in pitch recognition and plate discipline, and you have a win-win situation. While the power numbers are not there, Pinango doesn't need to hit for power as he doesn't try to do too much at the plate and uses the gaps to his advantage.
He is also a great opposite-field hitter, which pitchers are finding out the hard way and making it difficult to pitch to him. He has put on plenty of muscle over the last few seasons, and I look for that to continue as he matures. No one is expecting him to be an elite power hitter, but once that added strength comes, look for him to be someone capable of hitting 12-15 homers in a season as he should be able to lift the ball in the air more frequently.
Although not someone with elite speed, you wouldn't know it based on his stolen base totals in the DSL. He is an instinctual baserunner and knows how to time up a pitcher in order to get the best jump possible on the bases. That also pays off in the outfield, where he is an above-average defender who showed improvement in center field with better jumps on the ball.
Centerfield may not be his long-term fit, as I see him moving to a corner spot as he fills out and matures more. Given his lack of arm strength at the moment, left field may be the spot for him. Either way, this is one of the many young players to get excited about, as he is exactly what this organization needs in terms of the hitter they are looking for.