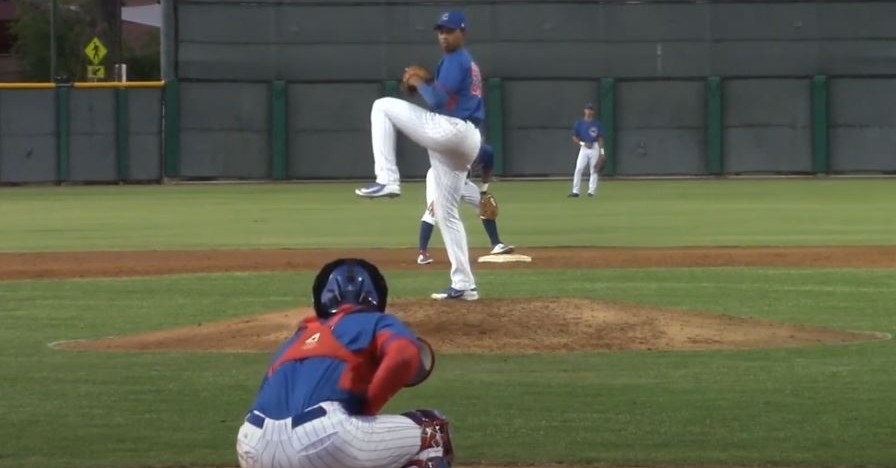 | | |
| --- | --- |
| Cubs Prospect Focus: Yovanny Cruz | |
---
I want to take you back a few years when the Cubs Farm System was in rebuild mode and sitting near the bottom of the farm system rankings. Sure, they had some talent, but outside of a few players, that talent was few and far between. Fast forward three seasons, and the Cubs have moved into a position where they could be a top 10 system once again as several names have come and gone in the prospect rankings.
One of those names that have taken a dip in recent seasons is 22-year-old right-hander Yovanny Cruz. Signed as an international free agent in August 2016, Cruz had plenty of potential on the mound and landed as the Cubs No. 16 prospect during the 2019 season. Given that they spent so much on their 2015 International Class, the Cubs were limited to just 300,000 over the 2016 and 2017 periods and used 60,000 of that to bring in Cruz in 2016.
From the day that he arrived, Cruz was very impressive and proved he was not only worth the money the Cubs gave him, but possibly a steal in terms of why other teams passed on him. He didn't make his debut until 2017 when he pitched in the Dominican Summer League. Across 13 games 12 starts, Cruz was impressive, going 3-2 with a 3.51 ERA 14BB/54K. Not bad for a 17-year-old at the time who turned 18 at the end of the season.
One season later, the Cubs sent him stateside for the first time, where he split time between the ACL Cubs and Eugene Emeralds. Over 11 games that summer, all starts, Cruz continued his strong showing on the mound going 5-2 with a 2.86 ERA 13BB/55K. That includes a flawless start with Eugene that season where he went five innings in his lone start, allowed just four hits, and struck out five.
There weren't too many pitchers in the Cubs system at the time that had seen the amount of success Cruz had so quickly, so 2019 was going to be a crucial year for him. For whatever reason, the Cubs elected to send him back to the ACL once again before having him land in Eugene instead of making his full-season debut. That season was a nightmare for him as he pitched in nine games, seven starts going 1-2 with a 6.46 ERA. His 19BB/28K was also a concern as the excellent command he showed his first two seasons was not there.
No one knows what contributed to those struggles that season, but you have to wonder if it was a lingering injury that only got worse with time as Cruz hasn't pitched an inning since the 2019 season. 2020 played a role with COVID not allowing a Minor League season, but Cruz didn't throw at all during the 2021 season, leaving his promising start to his career in jeopardy.
Once viewed as a starter with his three-pitch mix, the recent injury to Cruz may land him in the bullpen where he can maximize his stuff. That may not be a bad thing, as his fastball sits in the 90-93 range with sink and has topped out at 95 MPH plenty of times. That pitch alone helped him produce one of the best ground ball rates in the entire system, which will bode well at Wrigley Field.
Along with that sinking fastball comes a blend of offspeed pitches that he continues to work on. Cruz has a knack for getting an elite spin on his pitches and puts that on display with his ever-improving 87 MPH slider. He also has an advanced change-up that sits around 88 MPH and is often used to shut down left-handed hitters.
One thing that may save his career after his early injury history is the effortless release that he shows. That not only allows him to pitch effortlessly, but allows him to repeat that delivery consistently, which is essential. With the repetition comes excellent command as he had much better control than most teenagers his age because of it.
Viewed as a possible middle-of-the-rotation arm at the time of signing, Cruz's future is now in doubt, as it will be over two years since the Cubs have seen him throw a competitive pitch. Don't get me wrong, the stuff alone is there, and that alone gives Cruz one of the highest ceilings among all the Cubs pitching prospects.
At the same time, he has one of the higher floors, and fans are starting to see that floor going back to 2019 and then the last two years with injuries. The Cubs had a lot of injuries in their system, and tons of players will use 2022 as a make-or-break year. Cruz may have the most pressure on him this season as he looks to get back into his pre-injury groove.

Upgrade Your Account
Unlock premium boards and exclusive features (e.g. ad-free) by upgrading your account today.
Upgrade Now