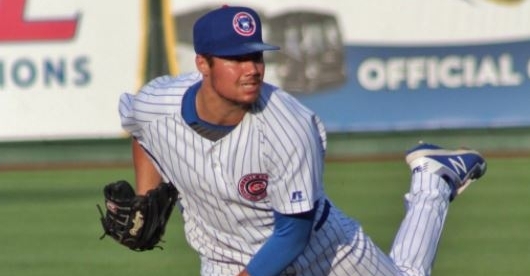 | | |
| --- | --- |
| Cubs Prospect Focus: Brendon Little | |
---
As the Arizona Fall League winds down this week, I want to continue focusing on the prospects participating in that league. Today we discuss the final pitcher in Brendon Little. Despite failing to develop pitching at the level they had hoped, you can't blame the Cubs for trying, as they drafted several early-round arms that never panned out.
The name Alex Lange comes to mind as he is no longer with the system, but Little is still in the system and was another one of those highly coveted arms. After making a living on MLB-ready bats out of college, Theo Epstein changed things up in 2017 and went with a pitcher in the first round of the draft. That man was the left-hander Little, who was taken 27th overall that season.
Going back to 2018, when the farm system started depleting, Miguel Amaya was ranked No. 1 in the system with Adbert Alzolay 2 and Lange 3. Brailyn Marquez checked in at No. 4 with Little landing No.8. Not only have some of these guys fallen off the radar, including Little, but others have emerged as the new faces of the farm system. Either way, Little was widely regarded as a top prospect in the Cubs system and one that was viewed as a critical piece for them.
The once top 200 prep prospect out of Pennsylvania, Little attended UNC as a freshman, but elected to transfer after just four innings. He eventually landed in the Cape Cod League, where he threw exceptionally well, and then landed at State JC of Florida in 2017. He was later picked up by the Cubs with the 27th pick and signed for 2.2 million.
At the time, this seemed like a bit of a reach, but you could see why the Cubs wanted him. He was a left-handed pitcher with plenty of upside and already had two plus pitches to work with. For starters, his fastball sat consistently between 90-94 while mainly in the 92-93 MPH. The thing that stood out the most was that he touched 96 during his 2017 season, so there was hope that he had more velocity in him.
The second pitch that he continues to baffle hitters with happens to be his 12-6 curve which shouldn't come as a surprise. Most lefties are known for a breaking ball, and Little fits that narrative as his Curve not only has a sharp break to it, but sits around 78. Little also has a change-up in his back pocket that continues to improve. Still, his overall lack of a consistent delivery forces command issues, leading to subpar performances as a pro.
When the Cubs drafted Little, they planned to make him a starter who could help the rotation for years to come. However, after three seasons you could see a concerning trend. Through 39 career starts, Little went 7-15 with a 5.34 ERA. That was not what the Cubs were hoping for when they made him a first-round pick, but it was a concern when looking at his college trajectory path.
Following a lost season in 2020 due to COVID, Little returned to the Cubs organization in 2021 and may have saved his career in the process. All it took for him to pitch at the level the organization hoped he would was to move from a starter to a relief pitcher, where he pitched in 26 games, compiling 41 2/3 innings.
Over that time, Little spent time between Tennessee and Iowa and put up great numbers going 0-1 with a career-best 3.24 ERA. He also added three holds and three saves in five tries showing versatility out of the pen. One thing that has always been an issue for him has been command, and that seems to be trending in the right direction with his new role as he walked a career-low 19 hitters to go with 53 punchouts.
This may not have been the original plan for Little or the Cubs, for that matter, but sometimes things don't go according to plans. If Little can remain consistent with his delivery, you are looking at a guy with a three-pitch mix and has two plus pitches. Always viewed as a back-of-the-rotation starter, the Cubs may scrap those plans and solely focus on using him out of the pen.
When you look at guys like Kyle Ryan, Adam Morgan, Justin Steele, and Brad Weick, Steele seems like the only left-handed option the bullpen would have at this point if he doesn't go back to the rotation. That means the Cubs will need left-handed help in the pen. Little reminds me a lot of Morgan in terms of how he pitches.
He is younger with a better fastball and does a lot of what Morgan offered this season. Given that he saw action in AAA last year and pitched pretty well, you are looking at someone who could find his way on the major league roster this season. It may not be what the Cubs had in mind when it comes to developing pitchers, but any pitching help is a positive sign.