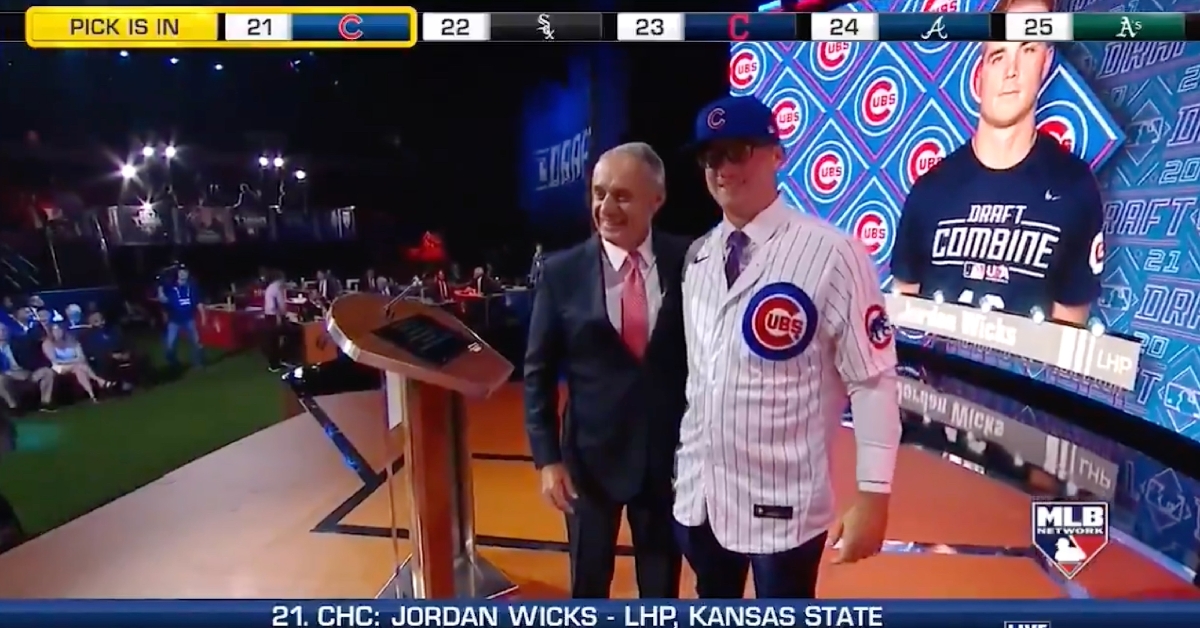 | | |
| --- | --- |
| Cubs Prospect Focus: Jordan Wicks | |
---
Lost in the translation of a hot start that had many surprised, the Cubs came back to life in a big way as they limped to a fourth-place finish in 2021. A big reason for their sudden decline hinged on a pair of long-losing streaks that combined for 23 consecutive games, with one being an 11-game skid and the other a 12-game skid.
Offensively, things were still not what the Cubs would have liked, but they were far more consistent last year than in seasons past and played quite the final two months offensively. Pitching was the team's downfall last season, and you can look at the starting rotation for your proof. Adbert Alzolay led the starting rotation with an ERA of 4.60, so that goes to show you how bad things got.
The Cubs knew they would have a problem when it came to starting pitching, but they never expected things to go south as quickly as they did. Knowing that is the team's most significant need to address, they have spent the last few drafts stocking up on pitching in hopes some of these players will stick. Perhaps the one with the most stock put on them so far is Jordan Wicks, who will be looking to break out in 2022.
A 2021 first-round pick taking 21st overall, the big 6-3 lefty is your classic left-handed starter and someone the Cubs are hoping to build their rotation around. A former Arkansas prep star, Wicks wasn't as highly regarded as you would think and committed to Kansas St University. While there, Wicks was nothing short of impressive, winning the Big 12 Freshman of the year award in 2019 and dominating hitters in 2021 and during the 2020 abbreviated season.
The 2021 season was incredibly huge for Wicks as he not only set the Kansas St. single-season strikeout record with 118 but also set the career strikeout record with 230 during the same season. That alone helped him become the first player in program history taken in the first round, so you can see the stock the Cubs are putting on him.
A pitching needy team like the Cubs are not only happy to have him, but this was a no-brainer when he was sitting on the board when they picked hence the 3.1 million dollar entry-level contract he was offered and signed. Unlike most draftees who typically arrive in the organization within two weeks, it took Wicks a long time to make his debut as he didn't throw for the Cubs until September.
Across that final month of the season, Wicks made four starts, all with South Bend, where the results were mixed. His 0-0 mark was expected, but the 5.14 ERA was higher than he would have liked. His three walks to five strikeouts is a small sample size, but there was plenty to like about him in his first few outings, which this team is banking on in the future.
From a pitching side of things, Wicks draws many comparisons to Cole Hamels, which is not a bad name to be compared with. He is not you're a-typical flame-throwing pitcher, but instead is someone who works off a 91-92 MPH and uses finesse and offspeed stuff to get the job done. In fact, Wicks possesses the best change-up of any pitcher in the 2021 class, which is another Hamels comparison when you look at how much he worked off his change.
Wicks has seen his change-up sit around 83 MPH, but it comes with incredible depth and great deception off a fastball-type arm slot. His fastball has gained 5 MPH since high school and has been clocked at 97 MPH a few times, but he will seldom touch more than 94 MPH, which isn't a bad thing.
Not only does his fastball and change-up have great spin rates, but they carry well in the strike zone and are often hard for the opposing team to hit.
Couple that with his improving 84 MPH slider, which has morphed into a tremendous third pitch, and Wicks has three pitches he can throw at any time in the count. He also has a cutter in the 87 MPH range and a 78 MPH curve in his back pocket that can ideally give him five pitches to use at any time in the count.
One of the best things that attracted the Cubs was his effortless delivery on the mound, which allows him to repeat that delivery virtually every time. He is also a strike-thrower who fills the entire plate and will never avoid going after a hitter. Stuff and command ultimately determine a pitcher's longevity in this league, but you can't coach the competitive nature which Wicks has.
In other words, he has that IT factor on the mound that coaches often talk about, which is why he has had the success he has had thus far. Wicks was drawing similar prospect breakdowns to that of 2020 No. 10 overall pick Reid Detmers who signed with the Angels. Any way you look at it, Wicks appears to be the real deal, and the Cubs are going to put a lot of pressure on him to see how much he can handle.