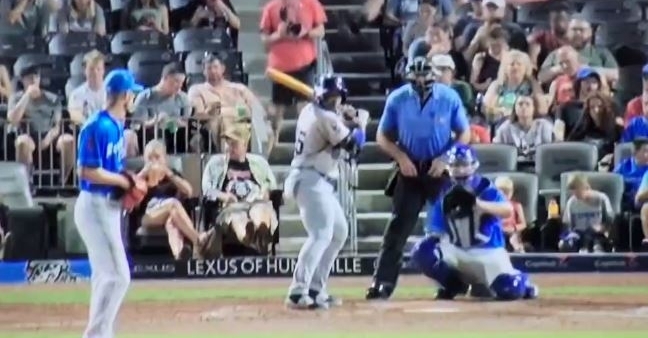 | | |
| --- | --- |
| Cubs Prospect Profile: BJ Murray Jr. | |
---
Every season, several prospects come out of nowhere and not only put themselves on the map but also play well enough to make a difference. The Cubs are no strangers to having that happen, as that has been the theme of their system since Jed Hoyer took over. The Cubs system has gone from 27th in baseball up to a top 3 system heading into 2024.
Trading away your best players for assets helped rebuild the system, as did smart drafting when their picks popped up on the draft board. However, the biggest reason for the Cubs rapid surge in the overall farm system rankings falls on several players who were not viewed as big-time contributors, but found a way to break out and make a difference. The most recent player to do that with the Cubs is Utility man BJ Murray Jr, who checks in at No. 18 on the prospect list.
A 1B by trade, Murray Jr has seen time at 3B and DH, which makes him a valuable utility man for the Cubs and their system. Taken in the fifth round of the 2021 MLB draft, Murray is a native of the Bahamas before landing with Florida Atlantic University. One of three brothers playing in some form of professional baseball, Murray Jr was a late signing upon being drafted and thus only played in 16 games with the Cubs rookie league affiliate that summer.
In those 16 games, Murray held his own by hitting .286 with two homers and eight RBIs. 2022 is when Murray Jr put himself on the map and has only improved. Between Myrtle Beach and South Bend, Murray Jr saw action in 96 games and did phenomenally well by hitting .286 for the second straight season. However, his OBP stood out as the .410 was tops in the Cubs system, which shows you that he not only hits the ball but knows how to get on base.
A big reason for the high on-base percentage was the 62BB/77K ratio, as Murray Jr has unbelievable patience at the plate. Throw in his eight homers and 53 RBIs, and you started to see the power surfacing as the future looked bright for the young kid. 2023 is when Murray Jr firmly cemented himself as one of the better prospects in the Cubs system to the point where some called him the most improved player overall. Sure, his average dropped to .263 in AA this season, but with 16 homers and 74 RBIs, you're starting to see him unlock his power potential.
Murray Jr also displays an incredible eye at the plate, where he took 82 walks compared to 129 strikeouts, which was suitable for an OBP of .382. The Cubs noticed all of those improvements last season and will continue to get Murray Jr looks this spring, as he is expected to land in AAA to begin the 2024 campaign.
The best part of Murray Jr.'s game is that he is a switch hitter who offers one of the system's best combinations of plate discipline and power potential. That can't be taught in today's game, so for a young player to possess that is impressive. As expected, he is a better hitter from one side, with the left side being his power side, but he improved immensely from the right side in 2023. After producing solid exit velocities but too much ground-ball contact last season, he's driving the ball in the air more regularly in 2023, and the results showed.
While Murray Jr has stolen a few bases here and there, he has below-average speed, which leads many to believe he will stick at first base or DH for the long term. He spent more time at first base in 2022, has seen more action at his college position of third this year, and committed four errors in two games at second in April. Those defensive problems at 3B forced the hand of the then manager Michael Ryan, who moved Murray Jr back to first and DH roles.
He's an adequate defender with an average arm at the hot corner, though he'll need to improve to play there regularly in the big leagues. Either way, Murray Jr made a significant impact in the system last year, and now it will be up to him to take the next steps to prove he is a legitimate prospect who can be a long-term option for this team.