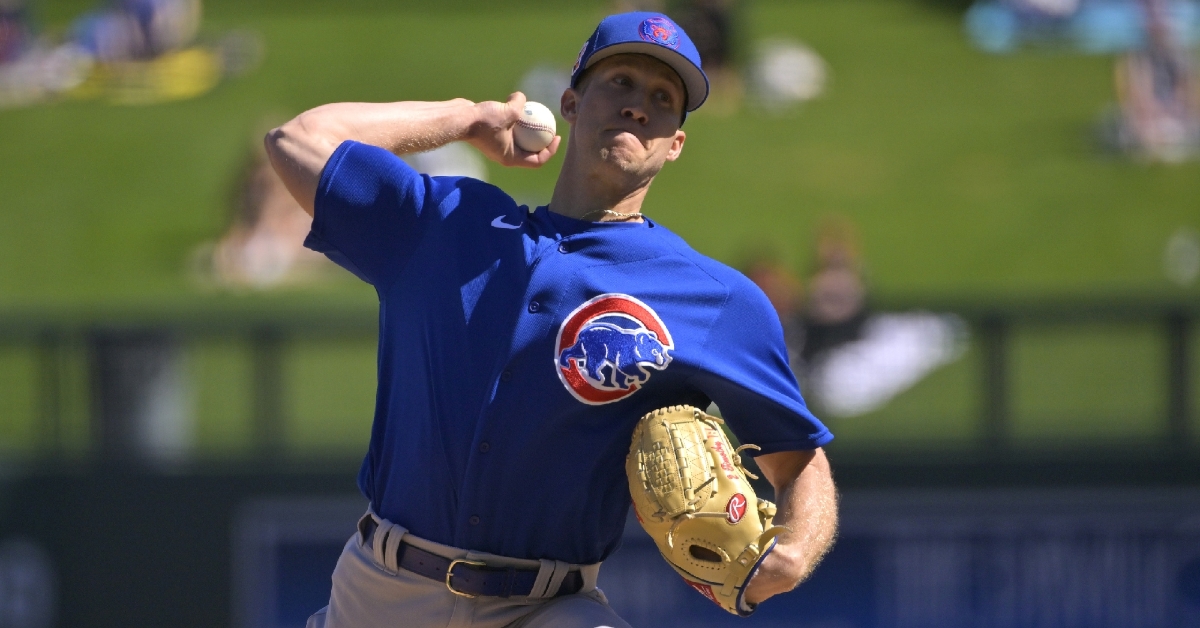 | | |
| --- | --- |
| Cubs Prospect Profile: Caleb Kilian | |
---
Anytime you talk about MLB prospects, especially the highly rated prospects, you must be very careful when evaluating them. After all, they are prospects for a reason, and there are far too many times when highly rated prospects flame out or just can't cut it in the majors. When it comes to the Chicago Cubs, they have had plenty of guys like this in the past, and Caleb Kilian may be the next one to follow that trend.
The former Texas Tech standout, Kilian was selected in the eighth round of the 2019 draft by the San Francisco Giants and quickly emerged as one of the organizations best pitchers. He was the center piece of the trade that sent Kris Bryant to the Giants in 2021 and instantly landed inside the Cubs top 10 prospect list once he arrived. However, things have gone poorly for him since he has fallen down to No. 23 on the prospect list and is in danger of falling out of the top 30 altogether.
Kilian was drafted at the worst possible time, as he didn't pitch much in 2019 before missing the 2020 season as part of the COVID shutdown. That forced him to miss one entire season of development, and some point to that as one of the reasons why he is currently struggling. Once he returned to the mound in 2021, Kilian led the Minors in K/BB ratio (8.6) before ending the season in the Arizona Fall League, fanning eight in six perfect innings to win the Arizona Fall League Championship Game.
Anytime you have that type of an impact from the first time you step on a Minor League Mound, the pressure you will face is challenging to handle, but Kilian took that pressure head-on to put together a strong start to 2022 before earning the call-up in May. Kilian struggled across three games with the Cubs that season, as he posted an ERA north of 10 and had more walks than strikeouts. He then returned to the minors and finished 2022 with a 5-4 record across 22 starts and a 4.22 ERA.
Hoping to bounce back in a big way in 2023, there were times when Kilian looked like an ace again, but then he had those moments that left fans frustrated. From a results side, Kilian posted an 8-3 record, but the 4.56 ERA was a concern. Kilian also battled some command issues early in the season and finished the year with 36 walks and 95 strikeouts while pitching a career-high 120 innings. That is worth noting, as Kilian went from averaging more than one strikeout per inning to becoming more of a contact guy.
It will be interesting to see if that is the direction he will take in 2024 as he struggles to throw strikes with the Cubs again in 2023, posting a 16.88 ERA in three games. Kilian will be under a serious microscope in 2024, as he still has the stuff to be a dominating pitcher, but for whatever reason, he has changed his approach on the mound. If he is on top of his game, Kilian still has that 95 MPH sinker that induces tons of ground balls and is a big swing-and-miss pitch.
Considering his control issues the past two seasons, Kilian has gone away from that pitch and used a 93 MPH cutter to get more contact early in counts. Having a blazing fastball was part of why Kilian broke onto the scene so quickly, but his lethal 78 MPH breaking ball was the pitch that put him above the rest.
That curveball not only missed bats but was a buckling pitch hitters hated to see. Kilian also has an 83 MPH circle change in his back pocket that he threw a lot of right-handers but didn't use it all in the majors. Kilian will have to use that pitch more frequently and throw it for strikes if he wants one more shot with this organization, so look for him to focus on that this spring.
Kilian seemed tentative with Chicago and rarely looked comfortable in his six games. The Cubs hope he'll resume pounding the strike zone after adjusting to stay more directional to the plate. He has a ceiling of a No. 4 starter but looked more like a middle reliever last year. Who knows, maybe Kilian will be the next version of Keegan Thompson, as he also went through some of the same issues Kilian has gone through.