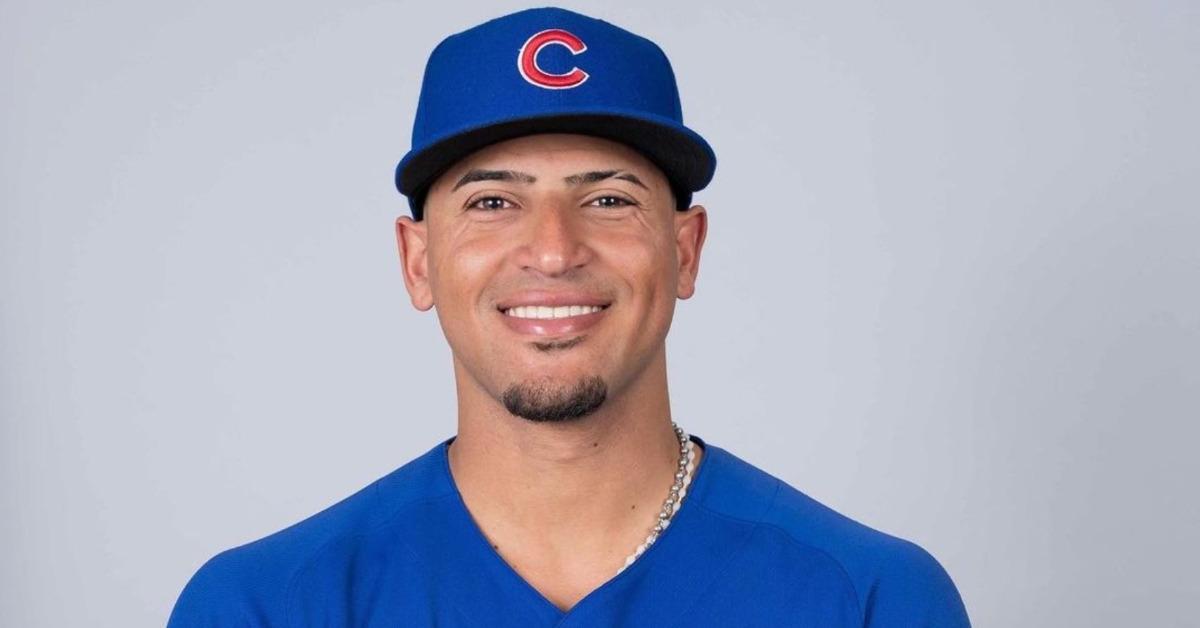 | | |
| --- | --- |
| Cubs Prospect Profile: Luis Vazquez | |
---
A big reason for the Cubs overall rise in farm system rankings the past few seasons has been the influx of high-level prospects. Along with that, you have the overall improvement of several pieces and players who may not have been on the radar before but certainly are or will be soon enough.
One of those players is SS Luis Vazquez, who not only checks in at No. 21 on the Cubs top prospect list, but has been added to their 40-man roster to protect him from the Rule 5 draft. That goes to show you what the Cubs think of him, and coming off the season he had in 2023, you can see why. A 14th-round pick in 2017, Vazquez hailed from Puerto Rico and took a while to figure things out on the professional level as he didn't stick in a full-season ball until 2021.
Always known as one of the best, if not the best, overall fielders in the Cubs system, Vazquez never had the bat to match the defensive side of things, which is why it took him so long to reach full-season ball and why the Cubs kept off of the 40-man roster until now. The way he mashed the ball in 2023 shows his overall potential, and it is the main reason he is not only putting himself in the Cubs plans, but could be finding a way to become a great utility player.
When you look at his first three years in the league, all with Rookie League complexes, Vazquez struggled to hit north of the Mendoza Line as he had a combined .205 average. Along with that came five homers and 55 RBIs as he gave the Cubs next to nothing offensively. Once 2021 arrived, you started to see him take the necessary steps to get better, although playing in full-season ball certainly helped.
His average increased to .264 in 2021 before dipping below .230 in 2022, but once 2023 started, you saw a brand new Vazquez, and it is one the Cubs hope will continue for a long time. Across his 124 games this season, Vazquez hit a career-best .271, but that wasn't the part of his game that attracted the Cubs to him the most. After hitting just 16 homes in his first five professional seasons, Vazquez went off for 20 homers in 2023 while also driving in a career-high 80.
He did that while walking a career-high 54 times with 121 strikeouts as he continued to play outstanding defense. As mentioned above, the defense is what has got him noticed so far, but if his offense can come close to what he did this season, the Cubs are going to have a decision to make with him, as he will open the season in AAA and could fight for a roster spot at some point in 2024.
One of the biggest reasons for his increased offensive numbers is the positioning of his hands at the plate. Vazquez lowered his hands this past season, which helped keep his swing more level. He is also hitting the ball harder and farther than he ever has and has continued to focus on pulling pitches a bit more. Yes, that does sometimes lead to strikeouts, but his ability to pull more consistently this season increased his power, which no one in this organization expected from him.
The biggest flaw in his offensive game is that he still chases too many high pitches. Should he cut down on that, those power numbers will only get better, but either way, you are looking at a player with 15-homer capability and gold glove defense. Any team can use that regardless of how many games and positions they play.
Vazquez doesn't have a ton of speed, which is why he has never stolen more than 11 bases in a season, but he is fast enough to cover plenty of ground on the infield. With his range, plus arm, and good internal clock, he can make all the plays at shortstop. He's such a gifted defender that the Cubs rarely have played him at other positions, but he's also an asset at second and third base. Given that the Cubs have Dansby Swanson at SS and Nico Hoerner at 2B, you could see Vazquez see time at 3B this season, which won't be a bad thing if he continues to play the way he has.