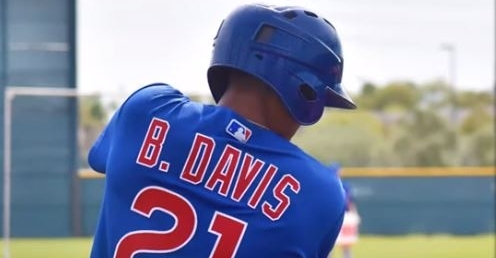 | | |
| --- | --- |
| Cubs Prospect Spotlight: Brennen Davis | |
---
| | | |
| --- | --- | --- |
| Wednesday, October 20, 2021, 5:00 PM | | |
Lost in the shuffle of the Cubs hiring a new general manager last Friday comes the rest of the offseason as this team is faced with plenty of questions. From internal moves to roster decisions heading into free agency, the Cubs will go through one of the most critical offseasons in recent memory.
Not only are the Cubs in a transition mode as they look to change the identity of how things look from top to bottom in the organization, but they are also in a rebuild mode. From all indications, it looks as if this rebuild will be shorter than the previous rebuild, but many things need to go right for that to happen.
One of the things that this team must do is add some impact bats through free agency. I am not talking about the home run or bust type hitters, but players like Nicholas Castellanos, who not only hit for power but also know how to hit for average. Another thing this team must do is remake their starting rotation which was the first of the five major questions we will discuss. With many intriguing options hitting the market, it is imperative that the Cubs grab one if not two starters to help this rotation take the steps forward to make things happen.
Knowing that four other significant questions need to be addressed, the next question is more internal as we circle back to the organization getting remade. For the Cubs to contend sooner rather than later, free agency will play a role in developing the prospects within the system. One player who saw his game develop to a whole new level this season was top prospect, Brennen Davis.
Not only ranked No. 1 in the Cubs system, but Davis has climbed the overall ranks and now sits at No. 14 overall. That brings us to the next question the Cubs must address this winter. Can Davis realistically make this roster next season? There is no doubt in my mind that Davis will be contributing on the MLB roster at some point next season, but the question is when.
When you look at the season he put together this year, fans may want him as the team's starting left or center fielder on opening day. Not only did the 21-year-old reach AAA this season, but he went through three different levels, starting his season with High A South Bend before finishing in Iowa. A 2018 second-round pick, Davis saw limited action in 2018, before showing what he could do in 2019.
As a member of Low A South Bend that season, Davis helped the Cubs claim the Midwest League Championship despite being limited to 50 games with various wrist and hand injuries. However, those 50 games were highly productive as Davis hit a .305 that season with eight homers and 30 RBIs. Looking to not only stay healthy, but build off his first full season, Davis did miss the first week of the season with another injury, but was lights out after that.
Across 99 games in three levels, Davis had a respectable .260 average while logging 50 walks and 118 strikeouts. What stands out the most is his extra-base hits, where he tallied 25 doubles, 19 homers, and 53 RBIs. That equates to 44 extra-base hits out of 91 total hits meaning roughly half of hits went for extra bases. Most of his damage came with AA Tennessee, where he hit a .252 in 76 games with 13 homers and 36 RBIs.
Although limited in his action with Iowa appearing in just 15 games, Davis did more than hold his own, proving he belongs in AAA or better. Not only did Davis hit a .268 in 15 games, but he connected for four home runs to go with 12 RBIs. Small sample, yes, but still impressive nonetheless. That alone should earn Davis significant playing time this spring after playing sparingly during Spring training this year.
Across 167 career minor league games, which is just over one full season, Davis has hit .277 with 27 homers and 86 RBIs.
There is a reason why he won the Futures game MVP this season and a reason why the MLB is so high on him. No one will argue that Davis had an incredible 2021, and with that being said, he may have accelerated his path to the show.
How much acceleration remains to be seen, but the Cubs will give Davis every opportunity to see significant time next spring, which could ultimately decide his fate on the opening day roster next season. Davis has all the tools to be a legitimate middle-of-the-order bat for years to come. He shows a keen eye at the plate and displays strong hands with elite power while also providing above-average speed. All those are factors the Cubs lacked this season, and if the Cubs want to roll the dice and avoid another service time issue, it could be Davis locking down an outfield spot to open next season.