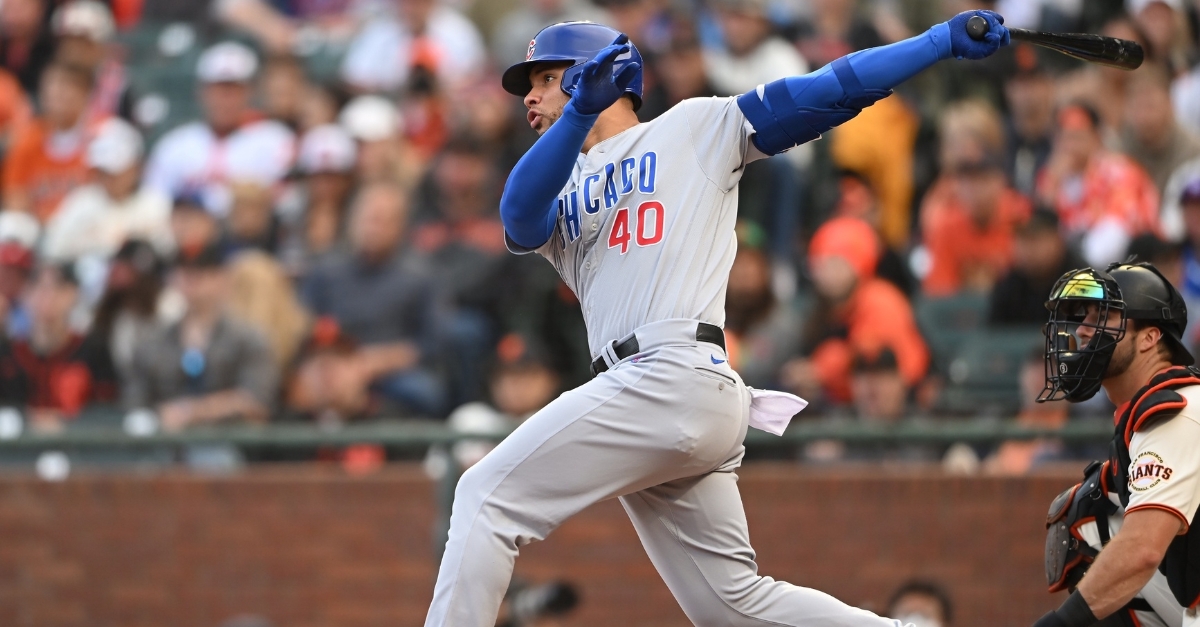 | | |
| --- | --- |
| Cubs rally falls short in loss to Giants | |
---
| | | |
| --- | --- | --- |
| Sunday, July 31, 2022, 9:04 AM | | |
SAN FRANCISCO - Remember when the Chicago Cubs (41-59) starting rotation was one of the worst in baseball? Those days are long gone as this team has posted the second-best ERA across the last two weeks, only behind the Baltimore Orioles.
In the process, all five starters in the rotation right now have an ERA below 4.00, including Saturday night starter Drew Smyly who took the ball at Oracle Park against the San Francisco Giants (50-51). Entering the game with a 3.93 ERA, Smyly has been good for most of the season, but has had trouble going deep into games.
That was again his issue on Saturday as the right-hander was touched for five runs in four innings to see his ERA rise to 4.42. He walked two and struck out five as this could be his final start in a Cubs uniform. Opposing Smyly was Jakob Junis, who, despite shutting the Cubs out to lower his ERA to 2.78, managed to go only four innings as a high pitch count got in his way.
Despite struggling to score most of the night, the Cubs started to rally late, including in the ninth inning, as those 2016 NLDS vibes were returning. Unlike that year in which the Cubs completed the comeback, Dominic Leone managed to work around some shaky defense as he got Ian Happ to ground out to end the game with the Giants winning 5-4.
All though the Cubs had their struggles offensively, they also had their chances, especially early, only to come up short. Take the first inning, for example. Not only did Rafael Ortega and Willson Contreras lead off the game with singles, but with two outs, Nico Hoerner worked a walk before Patrick Wisdom popped out to end the inning.
The same can be said about the Giants, and their half of the first as Yermin Mercedes and Wilmer Flores came away with two out singles before Smyly got out of trouble. Chicago had another golden opportunity to score in the third, with Contreras picking up a one-out single ahead of the Seiya Suzuki double, putting two men on and one out. Once again, Junis managed to get off the hook without allowing a single run as the Cubs were about to pay for their missed opportunities.
Unlike the Cubs, who failed to score on their first two chances, the Giants came away with some clutch hits in the third. With Darin Ruf picking up a one-out walk, Austin Slater would follow that up with a double to give the Giants the lead for good 1-0. Mercedes followed that up with a sharp single of his own to left, and just like that, the Giants doubled their lead 2-0.
The fourth inning continued to be a struggle for Smyly, who allowed a leadoff single to David Villar to start things off. Given how Junis was pitching, you had to think the Luis Gonzalez homer would be good enough, but add in a Joey Bart homer immediately after, and the Giants lead bloomed to 5-0. Little did anyone know, but that Bart homer would prove to be the game-winner as the Cubs had some late-game magic.
With both bullpens entering the game in the fifth, it became a matter of who had more available arms than the other. Fortunately for the Cubs, the recently called-up Mark Leiter Jr was well rested and ready to go as he was tasked with giving the Cubs some big innings.
Despite pitching well across his 2 2/3 innings, where he walked one and struck out three, Leiter was involved in a scary moment when he drilled Thairo Estrada in the back of the head with a 93 MPH heater. Leiter recovered from that nicely, but the combination of Tyler Rodgers and Jarlin Garcia kept the Cubs scoreless until the seventh.
In that inning, Yan Gomes was finally rewarded for his hard contact picking up a leadoff single. Two batters later saw David Bote deliver his first hit of the game, which was followed by a Nelson Velazquez pinch-hit RBI single to make things 5-1. The Cubs were happy to come away with a run in that inning, but knew they left more out there.
Taking over for Leiter in the eighth was Steven Brault, as he was looking to keep his fine start to the season going. Despite a walk to start things off, Brault didn't allow a run as his ERA remains 0.00 across his first five outings. Down to their final at-bats, the Cubs brought some late-game magic against Yunior Marte and Leone as things got interesting late.
Not only was Gomes hit by a pitch to start the inning, but PJ Higgins and Bote followed that up with singles as the Cubs had the bases loaded and no outs. Hoping to cash in on this opportunity, the Cubs did what they could to make things easy for the Giants as they beat three straight balls into the ground.
However, the Giants were doing them a huge favor as an RBI fielder's choice, and forceout led to two runs coming across home before another RBI fielder's choice from Suzuki made things 5-4. With a feeling of 2016 creeping back into the mind of Giants fans, Leone was not going to let his defense ruin this game as he got Happ to finish an 0-5 night with a groundout to second as the Giants withstood the late rally to win 5-4.
Contreras and Bote had the hot hand at the plate as they came away with two hits. The Cubs had 10 hits in the game, with Happ, Hoerner, and Wisdom players without a hit. The Cubs will cap off this series tomorrow at 6 PM CDT, with Adrian Sampson taking the ball against Carlos Rodon.

Tags: Cubs Baseball
,
Drew Smyly
,
Ian Happ
,
Rafael Ortega
,
Willson Contreras
,
Nico Hoerner
,
Patrick Wisdom
,
Seiya Suzuki
,
Mark Leiter
,
Yan Gomes
,
David Bote
,
Nelson Velazquez
,
Steven Brault
,
Adrian Sampson