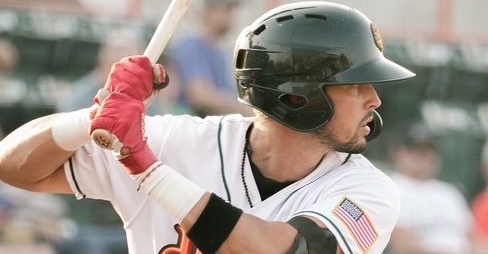 | | |
| --- | --- |
| Cubs reportedly sign 24-year-old infielder Alejandro Rivero | |
---
| | | |
| --- | --- | --- |
| Thursday, October 21, 2021, 8:36 PM | | |
While most of the minor league and major league free agent signings won't occur until after the World Series, it won't stop some teams from adding perceived value within the system. For the Cubs, not only does that continue to be a goal, but they continue to do their homework on under the radar guys who they feel fit this organization.
One thing they did better than anyone is finding value in the Independent Leagues, as several midseason signings paid off in huge ways. Knowing how much success they had plucking kids from Indy Ball last year, Carter Hawkins and company did it yet again with the addition of an infielder. That name is 24-year-old Cuban infielder Alejandro Rivero who fans may want to keep tabs on in the coming seasons.
Rivero is not just an infielder but has played primarily played shortstop and third base, both of which are positions of need for this team. No one expects him to show up in spring training next year and make the major league roster, but adding guys of his caliber to an already improving farm system is a positive sign.
Unlike most Cuban-born players, Rivero went to college, attending St. Thomas in Florida of the NAIA. However, Rivero got a late start in college primarily because of the Cuban side of things where he needed to clear things before coming stateside.
There is a lot to like about this signing, and it goes back to his college days where he flat out crushed the baseball. Not only did he hit for average, but he provided plenty of power.
His production in the NAIA didn't go unnoticed, and it helped land him in the Pioneer League this season as part of the Boise Hawks. If that name sounds familiar, you guessed it right as the Hawks were formally a Chicago Cubs Minor League Affiliate, so you have to wonder if there are still some organizational connections there.
With the Hawks this season, Rivero displayed his impressive hitting ability putting together a slash line of .352/.401/.668. He also added 20 homers to go with 70 RBIs, so there is plenty of pop in that bat. Not only was the average and power impressive, but another part of his game drew the attention of Cubs scouts, making him well worth the risk of signing.
Congrats to 2021 Boise Hawk, Alejandro Rivero, for signing with the Chicago Cubs as an undrafted free agent! pic.twitter.com/pnT7ht3Xbe

— Hawks (@BoiseHawks) October 21, 2021
For a team that wants to change their approach offensively and focus on contact first type of players, Rivero is the exact player to fit that mold. Not only did he put together 41 extra-base hits, but he had more extra-base hits than his 37 strikeouts for the season. A big reason for those numbers is that the Pioneer League possesses a lot of inflated numbers, but either way, Rivero's OPS was 200 points higher than his next closest player.
At age 24, Rivero is much older than most Indy ballplayers, but he still mashed, proving he can hit. In fact, he has hit at every level he has played going back to college. The biggest question that Cubs need to figure out is how that success will translate into full-season minor league ball. Although the likelihood of him turning into a decent prospect is slim to none when you look at his age and experience, the numbers alone make it worth the try.
With very little scouting information on him outside the fact he can hit, there isn't a whole lot to tell fans about him at this point. However, seeing the Cubs give guys like this chances, even if it is just a minor league deal, is well worth the risk. Indy ballplayers are typically players who were never drafted and are just looking to land somewhere.
Sometimes, you are fortunate to find a diamond in the rough, much like Rich Hill. After working his way up to the Major Leagues in 2006, Hill went through a series of shoulder issues that had his major league future in question. In hopes of never giving up, Hill latched on with an Independent League team and was then picked up by the Boston Red Sox several years later.
Since that time, Hill has not only become a reliable starter for several teams, but has turned into quite an effective one with plenty of playoff experience. Those types of Indy ball signings get my hopes up, and maybe Rivero can be the next player to follow that journey. There is no question the power is there and that the kid can hit. It is about finding a spot for him to play within the organization and seeing what becomes of it.
Congratulations to Class of 2020 #BobcatsBaseball Alum, Alejandro Rivero on signing a contract with the Chicago Cubs!

Rivero had a monstrous season with the Boise Hawks in the Pioneer League hitting 20 home runs. #ProBobcats // #STULimitless pic.twitter.com/wsAN8DfIsk

— STU Baseball (@STU_Baseball) October 21, 2021