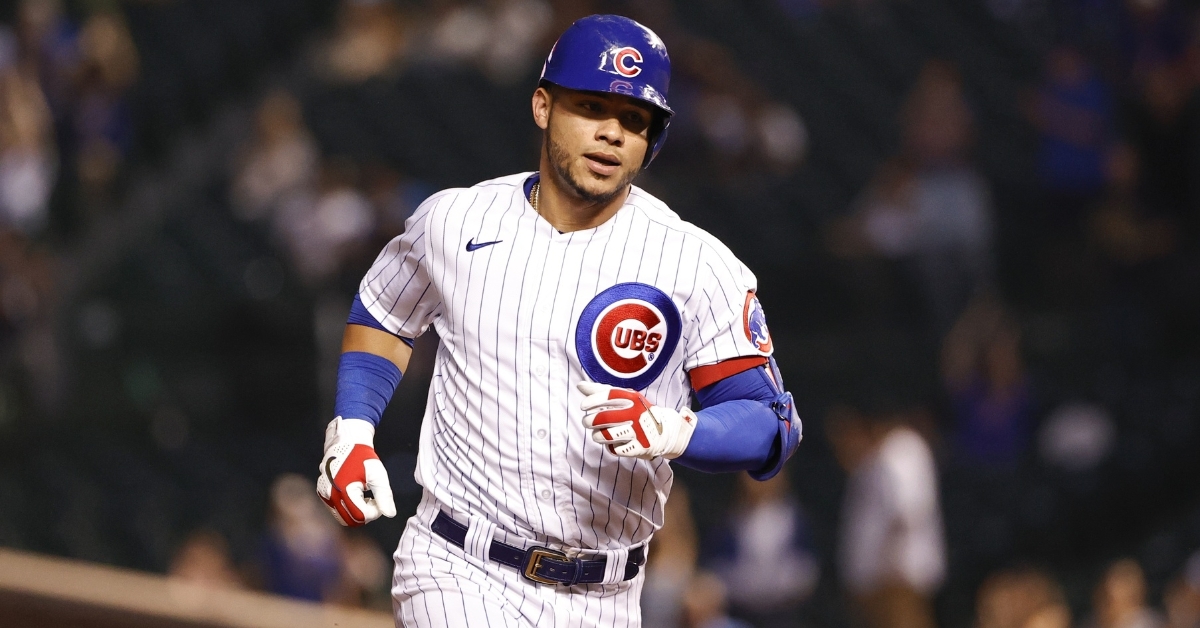 | | |
| --- | --- |
| Cubs' seven-game winning streak snapped by Reds | |
---
| | | |
| --- | --- | --- |
| Wednesday, September 8, 2021, 8:58 AM | | |
CHICAGO – It took a week, but the Chicago Cubs (64-76) finally took on the chin as they fell to the Cincinnati Reds (74-66) Tuesday night at Wrigley Field. Looking to extend their season-long winning streak to eight, the Cubs ran into a buzzsaw in Wade Miley as he continues to pitch well against the Northsiders.
After getting through seven innings and allowing just one run to go with eight hits, Miley turned things over to the bullpen that has had its issues this season. Immediately upon going to the pen, the Reds saw the same problems continue again as the Cubs began to mount a comeback off Michael Lorenzen, keeping things close heading into the ninth. Unfortunately, the Cubs couldn't get the run that matters as Mychal Givens picked up his sixth save and fifth with the Reds to secure the 4-3 win.
Making the spot start in place of the injured Keegan Thompson was Adrian Sampson, who was making his second start of the season. Not only was this his second start, but it was his second start against the Reds after pitching very well against them the first time around. Things didn't go as planned for Sampson in the first as every batter that made contact made hard contact with exit velocities well over 100 MPH.
That led to a pair of first-innings runs when rookie of the year favorite Jonathan India delivered a leadoff shot to give the Reds a 1-0 lead before Nicholas Castellanos followed that up with a solo shot two batters later to double that early lead. Outside of that, Sampson was impressive again as he needed just 72 pitches to get through five innings as he allowed two runs on six hits to go with one walk and one strikeout.
Unfortunately for him, he was on the losing end of a pitcher's duel early, with Willson Contreras providing all the Cubs offense in the early going connecting for a solo shot in the third to pull within 2-1.
Willson Contreras - Chicago Cubs (18) pic.twitter.com/FZMAP9EQEH

— MLB HR Videos (@MLBHRVideos) September 8, 2021
With Sampson now out of the game, the Cubs went to their pen, who has started to turn things around over their last several games. Across their last 31 plus innings, the Cubs pen has posted a 0.55 ERA and was a big reason why they won seven straight games.
Trevor Megill was the first out of the pen and looked about as good as he has this season. Not only did he give the Cubs a pair of shutout frames, but he did so with three strikeouts as his recent stretch of strong outings continued. Fellow hard thrower Manny Rodriguez was next out of the pen in the eighth, and the right-hander suffered a rare rough outing.
Not only did he allow a leadoff double to India, but Rodriguez allowed three hits in the inning, which ended up costing the Cubs. Ironically, he nearly got out of that inning after intentionally walking Joey Votto only to see Mike Moustakas rip a two-strike single past a diving David Bote to put the Reds back in front by two 3-1. Kyle Farmer would add an RBI single later in that inning as the Reds built their lead to 4-1.
Hoping that three-run lead would be enough, the Cubs began to make some noise as Rafael Ortega entered the game as a pinch hitter to do what he does best. For the season, Ortega is now 7-14 as a pinch hitter with one home run, and that homer came off Lorenzen to make things 4-2.
Rafael Ortega - Chicago Cubs (10) pic.twitter.com/472V3P6MDd

— MLB HR Videos (@MLBHRVideos) September 8, 2021
With two down in the inning, Ian Happ made up for a couple of boarder line strike calls as he too connected for a solo shot to pull the Cubs within 4-3.
Ian Happ - Chicago Cubs (20) pic.twitter.com/3oOB1e3j3S

— MLB HR Videos (@MLBHRVideos) September 8, 2021
Unfortunately for the Cubs, that would be as close as they would get as the tying run was left stranded on first in the bottom of the ninth in what was a 4-3 Reds win.
Turning back the clock
If you were a fan of 1990's baseball, then make sure you watch Miley pitch. The 34-year-old veteran lefty is vastly different from the game nowadays, and some could argue he turns back the clock and pitches like he is trapped in the 90s.
Not only does he feature one of the lowest average fastball velocities in the game, which sits just over 87 MPH, but Miley works extremely fast between pitches keeping hitters on their toes. In return, that often leads to fast-moving games that finish under three hours, depending on how the bullpen does.
That was the case again on Tuesday night as Miley was mowing through the Cubs order with ease through seven innings. Not only that, but his ability to work quickly had the game sitting two hours heading into the later innings. As a fan of getting games to move faster, Miley pitches at the perfect place to keep things quickly moving along.
Another stellar start tonight from Wade Miley

7 IP, 5 H, 1 ER, 8 Ks, 21 swings and misses

Season ERA - 2.89 pic.twitter.com/QD1dQadt49

— ATBBTTR (@ATBBTTR) September 8, 2021
Willson Contreras owns Miley
There have been many pitchers that Contreras has done well against in his career, but none come close to the numbers he has put up against Miley. With his home in the third innings, Contreras is now 9-25 against Miley with four home runs. That translates to an average of just under .400, while his last three homers have come against this Reds team.
Not your typical leadoff hitter, Contreras has found himself hitting leadoff against lefties this season, and for the most part, he has done a decent job. However, when Miley is on the mound, Contreras goes to a whole new level as he seems to put together his best at-bats off him.
Some players see certain pitchers better than others, which is the case for Contreras when it comes to Miley. Everyone knows what he is capable of doing at the plate, but can you imagine the Numbers he would put up if he saw Miley more than a few times in a season?
Willson Contreras vs Wade Miley#CubTogether

?? IT'S A UNICORN ??

Home Run ??

Exit velo: 102.9 mph
Launch angle: 25 deg
Proj. distance: 375 ft

This would have been a home run at Wrigley Field and nowhere else.

CIN (2) @ CHC (1)
?? 3rd pic.twitter.com/7yWDYeRsoa

— Would it dong? (@would_it_dong) September 8, 2021
Megill and Alcantara coming into their own
Two players who have struggled this season, but are now coming into their own happen to be Megill and Sergio Alcantara. Staring with Megill, who has had a rough go of things out of the pen. Even after a pair of scoreless innings on Tuesday, his ERA still sits at 8.15 as his first season in Chicago has been rough.
From giving up an insanely high rate of home runs to lack of command, Megill hasn't lived up to his billing and has found it hard to remain on the roster. However, things have taken a turn for the better in the last few weeks, and he has seen his ERA drop nearly four runs in the process. It took a bit of time, but it appears that Megill is starting to find his footing in the Cubs pen.
Speaking of coming into his own, Alcantara is starting to emerge as the everyday shortstop right now, which is beginning to pay dividends for this team.
While he may not have a long-term future with this team, Alcantara is versatile enough to be a valuable bench asset. While his offense has a long way to go, it has to be comforting for him to wake up every day knowing he most likely will land in the lineup. Now is his chance to prove he deserves it, and the more he plays, the better he continues to be.
Sergio Alcántara is having a really solid night with the glove. #Cubs

— Russell Dorsey (@Russ_Dorsey1) September 8, 2021