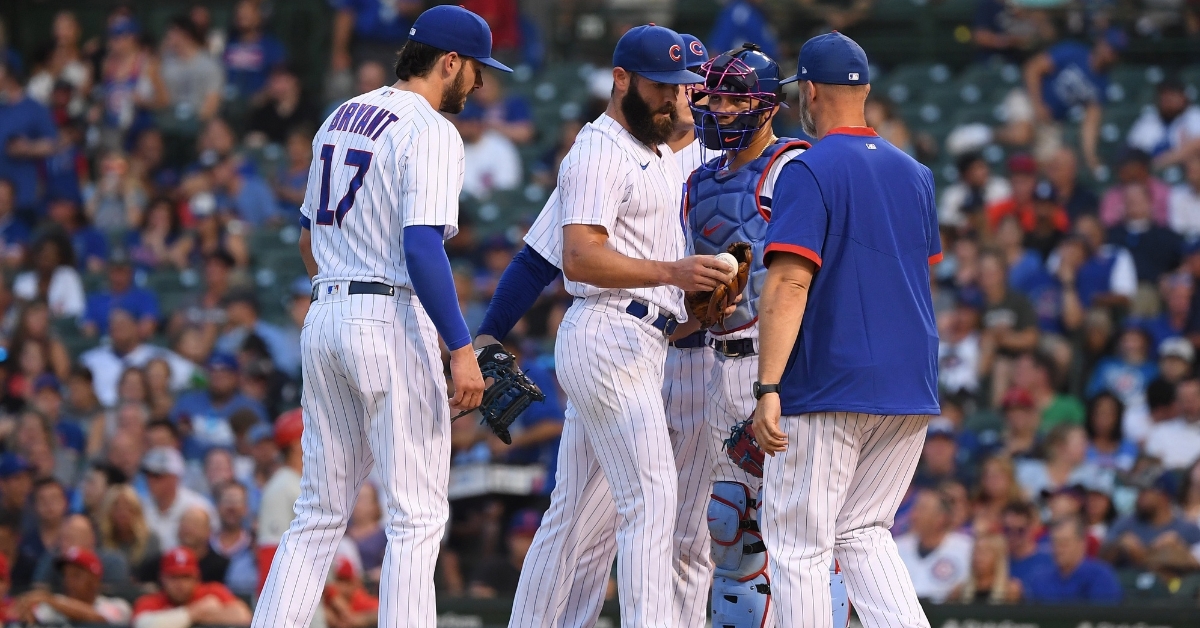 | | |
| --- | --- |
| Cubs shellacked by Phillies in high-scoring slugfest | |
---
CHICAGO — Less than a week after giving up a season-high 15 runs, the Chicago Cubs (42-44) went and did it again on Tuesday, with the Philadelphia Phillies (41-42) having a field day at the plate in a barn-burner at Wrigley Field. The Cubs racked up 14 hits, including three home runs, but the Phillies amassed 16 hits and also powered out three homers. Jake Arrieta's recent backslide continued on the evening, as he was charged with seven runs in just 1 2/3 innings pitched against his previous team. The Phillies jumped out to an early 7-0 lead and never faced much of a threat from the Cubs en route to winning 15-10 and handing the Cubs their 11th consecutive defeat.
The slugfest began with the first four batters of the game reaching base, with Andrew McCutchen capping off that hot start for the Phillies by hitting a grand slam to right-center, scoring Jean Segura, J.T. Realmuto and Bryce Harper. Arrieta drew three straight outs after that but regressed in the second. Segura, who hit a ground-rule double into the ivy on the opening pitch of the contest, hit a second-inning single that Joc Pederson misplayed in left, with Travis Jankowski scoring due to the fielding error. Later in the frame, a double by Rhys Hoskins, which a diving Ian Happ was unable to hang onto in center, scored Segura and Realmuto and resulted in Arrieta being relieved by Rex Brothers.
You can't stop @TheCUTCH22. #RingTheBell pic.twitter.com/LgYb2g1c2Y

— Philadelphia Phillies (@Phillies) July 7, 2021
Sergio Alcantara, who was called up earlier in the day, and Rafael Ortega singled off Aaron Nola to begin the bottom of the third, and Alcantara came home on a double by Pederson. Kris Bryant then pushed Ortega across via a base knock, and Pederson scored thereafter on a sacrifice fly from Javy Baez. In the fourth, Harper channeled Segura by hitting an automatic double into the ivy, and Segura scored as a result. Trevor Williams, who returned from an appendectomy, gave up the two-bagger in his first appearance since late May. Realmuto also scored in the fourth by way of a Hoskins sacrifice fly, putting the Phillies up 9-3.
Baez smacked a solo home run against the Phillies in Monday's series opener, and on Tuesday, he led off the home half of the sixth with a 422-foot blast to left-center. Nola finished the inning on the mound, capping off his six-inning performance, in which he struck out eight. Hoskins reciprocated Baez with a leadoff dinger of his own in the seventh, with Williams getting taken for a 418-foot drive to left. A fielding error by Baez and a catcher's interference call against Willson Contreras hindered Williams' cause, and Segura went on to plate Alec Bohm and Jankowski with a base hit off Williams.
Javier Baez - Chicago Cubs (20) pic.twitter.com/8QpInc2qTF

— MLB HR Videos (@MLBHRVideos) July 7, 2021
Rhys Hoskins appreciation Tweet ?? #RingTheBell pic.twitter.com/2kWRw8y1eJ

— Philadelphia Phillies (@Phillies) July 7, 2021
Daniel Winkler replaced Williams not long after that and gave up a towering three-run blast to Harper on his very first pitch. Brad Miller and Segura were scored on what marked Harper's first homer of the season that was hit with runners on base. Harper finished 5-for-6 in his second career five-hit performance. Bailey Falter faltered in the bottom of the seventh, giving up a double to Jake Marisnick and a single to Pederson, who plated Marisnick. Also in the seventh, Baez belted his second round-tripper of the tilt, a 408-foot two-run shot to straightaway center that scored Pederson.
Ladies and gentlemen...

It happened. #RingTheBell pic.twitter.com/m8DtLDCGP3

— Philadelphia Phillies (@Phillies) July 7, 2021
That is the 2nd home run Javier Baez has destroyed tonight#Phillies #RingtheBell pic.twitter.com/R5bKao8NYK

— Brodes Media (@BrodesMedia) July 7, 2021
Jason Heyward singled off Falter to start the bottom of the eighth, and he came all the way around to score on the double from Happ that followed. A sacrifice fly by Marisnick enabled Happ to tag up and score from third soon afterward, and Hector Neris eventually completed the inning on the bump. With Brad Wieck pitching, the Phillies loaded the bases in the ninth but were unable to tack on more runs. Robinson Chirinos, who was signed by the Cubs on Monday, clobbered a 444-foot solo bomb off Enyel De Los Santos in the ninth for his first long ball in a Cubs uniform, resulting in the 15-10 final tally. The Cubs have now lost 11 in a row for just the 11th time in franchise history.
Welcome back to the Cubs, Robinson Chirinos! ???? @robinson28ch pic.twitter.com/a9a69vpvnM

— Cubs Zone ™? (@CubsZone) July 7, 2021

Tags: Cubs Baseball
,
Jake Arrieta
,
Joc Pederson
,
Ian Happ
,
Rex Brothers
,
Rafael Ortega
,
Kris Bryant
,
Javy Baez
,
Trevor Williams
,
Willson Contreras
,
Daniel Winkler
,
Jake Marisnick
,
Jason Heyward
,
Brad Wieck