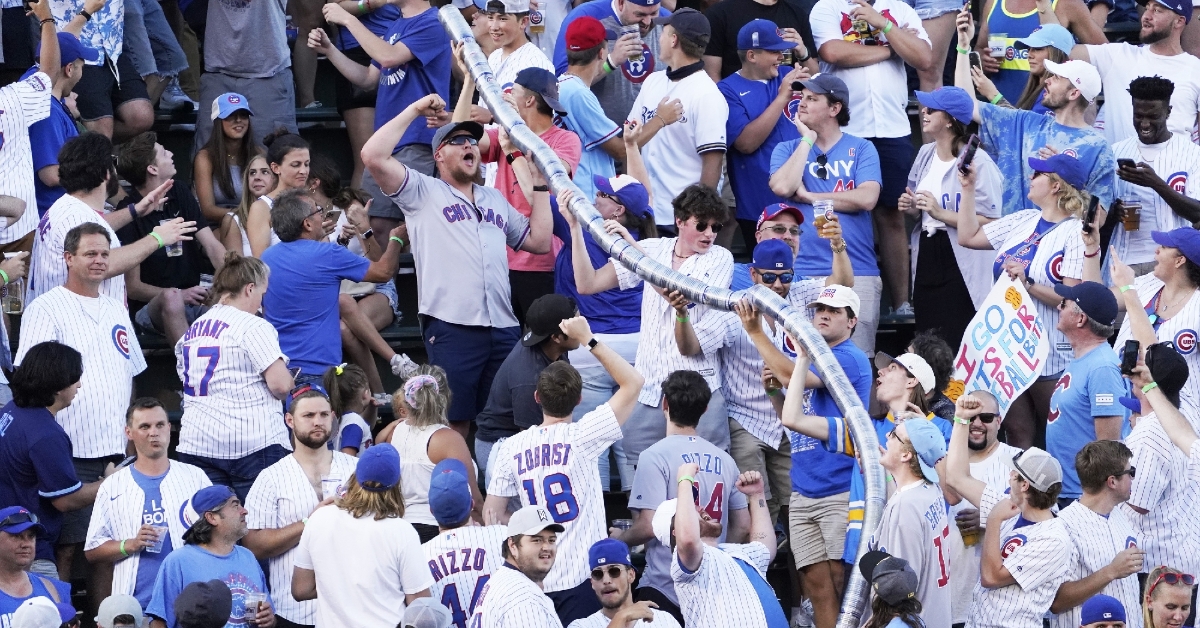 | | |
| --- | --- |
| Cubs shut out Cardinals, finish off sweep on electric night at Wrigley Field | |
---
| | | |
| --- | --- | --- |
| Sunday, June 13, 2021, 10:29 PM | | |
CHICAGO — Playing in front of a rowdy crowd at Wrigley Field, the Chicago Cubs (38-27) took care of business in the finale of a three-game series versus the rival St. Louis Cardinals (32-33). The North Siders pulled off a sweep in their first home series of the season versus the Redbirds, wrapping up the sweep with a 2-0 shutout win on Sunday. The low-scoring series finale was an expedited contest, lasting just two hours and 40 minutes. A two-run third inning was all that the Cubs needed to earn the victory.
Early on, Zach Davies and Carlos Martinez pitched lights out on the mound, with neither team putting a runner on base until Eric Sogard led off the bottom of the third with a double down the right field line. Third baseman Nolan Arenado helped Martinez's cause with multiple spectacular defensive plays during the course of Martinez's start.
Nothing else to say but #NolanBeingNolan!#STLFLY x @ShaneCompany pic.twitter.com/SyhgHXVe2d

— St. Louis Cardinals (@Cardinals) June 13, 2021
#NolanBeingNolan (again) pic.twitter.com/ZNI4ScY4eU

— St. Louis Cardinals (@Cardinals) June 14, 2021
Following Sogard's double, a groundout by Sergio Alcantara advanced Sogard to third. Davies then struck out, but shortstop Paul DeJong, who was shifted between first and second, booted a grounder hit to him by Joc Pederson, allowing Sogard to score. DeJong's two-out fielding error led to Kris Bryant hitting a single, which moved Pederson to third, and Anthony Rizzo plating Pederson with an RBI base knock. Bryant reached third on Rizzo's single. However, Martinez struck out Willson Contreras to leave Bryant and Rizzo stranded at the corners.
Two-out rally! #CubTogether pic.twitter.com/tqRkYFCbHI

— Chicago Cubs (@Cubs) June 14, 2021
Davies gave up his first hit of the night in the fifth, when Tyler O'Neill rocketed a line drive that ricocheted off third baseman Patrick Wisdom's outstretched glove. Wisdom recovered and fielded the ball in foul ground before firing a throw to second that resulted in O'Neill being tagged out attempting to stretch a single into a double. Davies tallied a hit of his own with a single in the bottom half of the inning but did not score.
Don't test @PatrickWisdom5. pic.twitter.com/8p89sGCa4u

— MLB (@MLB) June 14, 2021
Matt Carpenter drew a leadoff walk in the sixth and took second when Martinez laid down a one-out sacrifice bunt. Davies then drew an inning-ending groundout off the bat of Tommy Edman. Dylan Carlson led off the seventh with a ground-rule double. A few at-bats later, Alcantara, who started in place of a banged-up Javy Baez at shortstop, made a nice stop of a screamer hit on the ground by Arenado. Alcantara finished off the web gem by spinning around and firing a perfect throw to first.
Smooth like Sergio! #CubTogether pic.twitter.com/KPD8XFwfAG

— Chicago Cubs (@Cubs) June 14, 2021
Upon walking O'Neill with two outs in the seventh, Davies was pulled and received a rousing ovation from the fans in attendance. Speaking of the fans, a rather lengthy "beer snake" stole the show at Sunday's contest, with an entire section of the bleachers stacking plastic beer cup after plastic beer cup throughout the game. Ryan Tepera relieved Davies and forced Yadier Molina to hit a chopper up the middle to end the half-inning and leave two Cardinals on base.
This beer snake at the @Cubs game is incredible ???? pic.twitter.com/zrYfpA53do

— ESPN (@espn) June 14, 2021
The #BeerSnake IS ALIVE.@Cubs #GoCubsGo #WrigleyField pic.twitter.com/ZIiVNRwDVC

— Billy Krumb (@ClubhouseCancer) June 14, 2021
Martinez walked Alcantara with two outs in the seventh, and second baseman Matt Carpenter then suffered a fielding error when he was unable to glove a grounder hit by Jake Marisnick. Alcantara made it to third due to error, but Joc Pederson flied out after that. An error by Wisdom extended the top of the eighth, as he airmailed a throw to first after corralling a slow roller hit by Edmundo Sosa. With the errant throw sailing out of play, Sosa was sent to second, but Edman then swung at the first pitch thrown to him by Tepera and lined out.
Ryan Helsley replaced Martinez on the mound prior to the home half of the eighth and proceeded to sit the Cubs down in order by drawing three consecutive groundouts. Craig Kimbrel collected a save in the ninth. He struck out Carlson to start off the final frame and then walked Paul Goldschmidt before striking out Arenado and O'Neill in back-to-back at-bats. After fanning O'Neill to put a bow on the 2-0 shutout, Kimbrel, who recorded a save in all three games of the series, was fired up on the bump, as was the raucous crowd in the stands. The Cubs have now won five in a row.
Three saves in three days for Craig Kimbrel! #DirtyCraig#CubTogether pic.twitter.com/MMCkDSgwbX

— Chicago Cubs (@Cubs) June 14, 2021

Tags: Cubs Baseball
,
Zach Davies
,
Joc Pederson
,
Kris Bryant
,
Anthony Rizzo
,
Willson Contreras
,
Patrick Wisdom
,
Javy Baez
,
Ryan Tepera
,
Jake Marisnick
,
Craig Kimbrel