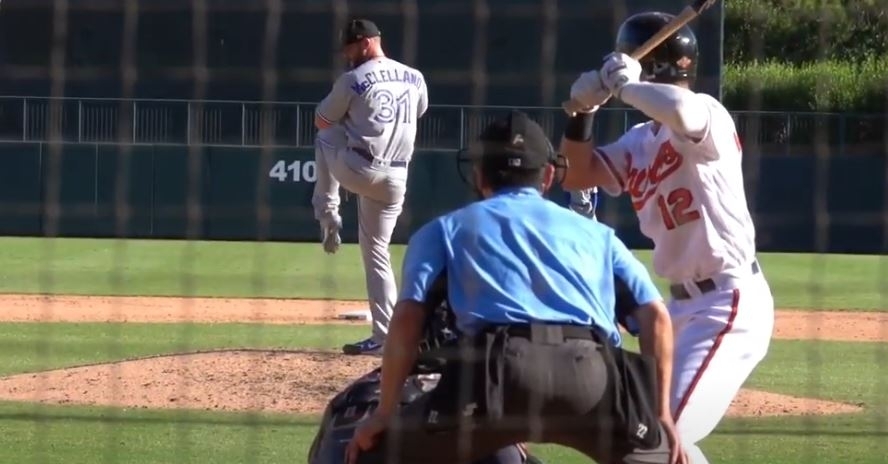 | | |
| --- | --- |
| Cubs sign former Blue Jays reliever to minor league deal | |
---
| | | |
| --- | --- | --- |
| Tuesday, September 14, 2021, 6:00 PM | | |
Even though the trade deadline has come and gone, and the Cubs have made no new moves since July 31, that hasn't stopped the minor league organizations from adding depth they see fit. However, Iowa has added a new arm to their mix as the hard-throwing righty Jackson McClelland has a new home.
Although this move doesn't directly affect the major league roster at this point, it could down the road depending on how the 27-year-old righty performs the final three weeks of this season into next season. Upon his arrival to Iowa, McClelland was immediately thrown into action on Sunday, tossing 1 1/3 innings during the Cubs 21-4 loss to Toledo. Despite allowing a solo home run, his outing may have been the best showing from any of the Iowa pitchers that day.
The former long-time Blue Jays prospect was selected in the 15th round of the 2015 MLB draft and was about to hit minor league free agency at the end of the season. Instead of using him for the next few weeks and letting him walk, the Blue Jays elected to let him leave the organization now, and the Cubs pounced on the opportunity to bring him aboard.
McClelland has had an up and down minor league career, but really showcased his stuff during the 2017 and 2018 AFL seasons and the regular season those years. Across 2017, McClelland compiled a 3-4 record, but posted an impressive 1.34 ERA in 45 games. He walked 18 and struck out 42 while converting on 18 of 19 in save chances. One year later saw him struggle a bit more, going 1-4 with a 4.33 ERA across 39 games, but he improved as the season progressed.
Those numbers helped him reach AAA in 2019, where he posted a 6.00 ERA in just 11 games with 11 and 14 strikeouts. His 2019 wasn't all that bad, as you can look at his AA numbers to back that up. Before earning that promotion, McClelland was brilliant, posting a 2.98 ERA in 32 games. Since his promotion, things have not gone well as that 6.00 ERA in 11 2019 games was followed by a 5.51 ERA in 15 games this season, making it an easy decision for the Blue Jays to part ways with him.
If you go based on his numbers the past two seasons alone, this deal doesn't make a ton of sense for the Cubs. However, if you dig a bit deeper, you can see why the Cubs want to give him a look, and it all circles around that 100 MPH heater. Looking at the way baseball is played today, especially in the bullpen, teams tend to have one or two guys capable of hitting triple digits.
While Manny Rodriguez is the closest thing in the majors right now, the Cubs don't have too many flame throwers in the organization, so adding McClelland makes sense. While his velocity makes him a hard-to-miss free agent, his command continues to be an issue which is one of the biggest reasons he struggled the past two seasons. Perhaps getting into the pitching lab this winter can help him discover things that could make him an even better pitcher than his 2017 and 18 numbers suggest.
When you have a walk rate over 10% like McClelland does in the minors, it is easy to see why his strikeout rate isn't as high as most guys with the high velocity he has. That is very surprising when you add in an electric splitter that the Cubs are most definitely going to use to their advantage. Another thing that could lead to his lack of command is his delivery.
Although a delivery that creates a ton of deception from hiding the ball well, a lot is going on, and it makes you wonder if he has too much going on. I think the Cubs will also look to simplify that part of his game without running the risk of losing his deception. Regardless of how much time is left for this season, the Cubs will continue to add players who they feel will help this organization in some way, and fans should be ok with that.
McClelland is a guy who has shown the ability to be a dominating late-inning arm, but has also lacked the consistency needed to stick in that role. You never know what you will get out of him, but at least you can take a chance on him now and reassess down the road. With his new one-year contract, McClelland now has some incentive going forward as he will look to make the team next year.
Whether that means simplifying his delivery or ironing out his command struggles, you can bet he will do whatever this organization asks of him to do. There was a line in the movie called The Rookie with Dennis Quade that sums this up perfectly. "If I call my boss and tell him I have a guy here throwing that is twice the age of these kids, I am going to get laughed at. "If I don't call in a 98 MPH fastball, I'm going to get fired."
You can look at that line in this situation. McClelland has now been around a while and hasn't done a whole lot to impress minus 2017. However, if the starting point to take a swing on him is solely based on his heater alone, it is a deal that needs to get done. With two plus pitches, and that counts with his splitter into the mix, McClelland could become a closer-type in the Cubs system. He has shown success in that role in the past and has all the tools and velocity to continue that if he can iron a few things out.