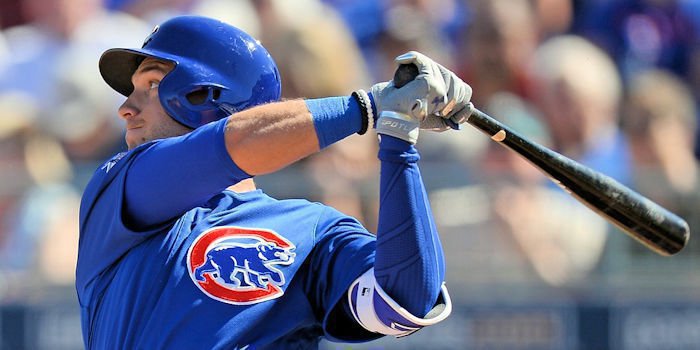 | | |
| --- | --- |
| Cubs smack 18 hits in win over White Sox | |
---
| | | |
| --- | --- | --- |
| Friday, March 15, 2019, 6:48 PM | | |
After sneaking past the Rangers yesterday afternoon, the Cubs (12-9) ventured to Camelback Ranch today to face the White Sox (7-10). Cole Hamels (2-0, 0.00 ERA), making his third start of the spring, squared-off against Chi-Sox righty, Lucas Giolito (0-1, 6.75 ERA). Despite the Sox using one, Joe Maddon elected to forego using a DH, allowing Cole Hamels to bat for himself.
T1: (CWS: RHP Giolito) BOOM! Alberta Almora, Jr. hits a leadoff blast to put the Cubs up 1-0. Giolito then gets David Bote, Kyle Schwarber and Ian Happ on strikeouts, but Happ managed to reach first because he swung at a wild pitch and then beat the throw. Happ would steal second, but Victor Caratini would fan, to end the inning with Giolito recording four strikeouts. Cubs lead 1-0.
Start your weekend off with some Albert Almora Jr. ?? pic.twitter.com/QqTiY5XGNf

— Cubs Talk (@NBCSCubs) March 16, 2019
B1: Cole Hamels started with a leadoff groundout (Garcia), but then gave up back-to-back singles (Guyer, Abreu). No harm though, as he'd get the next two on a strikeout (McCann) and a flyout (Alonso).
T2: (CWS: RHP Giolito) Mark Zagunis would draw a leadoff walk, followed by Jim Adduci who singled to center. Cristhian Adames would ground to first, but the Sox couldn't turn two, advancing Zagunis to third. A nice sac-bunt by Hamels scored Zagunis. Almora's single to right would score Adames. Bote would ground out to end the inning with the Cubs leading 3-0.
B2: Hamels would walk Moncada to start the frame, but Anderson would ground into a force at second. Hamels would fan Sanchez and get a groundout (Engel) to end the inning.
T3: (CWS: RHP Giolito) Schwarber would start with a leadoff infield-single, then swipe second, followed by Happ's walk. Caratini would fly out, then an attempted double-steal would go bad, getting Schwarber dead-to-rights at third. The inning would end on Zagunis' groundout. Cubs lead 3-0.
B3: Hamels would get a quick groundout (Garcia), but then issue a walk to Guyer, followed by singles to Abreu and McCann, scoring the Sox first run. Hamels would next strikeout Alonso, but Moncada's three-run blast would put the Sox up 4-3. A groundball (Anderson) would end the inning with the Cubs down one.
T4: (CWS: RHP Giolito) Jim Adduci would tie it up with a leadoff home run. The next three would go down in order on a strikeout (Adames), a long flyout (Hamels) and a groundout (Almora. Game tied 4-4.
Jim Adduci with a home run pic.twitter.com/YjbsyG9aQA

— Aldo Soto (@AldoSoto21) March 15, 2019
B4: Hamels would get Sanchez on a lineout but would follow that up with a walk to Engle, who would steal second. Hamels would end his day with a strikeout (Garcia), with a total of 74 pitches. Left-hander, Mike Zagurski, would immediately issue a go-ahead single to Guyer but would follow that up with a strikeout (Abreu). Cubs trail 5-4.
T5: (CWS: RHP Giolito) Bote would single to start the frame, but Schwarbs and Happ would go down looking, and Caratini would ground out to end it.
B5: (RHP) Junichi Tazawa would take the hill, giving up a leadoff single to McCann, who would take second on a wild pitch that struck out Alonso. Tazawa would get a groundout (Moncada) and a pair of strikeouts (Anderson, Sanchez) to end the inning. Cubs trail 5-4.
T6: (CWS: LHP Fry) Mark Zagunis would send a blast out over the CF wall, to tie the game at five. Adduci would groundout, followed by Adames' double to shallow right. Fry would fan Taylor Davis, then be replaced by righty, Dylan Covey. Albert Almora would go 3-4 on a single to center, scoring Adames, before being lifted for a pinch-runner (Wynton Bernard). A pick-off attempt would be overthrown, advancing Bernard to second. Bote would single to right, but a throw to home would beat Bernard, ending the inning. Cubs lead 6-5.
Mark Zagunis with a HR to right-center field. Last bench spot with Descalso probably not ready to go for Opening Day? pic.twitter.com/DcHDxsYlDD

— Aldo Soto (@AldoSoto21) March 15, 2019
B6: Righty, Dillon Maples takes the mound and quickly gets Sanchez on a flyout, and Engel by strikeout, but then walked Palka and plunked Guyer. The inning would end on a groundout to third (Abreu).
T7: (CWS: RHP Covey) Schwarber would single to left, then be replaced on base by Trent Giambrone. Happ would hit a hard liner to short, but Rivera couldn't handle it, causing the Sox to settle for a force at second. Nico Hoerner would groundout, followed by back=to-back singles by Johnny Field and Phillip Evans which scored two more. Court would groundout to end the inning. Cubs up 8-5.
B7: Randy Rosario (LHP) would hurl the eighth, collecting a strikeout before allowing a run on three consecutive singles, then a two-out triple to tie the game. Rosario would fan a second man to end it. Game tied 8-8.
T8: (CWS: RHPs Jones, Burr) Davis would hit a leadoff single, followed by Bernard's homer to right, putting the Cubs up 10-8. Jared Young would double, followed by Giambrone's walk, before Zack short went down swinging. And then Young would be pegged trying to steal third. Adding to an already incredible spring, Nico Hoerner's double to right would score Giambrone, before Field fanned to end the frame. Cubs lead 11-8.
#Cubs' No. 2 prospect Nico Hoerner has been red-hot at the plate in #SpringTraining. Hoerner is 7-for-11 (.636) after this RBI double against the #WhiteSox. Gameday: https://t.co/aqwPHi00xN pic.twitter.com/r2f7i6IiLU

— MLB Pipeline (@MLBPipeline) March 15, 2019
B8: Righty, Dakota Mekkes retires the side in order on a strikeout, pop-out and groundout.
T9: (CWS: RHP Colome) A flyout (Evans) and a groundout (Court) would give the Cubs two quick outs, but Davis would single before Bernard's groundout to end the day offensively for the Cubs, leading 11-8.
B9: Right-hander, Brad Markey would finish the day on the mound for the Cubs. A leadoff flyout would be followed by a double to left-center, and then an infield single. Madrigal's RBI single would bring the Sox closer, but a 6-43 DP (Hoerner-Short-Evans) would end it by a final score of 11-9 in favor of the Cubs.
The Cubs will stay away from Sloan Park again tomorrow, as they travel to Scottsdale to face the Diamondbacks (9-9). Joe Maddon hasn't yet named his starter, but the D-Backs will send Matt Koch (1-0, 0.00 ERA) to the mound for Arizona. Game time 3:05 PM (CDT).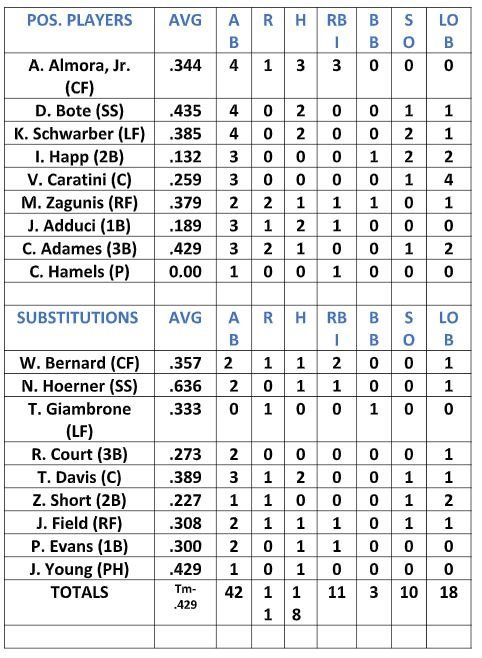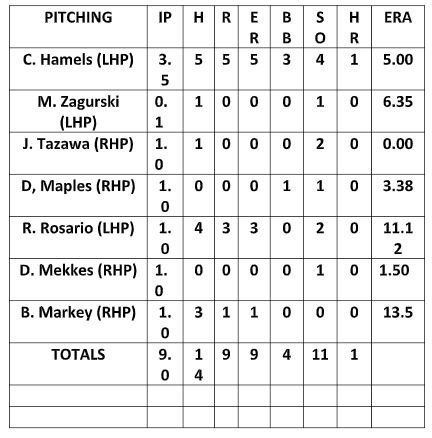 Final: #Cubs 11, White Sox 9 pic.twitter.com/JGLNSyBIJo

— CubsHQ (@ChicagoCubsHQ) March 15, 2019
Cubs win!

Final: #Cubs 11, White Sox 9. pic.twitter.com/3pauBASR5l

— Chicago Cubs (@Cubs) March 15, 2019

Tags: Cubs Baseball
,
Cole Hamels
,
David Bote
,
Kyle Schwarber
,
,
Victor Caratini
,
Mark Zagunis
,
Taylor Davis
,
Dillon Maples
,
Randy Rosario
,
Joe Maddon