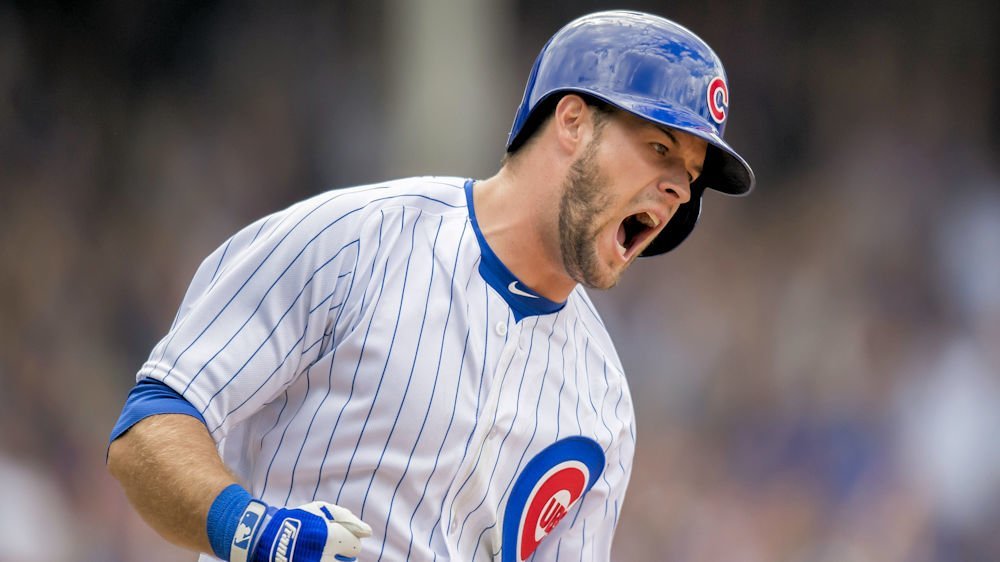 | | |
| --- | --- |
| Cubs turn on offense to blow past Diamondbacks | |
---
| | | |
| --- | --- | --- |
| Saturday, March 16, 2019, 6:15 PM | | |
The Cubs (13-9) traveled to Scottsdale this afternoon to take on the D-Backs (9-10). Kyle Hendricks (0-0, 6.14 ERA) would square-off against righty, Matt Koch (1-0, 0.00 ERA). Willson Contreras became a late scratch due to a sore finger.
NOTE: Both starting pitchers were having issues with the balls not being scuffed enough at the start of the game, affecting their pitches.
T1: (ARI RHP: Koch) Ben Zobrist would strikeout to start the game, but Kris Bryant would hit a single to right. Anthony Rizzo would hit into a 4-6-3 double-play to end the inning.
B1: Kyle Hendricks had a little bit of a rough start, issuing a leadoff walk, then back-to-back singles, allowing a run to score, before finally retiring a batter by strikeout. Hendricks would limit the damage by inducing a grounder that would turn into a 4-6-3 double-play (Bote-Baez-Rizzo). Cubs trail 1-0.
T2: (ARI RHP: Koch) Javier Baez would leadoff with a groundout, but Jason Heyward would walk. Taylor Davis would ground to first, but Heyward would make a mental error, causing him to be thrown out at third on an unusual 3-5 double play.
B2: Hendricks would start the frame with a groundout, but then give up a double to the next batter. After a strikeout, John Murphy would steal third, but a grounder to David Bote would end the inning without allowing a run. Cubs down 1-0.
T3: (ARI RHP: Koch) Cubs go 1-2-3: Flyout (Ian Happ), groundout (Bote), strikeout (Hendricks).
B3: Hendricks would start the inning with a flyout, followed by a lineout to Bote. Next, a single turned into a double, when Happ's throw to second came in high. Hendricks would end the inning with a flyout to Heyward. Cubs down 1-0.
T4: (ARI RHP: Koch) Zo's leadoff walk, would be followed by Bryant's single, advancing Zobrist to third. Rizz would smoke a double to right, scoring KB and Zo. Baez would groundout, but he'd advance Rizzo to third. Heyward's RBI groundout would score Rizzo, before Davis' groundout would end the inning. Cubs lead 3-1.
B4: Hendricks would issue a leadoff walk, followed by a groundball to Bryant, resulting in a force at second. A single to center would end The Professor's day, being replaced by Tyler Chatwood. Chatty would give up a single but would retire the next two on flyouts to Heyward, to hold the D-Backs at bay.
T5: (ARI RHP: Koch) Happ's groundout would start the inning, but Bote would add to the lead with an opposite-field homer to right. Tyler Chatwood would hit an infield single, but Zo would hit into an inning-ending 3-6-3 double play. Cubs lead 4-1.
Botebomb. @BleacherNation @realcubsinsider pic.twitter.com/4kpQQpK4VS

— Jeff Galus (@TLAM213) March 16, 2019
B5: Chatwood, throwing mid-90s, would open the frame with a strikeout, follow that with a groundout, then end it on a bizarre play: Marte lined at Bryant who deflected it to Baez, who caught it in the air.
T6: (ARI RHP: R. De La Rosa) Bryant would a long flyout to start it, followed by Rizzo's walk and Javy's single to center. Rizzo would get caught trying to take third on a delayed steal, but Heyward's walk would keep the inning alive. Baez took third on a wild pitch, then scored on Davis's single to right (Heyward to third). LHP Miguel Aguilar would replace De La Rosa, then immediately issue a single to Happ, scoring Heyward. Aguilar injured himself on a pitch to Happ, and was replaced by RHP Bud Jeter, Taylor Davis would also be lifted for a pinch-runner (Levi Jordan). Bote's single would score another run before Mark Zagunis would strikeout to end the inning. Cubs lead 7-1.
Happ's RBI single.@BleacherNation pic.twitter.com/HgSokh8tKW

— Jeff Galus (@TLAM213) March 16, 2019
Bote having a day. RBI single.@BleacherNation pic.twitter.com/ouaEmSOFOh

— Jeff Galus (@TLAM213) March 16, 2019
B6: Mike Montgomery would open the frame by issuing a leadoff single, then walk the next man, but the next three would go down in order on a line drive and a pair of groundouts.
T7: (ARI RHP: Holland) Cubs go 1-2-3 on a line-out (Jared Young), a flyout (Christian Donahue) and a strikeout Yasiel Balaguert) but continue to lead 7-1.
B7: Monty, back for a second inning, retiring the first two on a pair of groundouts, but would give out a double, before striking out Almonte to end the inning.
T8: (ARI RHP: Hirano) Chesny Young would draw a leadoff walk, followed by a pair of strikeouts from Connor Myers and PJ Higgins. The inning would end on Wynton Bernard's groundout. Cubs lead 7-1.
B8: Righty, Allen Webster would pitch the eighth, allowing a leadoff double, but a groundout, flyout and called third strike would leave a runner stranded, and the D-Back scoreless in the inning.
T9: (ARI LHP: Chafin) Vimael Machin would reach on a catching error by the first-baseman (Tomas), but Johnny Field's flyout, Jared Young's groundout, and Christian Donahue's strikeout would end the day offensively for the Cubs.
B9: Despite a two-out walk, southpaw, Jordan Minch, would close it out for Chicago, with a groundout and a pair of strikeouts. Final score: Cubs-7; D-Backs-1.
The Cubs will return home to Sloan Park tomorrow to host the Rockies, followed by an off-day on Monday, then split-squad actions against a Mariners' minor league team (2:05 PM Central at Sloan Park) and then the Royals (8:05 PM Central at Sunrise Stadium).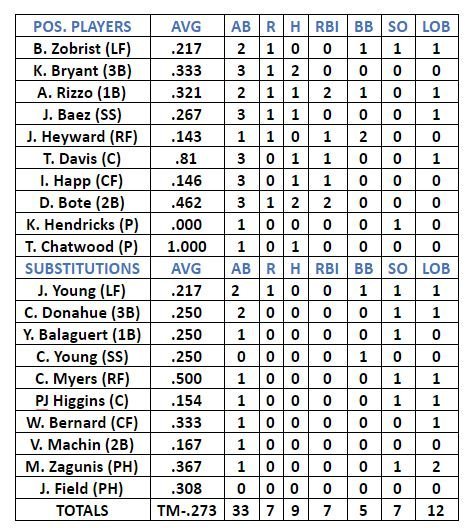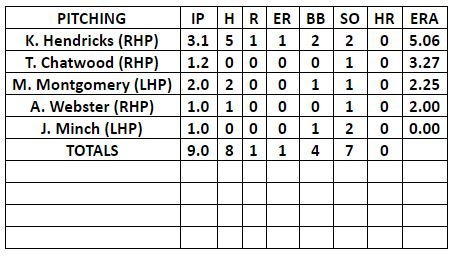 Final: #Cubs 7, D-backs 1 pic.twitter.com/KmQnaaHzHr

— CubsHQ (@ChicagoCubsHQ) March 16, 2019
Cubs win!

Final: #Cubs 7, D-backs 1. https://t.co/cCYqxQQhi2 pic.twitter.com/RtbcyeWoos

— Chicago Cubs (@Cubs) March 16, 2019

Tags: Cubs Baseball
,
Kyle Hendricks
,
Willson Contreras
,
Ben Zobrist
,
,
Anthony Rizzo
,
,
Jason Heyward
,
Taylor Davis
,
David Bote
,
,
Tyler Chatwood
,
Mark Zagunis
,
Mike Montgomery